5 ways Tea Party Patriots helped Trump fight the Iran Nuclear Deal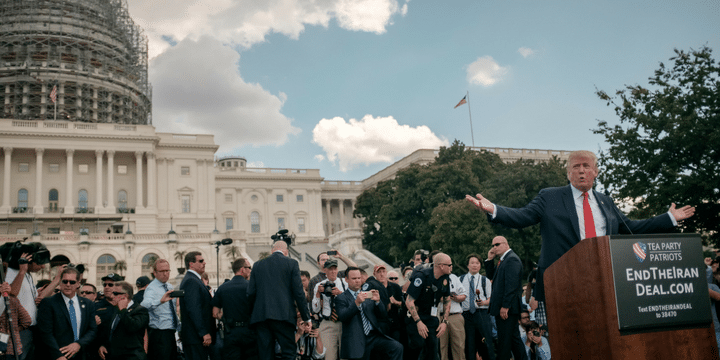 A big win for Tea Party Patriots. President Donald J. Trump today announced he's decertifying the ill-devised Iran Nuclear Deal – a deal struck during former President Obama's tenure that gives too much latitude to the world's top terror financier and a deal we at Tea Party Patriots have been fighting tooth-and-nail since President Trump was one among many presidential-primary candidates. We can't wait to see our efforts on this disastrous deal come full circle. Here are some of the ways we've pushed back against the deal over the past two years.
1."End the Iran Deal Rally" with now-President Donald J. Trump as a featured speaker
President Donald J. Trump ran on renegotiating the Iran Nuclear Deal in a way that favors our national interests and doesn't enable Iran and its history of funding terrorist regimes – he was even a featured speaker at our Iran rally in 2015.
"I've been doing deals for a long time. I've been making lots of wonderful deals – great deals. That's what I do. Never, ever, ever in my life have I seen any transaction so incompetently negotiated as our deal with Iran," then-candidate Trump said.
"So, They rip us off, they take our money, they make us look like fools, and now they're back to being who they really are – they don't want Israel to survive … We cannot let it continue," he said.
"It will change. We will have so much winning, if I get elected, that you may get bored with winning … we are going to turn this country around. We are going to start winning bigly …"
2. Jenny Beth's Journal: Obama administration 'mischaracterized' Iran deal
Tea Party Patriots Co-Founder Jenny Beth Martin in June of last year slammed former White House Deputy National Security Adviser Ben Rhodes for admitting to creating a false dilemma in regard to the Iran Nuclear Deal, pitching an artificial story to the American public that the choice was between going to war with Iran and striking the nuclear deal. Recall this story from the Los Angeles Times in July 2015 titled "The choice: Start World War III, or support the Iran nuclear deal."
"Because the signed deal was more important to the president than the actual contents of the deal, President Obama threw in everything plus the kitchen sink in terms of giveaways to Iran, writes Jenny Beth in a column for The Washington Times.
"Sanctions relief (upwards of $150 billion), weak (nearly non-existent) inspection requirements, and very little accountability or oversight were all part of the final deal. But, hey, on the bright side, President Obama got the deal he wanted for his legacy."
3. "End the Iran Deal" Toolkit
Our on-going campaign to empower patriots nationwide to make their voices known on the Iran deal includes a toolkit replete with talking points; sample social-media posts; a sample letter to a member of Congress; a sample press release for the Iran Deal rally; and – among other things – information about how to write and submit a letter to the editor.
"Tea Party Patriots' Support Team frequently provides toolkits to help you engage on the major legislative battles taking place in Washington, D.C. This toolkit is focused on our efforts to oppose the Iran Deal that President Obama negotiated," reads the toolkit.
Talking points included the fact that – under the deal negotiated when then-President Obama was in office – Iran has the authority to deny international inspectors access to any undeclared nuclear site; U.S. inspectors aren't allowed to step foot on Iranian soil; the deal gets rid of embargoes on Iran; and then-President Obama presented the deal to the U.N. before allowing Congress an opportunity to weigh in on the terms of the agreement.
4. Letters to the editor
Former Saudi Arabia Ambassador to the U.S. Bandar Bin Sultan Abdulaziz Al-Saud penned a letter to the editor at The Washington Post in 2015.
"This deal will wreak havoc in the Middle East, which is already a disastrous environment. Iran is a major player in the destabilization of the region. Why would Mr. Obama go ahead with such a deal with Iran?" writes Al-Saud
Conservative members of Congress also took to the presses, writing opinion pieces denouncing the disastrous deal, including Sen. Ted Cruz (R-Texas).
"Iran's leaders are not only frank and open about their history of cheating on international deals, they have also bluntly told us their prime objective, which is to destroy both Israel and the United States," says Cruz in a Sept. 2015 column for National Review.
5. On-going social-media campaign opposing the deal
From May through September of 2015, Tea Party Patriots ran more than 20 Facebook posts related to denouncing then-President Obama's disastrous Iran Nuclear Deal.
One such post reads "Like if you are part of the 57% of Americans who oppose Obama's terrible nuclear deal." Another post reads "Like if you agree Congress must reject Obama's terrible Iran Deal" with the teaser "President Obama's nuclear deal with Iran is so terrible even incoming Democrat Senate Leader Chuck Schumer won't support it."
The posts combined reached more than 4.8 million people on Facebook throughout the summer of 2015.