Tea Party Patriots Action Weekly Report from Washington for 9/16/19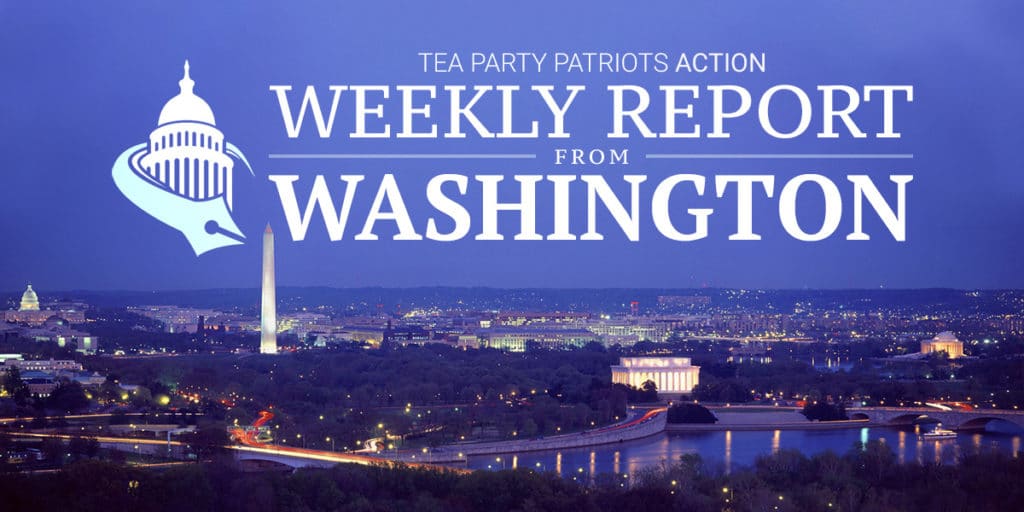 CALENDAR:
The Senate will return Monday, and stay in session through Thursday, while the House will return Tuesday and stay in session through Friday.
LAST WEEK ON THE HOUSE FLOOR:
The House came back to work on Tuesday, and voted to pass three bills under Suspension of the Rules.
On Wednesday, the House took up and passed H.R. 205, the Protecting and Securing Florida's Coastline Act of 2019 and H.R. 1941, the Coastal and Maritime Economies Protection Act.
On Thursday, the House took up and passed H.R. 1146, the Arctic Cultural and Coastal Plain Protection Act.
And then they were done.
THIS WEEK ON THE HOUSE FLOOR:
The House will return on Tuesday, with the first votes set for 6:30 PM. At that time, the House is scheduled to take up 8 bills under Suspension of the Rules. The House may also consider a Motion To Go to Conference and a Republican Motion To Instruct Conferees on S. 1790, the National Defense Authorization Act for FY 2020.
On Wednesday, the House is scheduled to take up H.R. 1423, the Forced Arbitration Injustice Repeal Act, also known as the FAIR Act. Sometime on Wednesday or Thursday, the House will take up 9 more bills under Suspension of the Rules.
Also on Wednesday, the House is holding an opening in the schedule to consider a Continuing Resolution that would maintain government funding at current levels until November 21.
LAST WEEK ON THE SENATE FLOOR:
The Senate returned to work on Monday, and voted to invoke cloture on the nomination of Kelly Craft to serve as Representative of the United States to the Sessions of the General Assembly of the United Nations during her tenure of service as Representative of the United States of America to the United Nations. On Tuesday, the Senate voted to confirm her to that position.
Then, during the rest of the week, the Senate voted to confirm the following people to the following positions:
Elizabeth Darling to be Commissioner on Children, Youth, and Families, Department of Health and Human Services
Stephen Akard, to be Director of the Office of Foreign Missions, with the rank of Ambassador
Dale Cabaniss, to be Director of the Office of Personnel Management
James Byrne, to be Deputy Secretary of Veterans Affairs
Michelle Bowman, to be a Member of the Board of Governors of the Federal Reserve System
Jennifer D. Nordquist, to be United States Executive Director of the International Bank for Reconstruction and Development
Thomas Peter Feddo, to be Assistant Secretary of the Treasury for Investment Security
Stephanie L. Haines, to be U.S. District Judge for the Western District of Pennsylvania
Ada E. Brown, to be U.S. District Judge for the Northern District of Texas
Steven D. Grimberg, to be U.S. District Judge for the Northern District of Georgia
Steven C. Seeger, to be U.S. District Judge for the Northern District of Illinois
Just for the record, during that series of judicial confirmations, the Senate voted to confirm President Trump's 150th judicial nominee.
THIS WEEK ON THE SENATE FLOOR:
The Senate will return to work on Monday, with the first vote set for 5:30 PM. That will be a vote to invoke cloture on the nomination of John Rakolta, Jr., to be U.S. Ambassador to the United Arab Emirates.
In addition to the Rakolta nomination, based on the Majority Leader's cloture filings, I anticipate the Senate will vote on the following nominations this week:
Kenneth Howery, to be U.S. Ambassador to Sweden
Robert Destro, to be Assistant Secretary of State for Democracy and Human Rights
Brent McIntosh, to be Undersecretary of the Treasury
Brian Callahan, to be General Counsel for the Department of the Treasury
Further, the Majority Leader indicated last week that he hopes to be able to bring to the floor this week a minibus appropriation bill combining the appropriations bills for the Departments of Defense, Health and Human Services, Labor, Education, Foreign Operations, and Energy and Water Development. That bill would fund about 70 percent of government spending.
BORDER SECURITY/IMMIGRATION:
On Wednesday evening, the Supreme Court handed the Trump Administration a major legal victory, giving the Administration permission to proceed with a new policy blocking asylum for migrants who pass through another country on their way to the United States. The court's ruling, overturning a ruling from the 9th Circuit, allows the Administration to put the policy into effect while its legality is being challenged in the court system.
Interestingly, seven of the nine justices agreed on the case, leaving only Justices Sotomayor and Ginsberg in the minority.
FREEDOM CAUCUS:
The House Freedom Caucus voted to elect Andy Biggs of Arizona as its new Chairman, replacing North Carolina's Mark Meadows, who will remain on the board of the Freedom Caucus.
GUN CONTROL:
We still do not know for sure where President Trump will come down on gun control, but the latest indication is that we'll be happy – on Thursday evening, speaking in Baltimore to the House Republican Conference at its annual retreat, President Trump said, "Democrats want to confiscate guns from law-abiding Americans. Republicans will always uphold the fundamental right to keep and bear arms." And he received a standing ovation.
Meanwhile, at almost exactly the same time, halfway across the country, in Houston, at the Democratic presidential debate, former Congressman Beto O'Rourke backed up President Trump, saying that he supported a mandatory federal buy-back of military-style firearms when he declared, "Hell, yes, we're going to take your AR-15, your AK-47!" which proves President Trump's point – Democrats want to take away guns.
The importance of former Congressman O'Rourke's declaration cannot be underestimated. It was highly significant. Now, the gun-grabbers' agenda is clear – it is to grab the guns. The AR-15 is the most popular firearm in the United States, and the former Congressman says he's coming after them. Which means those who oppose universal background check legislation for fear it will create a registry are now on solid ground, rhetorically.
Meanwhile, the Senate is still waiting for final direction from the White House, and Leader McConnell is holding to his position of not putting anything on the floor of the Senate that the President has not said he would sign.
Meanwhile, House Democrats aren't waiting around. The House Judiciary Committee met for a markup session on Tuesday and passed three bills – a bill offering federal grants as an inducement to states to pass their own so-called "red flag" laws; a bill that would limit gun rights of people who have been convicted of misdemeanor hate crimes; and a ban on large-capacity magazines.
Not to be left out, 145 of the nation's top CEOs sent a letter to Senate leaders on Thursday, urging passage of the universal background check legislation and "red flag" law already introduced in the House of Representatives. "Doing nothing about America's gun violence crisis is simply unacceptable and it is time to stand with the American people on gun safety," says the letter, which was signed by the CEO's of Levi Strauss, Twitter, Airbnb, The Gap, Lyft, and Uber, among others. Missing from the list? Apple, Facebook, Google, JPMorgan Chase, and Wells Fargo.
IMPEACHMENT:
On Thursday, the House Judiciary Committee passed a resolution detailing the parameters for its impeachment investigation into President Trump. By a party-line vote of 24-17, the committee passed the resolution. Said Chairman Jerry Nadler, "Some call this process an impeachment inquiry. Some call it an impeachment investigation. There is no legal difference between these terms, and I no longer care to argue about the nomenclature."
Speaker Pelosi doesn't care to argue about the nomenclature, either, as long as you don't call it "impeachment," because that is a word she clearly does not want to use. At her weekly press briefing on Thursday, she refused to use the word, even as she insisted that she supports "what is happening in the Judiciary Committee because that enables them to do their process of interrogation and investigation."
Democrats are caught between a rock and a hard place here. Nadler and his pro-impeachment cronies are responding to the leftwing Democrat base, which wants President Trump impeached yesterday. Pelosi is worried about her majority-makers, three-quarters of whom are now representing districts carried by President Trump in 2016. She knows that the only way House Democrats can pass an impeachment resolution on the House floor would be to do so with the votes of the majority of the majority-makers – and that would put them at risk. So she is still doing everything she can to assuage the base while protecting her Trump-district-representing majority-makers from having to actually vote on the matter.
RUSSIA HOAX:
On Thursday, it was revealed that U.S. Attorney for the District of Columbia Jessie Liu has recommended indicting former FBI Deputy Director Andrew McCabe, as the DOJ has rejected a last-minute appeal from his lawyers. The potential charges relate to DOJ Inspector General Michael Horowitz's finding that McCabe demonstrated what Horowitz called "a lack of candor" regarding an investigation of an FBI leak about its ongoing investigation into the Clinton Foundation.
On Friday, Inspector General Horowitz informed key congressional committees that he has completed his investigation of potential FISA abuses at DOJ and the FBI, and has submitted a draft report to the Attorney General. He is now in the process of preparing a final draft. "We have now begun the process of finalizing our report by providing a draft of our factual findings to the department and the FBI for classification determination and marking," he wrote in a September 13 letter.
In his letter, Horowitz said his team had reviewed more than one million records, and had conducted more than 100 interviews.
SPENDING:
The clock is still ticking. We're now less than three weeks away from a hard deadline on government funding, and we still haven't seen a minibus appropriations bill. But we're getting there soon.
SUPREME COURT:
On Saturday, The New York Times ran an excerpt from a new book by two of its reporters who covered the Brett Kavanaugh confirmation battle. In their excerpt, they suggest that the story of Deborah Ramirez – who claimed that at a party at Yale University in the mid-1980s Kavanaugh had dropped his trousers and thrust himself in her face, but who could not find fellow students to corroborate her story – should be given more credence.
They also reported a new allegation against Kavanaugh from his time at Yale. They wrote, "We also uncovered a previously unreported story about Mr. Kavanaugh in his freshman year that echoes Ms. Ramirez's allegation. A classmate, Max Stier, saw Mr. Kavanaugh with his pants down at a different drunken dorm party, where friends pushed his penis into the hand of a female student. Mr. Stier, who runs a nonprofit organization in Washington, notified senators and the FBI about this account, but the FBI did not investigate and Mr. Stier has declined to discuss it publicly."
Aside from the logistical questions that arise – to wit, just how, exactly, would friends push his penis into the hand of a female student? – there's a more glaring problem with the new allegation: there is no mention of a victim's name. What we are told in the New York Times piece is that Mr. Stier remembers the incident, and says he reported it to senators and the FBI. And that's that.
But the book itself – which comes out Tuesday, but which Mollie Hemingway was able to procure – adds that detail. Wrote Hemingway on Twitter, "The book notes, quietly, that the woman Max Stier named as having been supposedly victimized by Kavanaugh and friends denies any memory of the alleged event."
The New York Times itself updated its story late Sunday with a slightly different take, adding that the book "did not include one element of the book's account" of the new incident: "The book reports that the female student declined to be interviewed and friends say that she does not recall the incident."
Oh, and, by the way, Max Stier served as one of Bill Clinton's lawyers during the Clinton impeachment proceedings, so there's that.
It sure looks to me like this is nothing more than another hit job on Brett Kavanaugh. But that won't keep the Democrats from jumping on it. Within 24 hours of the publication of the New York Times' smear, no fewer than six of the Democrats' 2020 candidates for president – Kamala Harris, Julian Castro, Bernie Sanders, Elizabeth Warren, Beto O'Rourke, and Pete Buttigieg – called for Kavanaugh to be impeached.
STAFFING:
On Tuesday morning, President Trump tweeted the news that he had fired his third national security advisor, John Bolton. Bolton responded by tweeting back, declaring that he had offered to resign the previous evening, but that the president had said they would talk the next day. Whether it was a firing or a resignation is irrelevant. What's important is that Bolton is gone, and President Trump is now looking to hire his fourth national security adviser in less than three years.
SUGGESTED READING:
BORDER SECURITY/IMMIGRATION:
Hill: Arrests At Southern Border Drop To 64K In August
Politico: Supreme Court Hands Trump A Victory On Asylum Restrictions
WSJ: Supreme Court Authorizes Trump To Deny Asylum To Central Americans
Hill: Exclusive: Kushner Tells GOP It Needs To Unify Behind Immigration Plan
FREEDOM CAUCUS:
Politico: House Freedom Caucus Picks Andy Biggs As New Chairman
Hill: Meadows To Be Replaced By Biggs As Freedom Caucus Leader
GUN CONTROL:
Politico: Dems Panel Tees Up Gun Control Bills As GOP Stalls
Politico: White House Keeps Republicans In Suspense Over Guns
Hill: McConnell: White House Is Preparing A Gun Violence Proposal
NYT: 'Simply Unacceptable' 145 Executives Demand Senate Action On Gun Violence
Hill: Trump Nears Decision On Background Checks, Senators Say
Politico: Senators Make Last-Ditch Plea To Trump On Guns
Hill: Conservatives Offer Stark Warning To Trump, GOP On Background Checks
Politico: Inside the Gun Lobby's Push To Sway Trump
CNN: Beto O'Rourke Just Did Republicans a Massive Favor on Guns
NRO: Yes, They Are Coming for Your Guns
Politico: These 3 Senators Might Win Trump Over on Gun Background Checks
Politico: Pelosi and Schumer Take Hard Line with Trump on Gun Background Checks
IMPEACHMENT:
Politico: Democrats Stumble On Impeachment Messaging
Politico: Judiciary Panel Advances The Impeachment Drive As Pelosi Changes The Subject
Hill: Judiciary Approves New Investigative Powers With Eyes on Impeachment
Bloomberg: House Democrats Bolster Impeachment Probe Amid Debate Over Speed
Hill: Democrats To Question Corey Lewandowski As They Investigate Possible Obstruction By Trump
Politico: DOJ Cites Dems' Mixed-Up Impeachment Messages To Undercut House Probe
CNN: Freshmen Democrats Who Flipped GOP Seats Push Back on Impeachment Push
Judiciary Committee: The Resolution
RUSSIA HOAX:
FOX: US Attorney Recommends Proceeding with Charges Against McCabe, as DOJ Rejects Last-Ditch Appeal
FOX: McCarthy Promises Accountability as Barr Reviews IG's FISA Report: 'The Closest We've Ever Seen to a Coup'
FOX: DiGenova: McCabe Prosecution Would Start Holding Obama Officials Responsible for Anti-Trump Abuses
WE: DOJ Inspector General Completes Investigation into Alleged FISA Abuse
FOX: DOJ Watchdog Submits Draft Report on Alleged FISA Abuses to Barr
ET: Inspector General Horowitz Submits Draft Report to DOJ, FBI on Alleged FISA Abuses
WE: 'I Can't Tell You Yet': Lindsey Graham Says Feds Were Warned About Christopher Steele Up To Six Times
SPENDING:
Politico: Senate Spending Bills Thrown Into Chaos Over Abortion Policy, Border Wall
Hill: Senate Spending Talks Go Off The Rails As Soon As They Begin
Hill: Senators Struggle To Get Spending Bills Off Ground as Shutdown Looms
SUPREME COURT:
NYT: Brett Kavanaugh Fit in with the Privileged Kids. She Did Not.
NRO: The New York Times Anti-Kavanaugh Bombshell Is Actually a Dud
Federalist: Alleged Victim in New York Times Kavanaugh Story Denies Any Recollection of Incident
NYT: Calls for Kavanaugh's Impeachment Come Amid New Misconduct Allegations
NRO: New York Times Walks Back New Kavanaugh Sexual-Misconduct Accusation
WT: 2020 Democrats Call for Brett Kavanaugh's Impeachment
STAFFING:
Hill: Trump Fires National Security Adviser Bolton
NRO: Trump Fires National Security Adviser John Bolton
Politico: John Bolton's Gone – And Republicans Want In
Politico: Inside Trump's And Bolton's Spectacular Split
AP News: Inside Bolton's Exit: Mongolia, A Mustache, A Tweet
WSJ: John Bolton Ousted By Trump As National Security Adviser
2020 DEMOCRATS:
WaPo: For Most Of The Night, Biden Weathers A Volley Of Attacks
Politico: Biden Fails To Step Up Or Down
Hill: Castro Accuses Biden Of Forgetting Health Care Details, Not Fulfilling Obama's Legacy
MISCELLANEOUS:
Texas Tribune: Texas Senator Pat Fallon Exploring Primary Challenge To Republican US Senator John Cornyn
Time: Trump's New Math: Inside The Plan To Flip Blue States In 2020
NYT: CIA Informant Exfiltrated From Russia Had Sent Secrets To US For Decades
NYT: NC Election Shows How Political Lines Are Drawn. And They Are Fixed
Hill: McCarthy: House GOP To Plot Path To Majority At Retreat