Tea Party Patriots Action Weekly Report from Washington for 9/10/19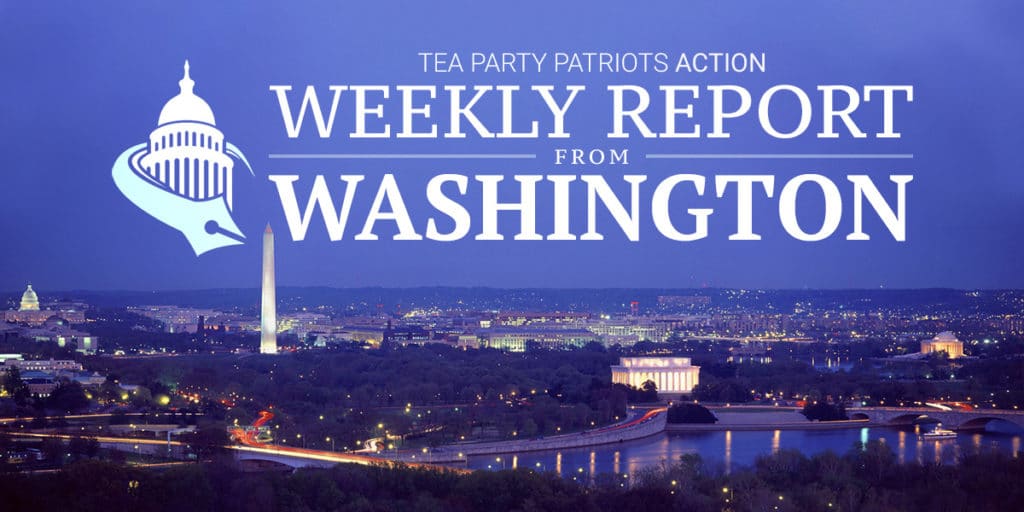 CALENDAR:
The House and Senate will both return Monday, and stay in session through Thursday.
THIS WEEK ON THE HOUSE FLOOR:
The House will return Monday, with the first votes set for 6:30 PM. At that time, the House is scheduled to take up four bills under Suspension of the Rules.
On Tuesday, the House is scheduled to take up another five bills under Suspension of the Rules.
On Wednesday and Thursday, the House may consider H.R. 1941, the Coastal and Maritime Economies Protection Act; H.R. 205, the Protecting and Securing Florida's Coastline Act of 2019; and H.R. 1146, the Artic Cultural and Coastal Plain Protection Act.
THIS WEEK ON THE SENATE FLOOR:
The Senate will return Monday, and will resume consideration of the nomination of Ambassador Kelly Craft to be Representative of the United States of America to Sessions of the General Assembly of the United Nations during her tenure of service as Representative of the United States of America to the United Nations.
At 5:30 PM Monday, there will be a roll call vote on the motion to invoke cloture on that nomination.
Following that cloture vote, based on the Majority Leader's cloture filings before they broke for the August recess, I anticipate the Senate will move to consider the following nominations in the following order:
Elizabeth Darling to be Commissioner on Children, Youth, and Families, Department of Health and Human Services
Stephen Akard, to be Director of the Office of Foreign Missions, with the rank of Ambassador
Dale Cabaniss, to be Director of the Office of Personnel Management
James Byrne, to be Deputy Secretary of Veterans Affairs
Michelle Bowman, to be a Member of the Board of Governors of the Federal Reserve System
Thomas Peter Feddo, to be Assistant Secretary of the Treasury for Investment Security
Jennifer D. Nordquist, to be United States Executive Director of the International Bank for Reconstruction and Development
AGENDA:
So, let's spend a few minutes talking Big Picture Agenda. What is Congress going to be working on between now and the end of the year?
First up in terms of must-do's is government funding. We're already into the second week of September, and Congress has yet to send a single appropriations bill to the White House for the president's signature. You'll remember that right before the House and Senate broke for the five-week-long August Recess, they voted into law a budget agreement that set topline spending levels for the next two fiscal years. Now they'll have to turn those numbers into actual legislation.
The House has already passed 10 of the 12 annual spending bills, but the Senate decided not to waste time with floor votes on spending legislation until they knew first what the topline numbers would be. So the Senate Appropriations Committee is going to get to work first on a minibus appropriations bill combining the spending bills for the Department of Defense, the Departments of Labor, Education, and Health and Human Services, and possibly adding in energy and water development funding as well. That's what they did last year, if you'll recall, and it funded about 75 percent of government spending programs with that one piece of legislation.
They may or may not be able to put that bill together, vote it through the Senate, and then get it to the House in time for the House to either consider it or decide it's time to go to conference with some of the bills that have already passed the House before the end of the current fiscal year at the end of September. What's more likely is that while the Senate is getting its act together on the appropriations front, the House will be moving next week to take up a short-term Continuing Resolution to keep the government open and funded at current spending levels. House Majority Leader Steny Hoyer has suggested such a CR would last no more than 60 days, and he's also suggested November 22 – the last Friday before Congress breaks for Thanksgiving – as an attractive target for an expiration date. Why? Because it's close to a holiday, and that means it's close to a holiday recess. Remember, congressional leadership in both parties in both houses loves to use hard holiday deadlines as inducements to action, so we'll keep our eye on this.
Second up is guns, and, in the wake of three mass shootings in the last month, some kind of attempt to pass something related to some kind of gun control. I don't think any smart person on Capitol Hill, whether Republican or Democrat, actually believes there's any legislation they could pass that would significantly reduce the likelihood of future mass shootings. This is a political issue that Democrats love to use against Republicans, because on this issue, at least, it appears that most Republicans have an understanding of what the 2nd Amendment is all about, and they know where their bread is buttered, and they're not going to pass something just for the sake of passing something, and the Democrats, who are perfectly happy to pass meaningless legislation that would have no effect on stopping mass shootings even as new laws further restrict our 2nd Amendment rights, will be perfectly happy to raise the issue again and again, because they think it's a political winner for them in the suburbs.
Senate Majority Leader McConnell has made it clear he's not going to put anything on the floor of the Senate until he has been assured that the president will sign it.
And we've still got to deal with trade. Even as the Trump Administration seems to be engaging in a trade war with China, it also wants very much to replace the 25-year-old NAFTA trade deal with its new USMCA deal. Senate Finance Committee Chairman Chuck Grassley wants to move on this, but it's being held up in the House by Speaker Pelosi, who wants stronger labor and environmental provisions added to the deal.
And we've also still got to come to agreement between the House and Senate over the National Defense Authorization Act. Both houses passed their versions of the bill before the August recess, but the two versions differ significantly, and the conference committee will be, shall we say, cantankerous. For instance, the House measure would block emergency arms sales to the Saudis, would repeal the 2002 Authorization for the Use of Military Force in the Middle East, and would block the president from using military funding to build the border wall; the Senate version of the bill contains none of these measures.
IMPEACHMENT:
The House Judiciary Committee will vote Thursday on a resolution defining the parameters of the impeachment inquiry they've now acknowledged they've begun. This would strengthen their hand, they believe, in their ongoing legal fights with the Trump Administration over subpoenas for witnesses and documents in their ongoing investigations.
But just because the Judiciary Committee votes for it does not mean it will be considered on the House floor. Speaker Pelosi is still opposed to moving forward on impeachment, worried that her majority-makers – that is, the freshmen House Democrats who flipped the 40 GOP seats to recapture the majority – are in a bind on impeachment, because more than three-quarters of them are representing districts that Trump won in 2016, and, presumably, would not want to be forced to vote on impeachment.
SUGGESTED READING:
JENNY BETH MARTIN/TEA PARTY PATRIOTS:
Fox News Video: Jenny Beth Martin: Can Sanders' Far Left Progressive Criminal Justice Reform Plan Realistically Become Law?
Breitbart: Jenny Beth Martin: Trump Is Taking The Smart Approach Toward Venezuela
Townhall: Jenny Beth Martin: Ajit Pai's FCC Is Model Of Government Reform
Multichannel: TIVO, Comcast Patent Battle Draws Interest Of Conservative PAC's
Newsbusters: Conservative Leaders Ask Google To Explain Site Blocking
CNS: Conservatives Condemn Facebook's Failure To Address Censorship Concerns
Advanced Television: Comcast-TIVO Patent Battle Attracts Advocacy Movement
Conservative HQ: Conservative Action Project: Congress And President Trump Must Protect Second Amendment
LifeZette: Border Rule Establishes Very High Standards Of Care For Children In Federal Custody
NYT: The Tea Party Didn't Get What It Wanted, But It Did Unleash The Politics Of Anger
The Federalist: The Left Can't Stop Lying About The Tea Party
Breitbart: Conservative Leaders Support Rollback Of Obama Gas Mileage Standards
CTLN: Tea Party National Leader One of Our Own
AGENDA:
Hill: Congress Set For Chaotic Fall Sprint
Fox News: Reporter's Notebook: What To Expect From Congress As Lawmakers Return From Recess
BORDER SECURITY/IMMIGRATION:
Yahoo: Trump Administrator Moves To End Limits On Child Detention
NRO: Trump Claims He Is Seriously Considering Ending Birthright Citizenship For Children Of Illegal Immigrants
Axios: Scoop: Top Homeland Security Aide Resigns Amid Tensions With White House
Hill: Trump Says Administration Is Looking Seriously At Ending Birthright Citizenship
NYT: Migrant Families Would Face Indefinite Detention Under New Trump Rule
Hill: ICE Head Insists Children Won't Be Held Indefinitely Under New Rule
Hill: Trump Officials Unveil Rule Allowing Indefinite Family Detentions
Politico: Trump To Move To Expand Detention Of Migrant Families
Politico: Trump Defends Cash Grab For Border Projects As Lawmakers Lash Out
Politico: Trump Administration Raids Military Construction Projects For Border Wall
Hill: Republicans Grumble Over Trump Delaying Military Projects For Wall
CAPITALISM:
Business Roundtable: Statement: The Purpose Of A Corporation
WaPo: Corporate Panic About Capitalism Could Be A Turning Point
Economist: What Companies Are For
DRUG PRICE CONTROLS:
WE: Pipes: Trump's Drug Price Controls Could Cost Lives
THF: Prescription Drug Pricing: Stroking the Right Balance
NRO: Moore: Drug-Price Controls Can Be Injurious to Your Health
NRO: The False Promise of Drug-Price Controls
ECONOMY:
WaPo: Trump Calls On Fed To Cut Rates By 100 Basis Points Amid Recession Fears
Hill: Trump Says White House Looking At Payroll Tax Cut
Reuters: Trump Looking At Possible Tax Cuts Amid Economic Jitters
WSJ: Trump Weighs Options To Spur The Economy
Politico: Trump Team Braces GOP Donors For A 'Moderate And Short' Recession
Bloomberg: Trump Says He Can Order Capital Gains Tax Break Without Congress
WSJ: Federal Deficits To Grow More Than Expected Over Next Decade, CBO Says
WSJ: In Reversal, Trump Says He Is No Longer Considering Tax Cuts
The Blaze: Trump Admits His Trade War With China Could Have Negative Implications For US, But That It's Worth It To Take China On
NYT: Budget Deficit On Path To Reach $1 Trillion Under Trump
Politico: Trump Reverses Himself On Tax Cut Ideas
Hill: Trade War Costing Average Household $580 CBO Says
Hill: Deficits To Exceed $12 Trillion Through 2029 :CBO
Hill: Conservatives Push Trump Tariff Relief Over Payroll Tax Cuts
FILIBUSTER:
NYT: Harry Reid: The Filibuster Is Suffocating The Will Of The American People
NYT: Mitch McConnell: The Filibuster Plays A Crucial Role In Constitutional Order
GUN CONTROL:
WaPo: Trump Again Appears To Back Away From Gun Background Checks
NYT: After Lobbying By Gun Right Advocates, Trump Sounds A Familiar Retreat
Politico: Democratic Leaders Assail Trump's Apparent Reversal On Gun Background Checks
CNN: Trump On Guns: 'We Do Have A Lot Of Background Checks Now'
Politico: Judiciary Committee To Cut Recess Short To Take Up Gun Measures
Politico: Republicans Start To Sour On Gun Control Laws After Trump's Reversal
Politico: Republicans Start To Sour On Gun Laws After Trump's Reversal
Politico: Trump To Release Gun Control Proposals, Including Background Check Updates
IMPEACHMENT:
Hill: Fourth Ranking House Democrat Backs Trump Impeachment
Axios: House Judiciary Committee Subpoenas Corey Lewandowski To Testify In Obstruction Probe
Hill: Second Democrat Representing Trump District Backs Impeachment
Politico: Nadler Asks House Committees Probing Trump To Share Docs for Its Impeachment Investigation
Politico: Who Supports Impeachment?
Politico: Democrats Messy Impeachment Push Hits Critical Phase
WaPo: Congressional Democrats Plan To Launch Inquiry Into Trump's Alleged Role In Scheme To Silence Affair Accusations
Hill: House Democrats Blur Lines On Support For Impeachment
Reuters: House Panel Poised To Spell Out Trump Impeachment Probe: Source
RUSSIA HOAX:
NRO: The Bogus Story That Launched A 'Collusion' Probe
Politico: Trump Fuels Prediction That Russia Investigators Will Face Prison
WE: DOJ Inspector General Condemns Comey Memo Leak To Force A Special Counsel
WE: Jordan And Meadows Want DOJ Inspector General To Testify About Comey's Misconduct
Hill: Comey's Classified Misconduct And The Media's Flawed Coverage Of It
WSJ: Ex-FBI Director Comey Violated Policies By Leaking Documents, Watchdog Says
National Review: DOJ Inspector General: Comey Set A Dangerous Example By Leaking Trump Meeting Memos
Hill: Trump Can Change History By Declassifying Three Obama Era Documents
RedState: Why Comey Escaped Charges Last Week And Why His Luck Is Likely To Change
2020 DEMOCRATS:
Hill: Inslee Drops Out Of 2020 Race
Hill: Hickenlooper Announces Senate Bid
NYT: Seth Moulton Ends 2020 Presidential Campaign With a Warning
Politico: What We Know About The Democratic Primary
Politico: It's Now Biden, Warren, Saunders – And Everyone Else
WaPo: As He Campaigns For President, Joe Biden Tells A Moving But False War Story
NYT: Polling Picture Comes Into Focus: Biden Leads 3-Way Race At The Top
MISCELLANEOUS:
Politico: Planned Parenthood Pulls Out Of Family Planning Over Trump Administration Rule
White House: Remarks By President Trump And President Johannis Before Bilateral Meeting
WE: Mike Pompeo Says No To Senate Run In Exclusive Wide Ranging Interview
Politico: Trump And His Minnesota Mini-Me Set Out To Flip The State Red
NYT: Both Parties See Control Of The Senate As Pivotal – Here Are The Key Races They're Watching
Middleton Press: Yale Graduate Nominated For Second Circuit Lauded By Both Sides
WaPo: Democrats Alarmed By Trump's Promise Of Pardons To Build Border Wall
Politico: MSNBC's Lawrence O'Donnell Apologizes, Retracts Report On Trump Finances
Politico: Inside Susan Collin's Election Fight In The Age Of Trump
Hill: Trump Announces Increased Tariffs On Chinese Goods
WE: White House Counsel Gregg Craig Found Not Guilty In Blow To DOJ
NYT: Doug Collins, Defending Trump In Impeachment Inquiry, Seeks Georgia Senate Seat
Politico: House To Vote On Stopgap Bill To Avert Shutdown
WaPo: Senator Ernst Says Lawmakers Should Discuss Fixing Social Security Behind Closed Doors