Tea Party Patriots Action Weekly Report from Washington for 8/12/19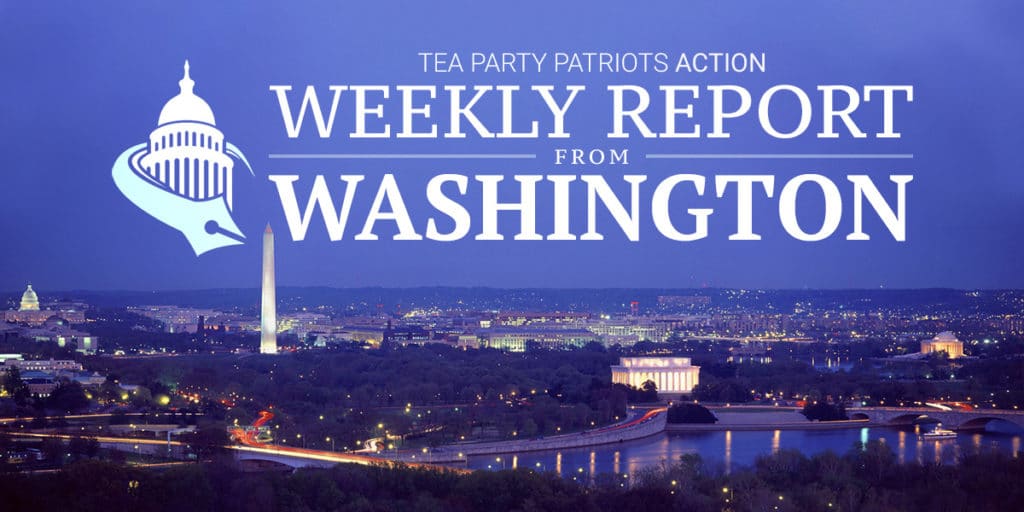 CALENDAR:
The House and Senate are both in recess, and will not return until September 9.
BORDER SECURITY/IMMIGRATION:
Just a few hours ago, the Trump Administration released the final version of a rule that will make it easier for the government to ensure that immigrants seeking to enter and stay in the United States, either temporarily or permanently, are self-sufficient and don't depend on the government for social welfare programs like food stamps, housing assistance, and Medicaid. The rule will be officially released on Wednesday, and will go into effect 60 days later.
"For over a century, the public charge ground of inadmissibility has been part of our nation's immigration laws. President Trump has delivered on his promise to the American people to enforce long-standing immigration law by defining the public charge inadmissibility ground that has been on the books for years," said USCIS Acting Director Ken Cuccinelli. "Throughout our history, self-sufficiency has been a core tenet of the American dream. Self-reliance, industriousness, and perseverance laid the foundation of our nation and have defined generations of hardworking immigrants seeking opportunity in the United States ever since. Through the enforcement of the public charge inadmissibility law, we will promote these long-standing ideals and immigrant success."
According to the statement from the Department of Homeland Security, "DHS has revised the definition of 'public charge' to incorporate consideration of more kinds of public benefits received, which the Department believes will better ensure that applicants subject to the public charge inadmissibility ground are self-sufficient. The rule defines the term 'public charge' to mean an individual who receives one or more designated public benefits for more than 12 months, in the aggregate, within any 36-month period (such that, for instance, receipt of two benefits in one month counts as two months). The rule further defines the term 'public benefit' to include any cash benefits for income maintenance, Supplemental Security Income (SSI), Temporary Assistance to Needy Families (TANF), Supplemental Nutritional Assistance Program (SNAP), most forms of Medicaid, and certain housing programs.
"The regulation also excludes from the public benefits definition: public benefits received by individuals who are serving in active duty or in the Ready Reserve component of the U.S. armed forces, and their spouses and children; public benefits received by certain international adoptees and children acquiring U.S. citizenship; Medicaid for aliens under 21 and pregnant women; Medicaid for school-based services (including services provided under the Individuals with Disabilities Education Act); and Medicaid benefits for emergency medical services."
DEBT:
"Half of Republicans Say US Deficit Needs To Be Dealt With Immediately," says a headline from Friday's Hill newspaper. That headline is inaccurate, though, because fifty-ONE percent of Republicans believe the U.S. deficit is a problem that needs to be dealt with immediately. FIFTY percent of DEMOCRATS believe the U.S. deficit is a problem that needs to be dealt with immediately. And, interestingly, fifty-EIGHT percent of INDEPENDENTS say they believe the U.S. deficit is a problem that needs to be dealt with immediately.
So much for those who think deficit spending is no longer important to the American electorate.
GUN CONTROL:
In the wake of the mass shooting incidents in El Paso, Texas and Dayton, Ohio last weekend, Congress and the president are considering new measures to make some people feel like their concerns have been addressed. Note, I am NOT suggesting that Congress and the president are considering taking action to stop gun violence – there's virtually no law they could pass that would make us significantly safer, or significantly reduce the risk of such mass shooting episodes in the future. Nevertheless, liberals are driven by former White House chief of staff and Chicago Mayor Rahm Emanuel's axiom that you should never let a crisis go to waste. In this case, the crisis is 31 dead people and a couple dozen others injured as a result of two mass shootings, and if the liberals can't use that to press for what was on their agenda BEFORE these latest mass shootings – that is, full on gun control – well, they just wouldn't be worth very much, would they?
The problem here is that the president is under pressure, too. Inside his own family, he's dealing with discord – his eldest son, Donald, Jr., is known to be a hunter and a fan of the NRA and is pushing his father to hold strong against the tide demanding stricter gun control measures. His eldest daughter, Ivanka, is pushing him exactly the opposite direction, telling him this could be his "Nixon goes to China" moment – that is, he and he alone has the credibility with the NRA and his Second Amendment supporting grassroots base to take on the NRA and give cover to Republican members of Congress fearful of the NRA's power as they enact a new, much stricter gun control regime that infringes on our Second Amendment rights.
By the end of the week, President Trump was saying publicly, "Frankly, we need intelligent background checks." He said he had spoken with Senate Majority Leader Mitch McConnell, and said McConnell was "totally on board."
In addition, President Trump has indicated support for so-called "red flag laws," that would allow law enforcement officials to obtain court orders to confiscate weapons from individuals deemed dangerous.
So let's discuss several of the options on the table. We'll be hearing more about these legislative proposals in coming weeks, and we'll hear a LOT about them when Congress returns in September. Let's approach these items from a standpoint of likelihood of becoming law, in ascending order – that is, as I go on, we're dealing with items that are becoming increasingly likely to pass both houses and earn the president's signature.
First up is a renewed prohibition on the sale of so-called "assault style weapons." From 1994-2004, we had such a ban in place. It did not apply to weapons that were already held in private hands, but it prohibited the "manufacture, transfer, and possession" of 118 firearm models and all magazines holding more than 10 rounds. Former President Bill Clinton – who signed this legislation into law – last Thursday called for the prohibition to be reinstated.
Second up is H.R. 8, the so-called Bipartisan Background Checks Act of 2019. This bill was brought to the floor of the House on February 27 of this year. It passed by a vote of 240-190, with two Democrats voting against it and eight Republicans voting for it.
H.R. 8 is a very dangerous bill, in terms of firearm ownership. It would forbid a gun owner from transferring a firearm to another person unless the transfer was facilitated by a federally licensed firearms dealer. The left says this bill simply mandates what it calls "universal background checks," and they point to public opinion polls showing overwhelming support for that position. The problem is, this bill does a lot more than simply require background checks. I'm not going to go into the details here, but I've added some analyses of the legislation in this week's Suggested Reading if you want to delve further. Suffice it to say we would likely oppose such legislation.
Finally – and, sadly, most likely to become law – is some form of new federal legislation to induce states to enact their own so-called "red flag" laws. These are laws already on the books in 17 states and the District of Columbia that allow law enforcement authorities to confiscate a firearm owner's weapons after a court has ruled the firearm a danger to him or herself or others. Senate Judiciary Committee Chairman Lindsey Graham is working on new legislation along these lines, and we know he's spoken to President Trump about it.
IMPEACHMENT:
You'll recall that last week, I said impeachment is about to become a thing. Well, I was right – because while no one was looking, House Judiciary Committee Chairman Jerry Nadler officially crossed the line and began telling reporters that his committee is conducting an impeachment inquiry into President Trump, and said that his panel will decide by the end of the year whether or not to formally refer articles of impeachment to the full House.
During an interview on CNN Thursday, Nadler said, "This is formal impeachment proceedings … We are investigating all the evidence, gathering the evidence. And we will [at the ] conclusion of this – hopefully by the end of the year – vote to vote articles of impeachment to the House floor. Or we won't. That's a decision we'll have to make. But that's exactly the process we're in right now."
This language actually showed up in a court filing last month, when they sought all the background evidence from the Mueller investigation. That was when House Democrats put in writing for the first time that they are trying to decide whether or not they should formally impeach the president. On Wednesday, in a filing in a lawsuit against former White House Counsel Don McGahn, Democrats on the House Judiciary Committee went even farther. "The Judiciary Committee is now determining whether to recommend articles of impeachment against the president based on the obstructive conduct described by the special counsel," declares the filing, before adding that McGahn is the committee's "most important fact witness in its consideration of whether to recommend articles of impeachment."
RUSSIA HOAX:
Three items of note on the Russia Hoax front:
First, Peter Strzok – the former FBI agent whose bias against Donald Trump may have infected his work on both the Hillary Clinton email investigation and the Russia collusion investigation and who was eventually transferred and demoted from his position when thousands of his text messages to his FBI lawyer lover were revealed – has decided to sue the FBI and the DOJ, arguing that his firing was politically motivated and in violation of his First Amendment right to free speech and his Fifth Amendment right to due process. On Tuesday, his lawyers filed the lawsuit.
Second, two days later, former FBI Deputy Director Andrew McCabe filed a similar lawsuit, suing the FBI and DOJ over his firing.
Third, and this might be most interesting – it's possible, POSSIBLE, that former special counsel perjured himself before Congress when he testified on July 24.
So, to put this in context, we have to go back to late May. On May 28, in one of the court cases that arose from the Mueller investigation – that is, the prosecution of the Russian troll farms – U.S. District Judge Dabney Friedrich called attorneys from both sides into her courtroom for a closed hearing. Apparently, according to a piece in RealClearInvestigations, she "agreed with one defendant's claims that Mueller had overstated the evidence when he implied in his report to Congress that the trolls were controlled by the Russian government and that the social media operations they conducted during the 2016 presidential campaign were directed by Moscow … Concerned that Mueller's words could prejudice a jury and jeopardize the defendants' right to a fair trial, Friedrich ordered the special prosecutor to stop making such claims and 'to minimize the prejudice moving forward' – or face sanction."
Wrote Friedrich in her order, "The government shall refrain from making or authorizing any public statement that links the alleged conspiracy in the indictment to the Russian government. Willful failure to do so in the future will result in the initiation of contempt proceedings."
The piece continues:
"The judge explained that Mueller's report improperly referred to the defendants' 'social media operations' as one of 'two principal interference operations in the 2016 U.S. presidential elections' carried out by the Russian government. She also pointed out that he also referred to their Internet trolling as 'active measures' – a term of art that typically includes operations conducted by Russian intelligence to influence international affairs. She said this was a departure from the government's original February 2018 indictment, which 'does not link the defendants to the Russian government' and 'alleges only private conduct by private actors.'
"Friedrich further directed the prosecution to make clear that its allegations are simply that and 'remain unproven.' She also admonished Mueller's team from expressing 'an opinion on the defendant's guilt or innocence.'
"The next day, May 29, Mueller's statement at the Department of Justice press podium apparently mollified the judge. In a recently unsealed July 1 opinion, Friedrich wrote that Mueller had 'demonstrated' the government had complied with her order with his statements to the media.
"'In delivering his remarks,' she said, 'the special counsel carefully distinguished between the efforts by "Russian intelligence officers who were part of the Russian military" and the efforts detailed "in a separate indictment" by "a private [italics in original] Russian entity engaged in a social media operation where Russian citizens [italics in original] posed as Americans in order to interfere in the election."'"
So, where does possible perjury come in?
During Mueller's hearing before the House Judiciary Committee, Republican Congressman Tom McClintock of California asked Mueller about his May 29 press conference, and whether or not it had anything to do with what had happened in Judge Friedrich's court the previous day: "Did your May 29th press conference have anything to do with the fact that the previous day the judge threatened to hold your prosecutors in contempt for misrepresenting evidence?" to which Mueller replied simply, "No.
If the committee were controlled by Republicans, I'm pretty confident that Mueller's response would have been forwarded to the DOJ by now for investigation for possible perjury before Congress. But it's not controlled by Republicans, so I'm not at all confident that Mueller's response will be investigated.
STAFFING:
Two items of note on the staffing front this week:
First, President Trump's Ambassador to Moscow, former Utah Governor Jon Huntsman, tendered his resignation this week, effective October 3. It is believed he is considering another bid for governor.
Second, President Trump announced his selection of retired Admiral Joseph Maguire – a decorated Navy SEAL who is currently serving as director of the National Counterterrorism Center (NCTC) – to become Acting Director of National Intelligence. That choice blocks the ascension of Sue Gordon, a long-time intelligence community veteran who currently serves as Deputy Director and who, in the absence of Maguire's selection, would have taken over as Acting Director. Gordon is suspected by Trump family and allies to be a little too close for comfort to former CIA Director John Brennan. And Trump's decision to block her ascension, which led to her handing in a letter of resignation that ends a 27-year career in the US intelligence community, has angered some members of the tightly-knit professional intelligence community. So if the president decides to formally nominate Maguire to fill the position on a permanent basis, he may have some initial bruised feelings and rough sledding to get over. We'll see.
SUGGESTED READING:
JENNY BETH MARTIN/TEA PARTY PATRIOTS:
Real Clear Politics: Jenny Beth Martin: Why We Need A Senate Resolution Denouncing Socialism
BORDER SECURITY/IMMIGRATION:
Politico: Border Chief Credits Trump Policies for July Drop in Migrants Caught Crossing
Hill: Trump Administration Releases New 'Public Charge' Rule Making It Easier To Reject Immigrants
WSJ: Trump Administration To Deny Green Cards to Legal Immigrants Who Draw from Social Programs
WE: Trump DHS To Begin Blocking Immigrants Who Rely on Government Assistance
NRO: Trump Administration To Crack Down on Visa Applicants Who Would Rely on Public Services
DEBT:
Hill: Half of Republicans Say US Deficit Needs To Be Dealt with Immediately
GUN CONTROL:
NYT: Trump Weighs New Stand On Guns As Pressure Mounts After Shootings
WaPo: Under Pressure, McConnell Raises Possibility Of Senate Action On Gun Legislation
WT: Trump's Support Of 'Red Flag' Laws Faces Opposition By Conservatives
WE: Media Unhinged Over Shootings Unprecedented Levels Of Left Wing Bias
Red State: Media Crossed Line This Week; There's No Going Back
Politico: Schumer Warns GOP Against Settling For 'Tepid' Red Flag Laws
WaPo: Trump's Openness To Extensive Background Checks For Gun Buys Draws Warning From NRA
Fox News: Rep. Thomas Massie, John Lott: Gun Free Zones Need To Go. They Are Not Only Ineffective, They Are Dangerous
Hill: Trump All In Favor Of Background Checks But Doubts Will Of Congress
NYT: 'Red Flag' Gun Control Laws Pick Up Momentum With GOP In Congress
CNN: Senate GOP Scrambles To Find Legislative Response In Wake Of Two Deadly Shootings
Politico: Republicans Hide Behind Trump In Gun Debate
NRO: Donald Trump Is Right To Call For Red Flag Laws
Bloomberg: Republicans Fear Extinction In The Suburbs Over Gun Control
Politico: Trump Explores Executive Action On Guns
Hill: Trump Calls For 'Intelligent' Background Checks In Response To Mass Shootings
WaPo: After Shootings, Democrats Rethink Reluctance On Assault Weapons Ban
Politico: Donald Trump's Nixon-To-China Moment On Guns
NRA-ILA: Myth vs. Fact: 'Universal' Background Checks: Don't Be Fooled by the Lies
NRA-ILA: The Truth About So-Called "Universal' Background Check Legislation H.R. 8 and S. 42
Breitbart: Mitch McConnell: 'Assault Weapons' Ban 'Front and Center' in Senate
Politico: Sen. John Barrasso Throws Cold Water on New Gun Legislation
AP: Trump Says He Wants Background Checks Also Reassures NRA
VOX: Trump's Sudden Push for a Possibly Doomed Background Check Bill, Explained
Breitbart: Donald Trump: Republicans Can 'Lead the Charge' on Expanding Background Checks
DS: Trump on Deterring More Massacres: 'I Don't Want Crazy People Having Guns'
Hill: Five Proposals Congress Is Eyeing After Mass Shootings
NYT: Joe Biden: Banning Assault Weapons Works
IMPEACHMENT:
WE: House Effort To Force WH Counsel To Testify Is A Systemic Abuse
Politico: House Judiciary Committee Slaps Don McGahn With Lawsuit To Enforce Subpoena
Politico: Majority Of House Democrats Now Support Impeachment Inquiry
DS: House Panel Begins 'Formal Impeachment Proceedings' Against Trump
Hill: Nadler Hits Gas on Impeachment
Politico: Nadler' 'This Is Formal Impeachment Proceedings'
RUSSIA HOAX:
Time: Ex-FBI Official Sues Over Firing, Says Trump Ordered His Ouster
The Blaze: Mueller May Have Lied To Congress
RCI: Mueller Tied to Double Deception: First in Court, Then Before Congress
Hill: Strzok, Key Figure In Russia Probe, Sues FBI, DOJ Over Firing
Politico: Andrew McCabe Sues DOJ, Claims His Firing Was 'Retaliation' Directed by Trump
STAFFING:
Hill: US Ambassador To Russia Jon Huntsman Resigns
WaPo: Trump's Pick for Intelligence Director Is a Respected Special Operations Veteran
Politico: Temporary Spy Chief Calms Unease over Trump's Shakeup — for Now
2020 DEMOCRATS:
Politico: Democrats Say Warren Reigned In Second Primary Debates 
MISCELLANEOUS:
NYT: After Strongly Suggesting He May Commute Blagojevich's Sentence, Trump Says Matter Is Under Review
Roll Call: Senate GOP Plans To Divert Health, Education Funds to Border Wall
Politico: Joaquin Castro Doubles Down Amid Backlash Over Tweeting Names Of Trump Donors
WE: Six Trump Donors Joaquin Castro Tried To Shame Also Gave To Him And Brother Julian
Politico: White House Drafting Executive Order To Tackle Silicon Valley's Alleged Anti- Conservative Bias
Politico: Twitter Locks McConnell's Campaign Account Over Video Of Protesters Hurling Threats
Hill: Conservatives Buck Trump Over Worries Of Socialist Drug Pricing
Politico: Trump's China Battle Heads Into Danger Zone
Daily Signal: Bill Would Allow Victims Of Crimes Committed By Illegal Immigrants In Sanctuary Cities To Sue
WE: Pence Marshaling Conservatives For 2020 Trump Reelection