Tea Party Patriots Action Weekly Report from Washington for 7/15/19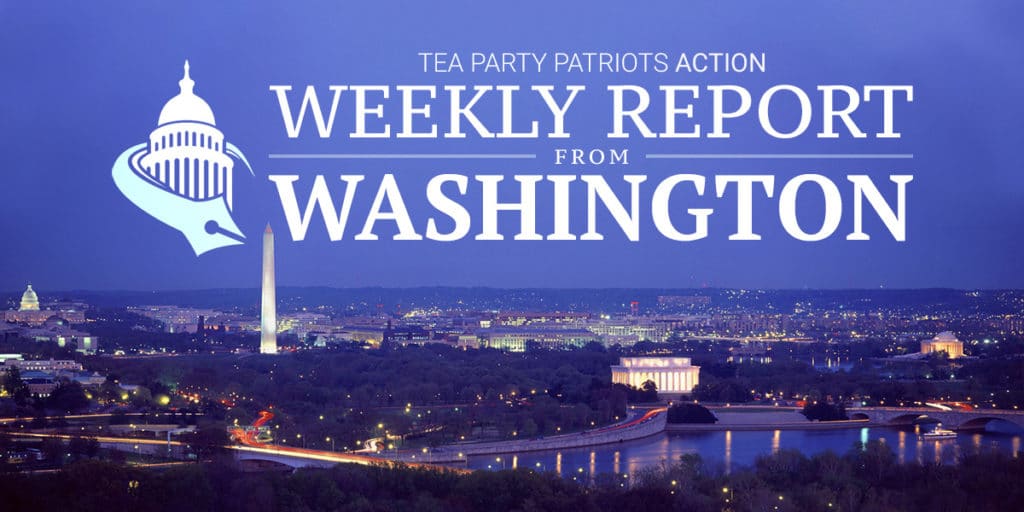 CALENDAR:
The House and Senate will both return on Monday, and stay in session through Thursday.
LAST WEEK ON THE HOUSE FLOOR:
The House came back to work last Tuesday and took up and passed three bills under Suspension of the Rules.
One of those bills was H.R. 1044, the so-called "Fairness for High-Skilled Immigrants Act." It was passed by a vote of 365-65, with 140 Republicans voting in favor and 57 Republicans voting against. We'll talk more about that bill in a moment.
On Thursday, the House took up and began consideration of H.R. 2500, the National Defense Authorization Act. Beginning right before 2 PM on Thursday, and continuing through 1:27 PM Friday, the House considered 34 amendments, of which all but nine passed. Eventually, the bill as amended passed, by a vote of 230-197, with 16 Members not voting.
Then the House voted on H.R. 1327, the Never Forget the Heroes: James Zadroga, Ray Pfeiffer, and Luis Alvarez Permanent Authorization of the September 11th Victim Compensation Fund Act. The bill passed by a vote of 402-12, with 19 Members not voting.
And then they were done.
THIS WEEK ON THE HOUSE FLOOR:
The House will return on Monday, with the first vote set for 6:30 PM. At that time, the House is scheduled to consider 14 bills under Suspension of the Rules.
On Tuesday, the House will consider H.R. 3494, the Damon Paul Nelson and Matthew Young Pollard Intelligence Authorization Act for FY 2020. Later on Tuesday, the House will consider an as-yet-unnumbered resolution recommending that the House of Representatives find Attorney General Barr and Commerce Secretary Ross in contempt of Congress for their refusal to comply with subpoenas issued by the Committee on Oversight and Reform. The committee has subpoenaed testimony and documents related to the Trump Administration's attempt to include a citizenship question on the upcoming 2020 census, but the two Trump Administration senior officials have been unresponsive.
On Wednesday, the House will take up eight more bills under Suspension of the Rules. Then the House will consider three resolutions providing for congressional disapproval of various arms transfers and exports from the United States to Saudi Arabia, the United Kingdom, the Kingdom of Spain, the Italian Republic, and the Republic of France.
On Thursday, the House will consider H.R. 582, the Raise the Wage Act, a bill that would raise the federal minimum wage to $15 per hour over five years.
LAST WEEK ON THE SENATE FLOOR:
The Senate returned on Monday, and moved to invoke cloture on the nomination of Daniel Aaron Bress to be U.S. Circuit Judge for the Ninth Circuit Court of Appeals.
Through the course of the week, the Senate voted to confirm the following people to the following positions:
Daniel Aaron Bress, to be U.S. Circuit Judge for the Ninth Circuit Court of Appeals
Kent Wetherell II, to be U.S. District Judge for the Northern District of Florida
Nicholas Ranjan, to be U.S. District Judge for the Western District of Pennsylvania
Dam Ray Leichty, to be U.S. District Judge for the Northern District of Indiana
Robert L. King, to be Assistant Secretary of Postsecondary Education, Department of Education
John P. Pallasch, to be an Assistant Secretary of Labor
Peter C. Wright, to be Assistant Administrator, Office of Solid Waste, Environmental Protection Agency
THIS WEEK ON THE SENATE FLOOR:
The Senate will come back to work on Monday. At 5:30 PM, the first vote will be a vote to invoke cloture on the nomination of Peter Joseph Phipps to be U.S. Circuit Judge for the Third Circuit Court of Appeals.
Based on the Majority Leader's cloture filings at the end of last week, the rest of this week's schedule will look like this:
Votes on four tax treaties, with Spain, the Swiss Federation, Japan, and Luxembourg.
Clifton L. Corker, to be U.S. District Judge for the Eastern District of Tennessee
Lynda Blanchard, to be Ambassador of the United States to the Republic of Slovenia
Donald R. Tapia, to be Ambassador of the United States to Jamaica
BORDER SECURITY/IMMIGRATION:
Several items of note on the border security/immigration front since we last spoke.
First, the Washington Examiner reported last Tuesday that, "the number of people taken into custody after illegally crossing from Mexico into the United States dropped in June for the first time in six months, plummeting by more than 37,500 since May."
So, in June, just under 95,000 people were apprehended trying to cross our southwest border illegally. That compares to 132,000 arrested in May along the southwest border, the highest number in one month since March 2006.
Don't get too excited, though, thinking this is all a result of Mexico's decision to start policing its own borders, as a result of the pressure President Trump put on the Mexican government. It's still too early to tell how much of this is due to Mexico getting tougher on migrants crossing its own borders, and how much of it is just standard seasonal reductions – because it gets awfully hot in the summertime, and not as many people make the trek in the summer.
Second, the so-called "Fairness for High-Skilled Immigrants Act" was brought to the floor under Suspension of the Rules and passed by a huge bipartisan vote. This bill never should have been brought to the floor under Suspension. There was no hearing for this bill. There were an awful lot of upset conservatives when they saw this bill coming to the floor of the House without a hearing. This bill should have been called the "Intel Doesn't Want To Pay Its High Tech Labor Force Much Act." The legislation, according to an analysis from NumbersUSA, "increases the per-country cap on family-based immigrant visas from 75 of the total number of such visas available to 15% and eliminates the 7% cap for employment-based immigrant visas." So we're going to have to push back against this bill in the Senate – the companion legislation there is S. 386 – and at the White House, to make sure the high-tech lobby doesn't get to President Trump.
Third, Immigration and Customs Enforcement personnel began deportation raids this weekend, targeting across ten cities some 2,000 illegal immigrants who have already gone through our legal system and received a deportation order but have not yet left. Speaker Pelosi really went out on a limb here and told the members of the House Democratic Caucus that they should all tell their constituents that there are legal ways to fight deportation, and to remind them that if ICE agents show up at a home without a search warrant signed by a judge, the resident of the home – even if they're an illegal immigrant with a signed deportation order against them – is within his or her rights to refuse to open the door and let in the ICE agents.
Fourth, Homeland Security Acting Secretary Kevin McAleenan is under investigation to determine whether or not he is the source of the leak two weeks ago that led to the delay of the deportation raids that are going on this weekend.
Fifth, the Department of Justice and Homeland Security jointly announced today that they will publish in the Federal Register tomorrow a new rule that would bar asylum seekers who pass through another country before reaching the U.S. border from applying for asylum here. Said the announcement, "The Departments are amending their respective regulations to provide that, with limited exceptions, an alien who enters or attempts to enter the United States across the southern border after failing to apply for protection in a third country outside the alien's country of citizenship, nationality, or last lawful habitual residence through which the alien transited en route to the United States is ineligible for asylum." The American Civil Liberties Union will file suit shortly.
CITIZENSHIP QUESTION:
So, let's just cut to the chase – after some confusion in the wake of the Supreme Court's ruling that there was no constitutional reason the Trump Administration could not add a citizenship question to the census, but the reason offered in its legal defense was lacking, the Trump Administration decided in the end NOT to attempt to add a citizenship question to the census. Instead, President Trump on Thursday ordered the various agencies of the federal government to send all citizenship data to the Commerce Department. The President insists that he's been told this is a better way to get at that data anyway. We'll see.
RUSSIA HOAX:
After much back-and-forth, the House Judiciary and Intelligence Committees announced that they would delay their hearing with former Special Counsel Robert Mueller by one week, so that they could have him long enough to allow every member of both committees enough time to ask him five minutes of questions. Under the previous agreement, Mueller would only have been asked questions by 22 members of each committee. That would have been fine for the Intelligence Committee, but the Judiciary Committee has 41 members, and not having enough time for every member to ask five minutes' worth of questions wasn't sitting well with the lower-ranking members.
So, mark your calendar for Wednesday, July 24. That's the day Mueller will testify before the House Judiciary and Intelligence Committees. It will happen two days before the House is scheduled to go on leave for six weeks, so I'm not sure it will have the impact the Democrats hoped it would.
SPENDING:
There are just eight legislative days left before we hit the August recess. The House is currently scheduled to leave for a six-week break beginning on July 26, and the Senate is set to leave for a five-week break beginning on August 2. Neither house will return before September 9.
But Houston, we have a problem. Treasury Secretary Mnuchin has been telling anyone who will listen that Congress is going to need to move up the debt ceiling exercise, because he's likely to run out of money before Congress returns in September.
Actually, he ran out of money several months ago. He's been using what the Treasury Department euphemistically refers to as "extraordinary measures" to keep paying the bills on time. But now he's saying publicly that he thinks he's going to exhaust those "extraordinary measures" before Congress returns in September, and that means he's going to need Congress to act to raise the debt ceiling before they leave town for the August break.
That makes precisely no one on Capitol Hill happy. They were hoping, and planning, to combine the debt ceiling vote with a vote on a two-year spending deal that would bust the budget caps to avoid the sequester spending cuts. But they haven't yet cut that deal, so they can't very well add another title to the bill that simply raises the debt ceiling, because there IS no bill yet.
Instead, they'll have to find another must-pass bill to which they can add the debt ceiling increase. Luckily for them, there happens to be a bill that fits the bill – H.R. 1327, the Never Forget the Heroes: James Zadroga, Ray Pfeiffer, and Luis Alvarez Permanent Authorization of the September 11th Victim Compensation Fund Act. That's the bill that passed by a vote of 402-12 in the House last week.
So don't be surprised if, sometime this week or next, the Senate takes up H.R. 1327, adds an amendment that would allow for a debt ceiling increase, passes the bill, and then sends it back to the House with the debt ceiling amendment.
That would still leave a spending deal to be had. Moving from the least costly to the most costly, in terms of spending taxpayer dollars, I see four options:
First, hold to the current spending levels written into law as part of the 2011 Budget Control Act. Those are the sequester spending levels you've heard about, and holding to them would require the government to spend about $126 billion less next year than it was planning on spending. No one on Capitol Hill other than the House Freedom Caucus wants to cut spending this much.
Second, continue to spend next year what we spent this year, by passing a one-year Continuing Resolution. That would still spend more than is budgeted in the Budget Control Act spending levels, but not as much more as they would like to spend. This is what the spending hard-liners in the White House are hoping for.
Third, increase the defense spending levels beyond the levels called for in the Budget Control Act. That would bust the budget by about $71 billion in additional spending. This is what Senate Republicans would like to do.
Fourth, take that defense spending increase and add to it another $55 billion or so in domestic spending increases. This is what Senate and House Democrats would like to do. And I'd be willing to bet that this is where we end up, because Nancy Pelosi is better at these negotiations than is either Mitch McConnell or Donald Trump. We've seen her play high stakes card games before, and she's very good at it. She's already played this game before with the other players – at the start of the year, when President Trump allowed the government to shut down for 35 days in an attempt to get a border wall funded. Pelosi refused to budge, and eventually got what she wanted – the government reopened without any funding for a border wall.
The President's job is not made any easier by the rather weak-kneed card playing by Senate Republicans. They do not want to see the huge budget cuts that would take place if they do NOT get a spending deal, and they don't want to have to vote on a debt ceiling increase OR a spending increase again before the 2020 elections, so that's why they're so incentivized to get a two-year spending deal with a debt ceiling increase and get it done now, before the end of September. Pelosi and Schumer KNOW Senate Republicans don't want to have to vote again next year, right before the 2020 election, on a spending package, and that reduces their leverage.
STAFFING:
Soon-to-be-former Labor Secretary Alex Acosta tendered his resignation Friday morning, effective next Friday, and will be replaced as Acting Secretary by Pat Pizzella, who is now serving as the Deputy Secretary of Labor.
Pizzella has a long track record in labor relations, going back to his first job out of college, when he was a field organizer for the National Right To Work Committee. Since then, he has worked in the Department of Labor in both the Reagan and the George W. Bush administrations, and before he took on his current position as the number two man at the department, he was the chairman of the Federal Labor Relations Authority. Perhaps more importantly for our purposes, Pat has been a long-time activist and leader in the conservative movement, and that means Big Labor has already painted a target on his back. Liberals and Democrats strongly opposed his confirmation as the number two man – he was confirmed by a vote of just 50-48, without a single Democrat vote in favor.
And now they're going to go all out to try to prevent President Trump from nominating Pat to serve as the permanent Secretary of Labor. They're already recirculating stories from 15 years ago, when Pat worked at the same law firm as disgraced lobbyist Jack Abramoff. And while it is true that the two worked together for a time on some of the same accounts, it is also true that Pat was never charged, let alone convicted, for anything related to the Abramoff scandal, or anything else, for that matter.
SUGGESTED READING
JENNY BETH MARTIN/TEA PARTY PATRIOTS:
Real Clear Politics: Jenny Beth Martin: Northam's Latest Gambit To Change The Subject Flops
NewsBusters: Media Ignore Home Depot Supporters
AGENDA:
Hill: House Approves Amendment Seeking to Block Trump from Taking Military Action Against Iran
Hill: House Approves Defense Bill After Adding Liberal Sweeteners
Hill: House and Senate Head for Showdown on Must-Pass Defense Bill
BORDER SECURITY/IMMIGRATION:
Hill: Repeat Of Border Aid Battle Expected With Homeland Security Bill
WE: Exclusive: Illegal Migrant Apprehensions Dropped By More Than 37,500 In June
NUSA: House Passes H.R. 1044, Fairness for High-Skilled Immigrants Act
WaPo: House To Vote On New Border Bill Amid Outrage Over Conditions At Migrant Detention Centers
NYT: Thousands Are Targeted As ICE Prepares To Raid Undocumented Migrant Families
Hill: Ninth Circuit Court Rejects Trump Administration Request To Use Military Funds For Border Wall
WE: Acting DHS Secretary Kevin McAleenan Under Federal Investigation for Alleged Leaks
WE: ICE Reportedly Begins Deportation Raids
Hill: Trump To End Asylum Protections for Most Central American Migrants at US-Mexico Border
WSJ: Trump Administration Plans Tighter Asylum Rules at Southern Border
Axios: Focus Group: Trump's Immigration Edge
CITIZENSHIP QUESTION:
NYT: Justice Department Reverses Course On Census Question, Citing Trump's  Orders
Politico: Dems To Pursue Criminal Contempt Charges For William Barr, Wilbur Ross Over Census
Politico: Why Trump Will Likely Lose The Census Citizenship Fight
Hill: Judge Rejects Justice Department's Request To Pull Lawyers From Census Question
WT: Hola! Majority Of Hispanic Voters Approve Of Citizenship Question On Census
AP News: Barr Sees Legal Way To Ask Citizenship Question On Census
PBS: Barr Says He Sees A Legal Pathway For Citizenship Question
Hill: Pelosi: Census Citizenship Question Is Effort To  'Make America White Again'
Hill: Barr Says Trump Administration Can Legally Add Citizenship Question To Census
Politico: Trump 'Determined' To Add Citizenship Question To Census, Top Immigration Official Says
NYT: Justice Department To Replace Lawyers In Census Citizenship Question
WaPo: Justice Department Changing Lawyers On Census Case
American Thinker: How President Trump Can Use 14th Amendment To Put Citizenship Question Back On 2020 Census
WSJ: How To Put Citizenship Back Into The Census
NRO: Bench Memos: Census Citizenship Question
Rolling Stone: What The Hell Is Going On With Trump And The Census, Explained
WaPo: Federal Judge Rejects Trump Administrations Bid To Swap Out Lawyers For Census Case On Citizenship Question
WaPo: Justice Department Changing Lawyers On Census Case
WaPo: Trump Says He Is Thinking Of Executive Order To Revive Census Citizenship Question
Hill: ACLU Asks Court To Block Trump Efforts To Add Citizenship Question
Hill: Justice Says Its Reviewing All Available Options On Census
Hill: Trump Drops Bid To Add Citizenship Question To 2020 Census
WT: 55% Of Hispanic Voters Approve Of Citizenship Question On Census
Breitbart: Census Battle: Trump Signs Executive Order On Collection Of Census Data
NRO: Trump Concedes Legal Fight To Add Citizenship Question To Census, Issues Executive Order To Get Information By Other Means
WaPo: Trump Administration Scrambles To Save Citizenship Question On Census
Hill: Trump Considering Executive Order On Citizenship Question For Census
Hill: DOJ Reverses, Says Its Trying To Find Way To Include Citizenship Question On 2020 Census
WSJ: Justice Department Renews Census Question As Confusion Spreads
Hill: Trump Administration Drops Citizenship Question From 2020 Census
DEBT CEILING:
Politico: Mnuchin Urges Congress To Raise Debt Ceiling Before August Recess
Hill: High Anxiety Hits Senate Over Raising Debt Ceiling
Hill: GOP Balks At White House Push For Standalone Vote On Debt Ceiling
Hill: Pelosi Says Debt Limit Should Be Dealt With In Next Few Weeks
Politico: Mnuchin Warns Pelosi Debt Ceiling Could Be Hit in September
IRAN:
AP News: Iran Warns It Will Increase Nuclear Enrichment Within Days
NYT: Iran Breaches Critical Limit On Nuclear Fuel Set By 2015 Deal
NORTH KOREA:
NYT: In New Talks, US May Settle For A Nuclear Freeze By North Korea
RUSSIA HOAX:
CNN: Dems Seek To Navigate Mueller Landmines
Hill: Mueller Testimony Likely To Be Delayed For One Week
Hill: Russian Oligarch's Story Could Spell Trouble For Mueller
Hill: Members To Have Little Time To Question Mueller
Hill: Mueller to Give Extended Testimony After Appearance Postponed
SPENDING:
WSJ: After Rancorous Border Fight Congress Faces Funding Deadlines
Politico: Threat Of Budget Disaster Rises Discord In Both Parties
STAFFING:
WE: Mercedes Schlapp Leaves White House Amid Rumored Tension With Stephanie Grisham
Politico: Acosta Defends Epstein Plea Deal As Dems Call For His Resignation
Hill: Acosta Defends Epstein Deal, Says New Charges Could 'More Fully Bring Him To Justice'
Politico: Mulvaney Presses Trump To Dump Acosta Amid Mounting Outrage
Bloomberg: Acosta's Standing In White House Was Eroding Even Before Epstein
WaPo: Epstein Indictment Renews Questions About Earlier Case Handled By Trump Cabinet Official
Miami Herald: Alex Acosta Made An Ethically Challenged Decision 10 Years Ago: Today, He Should Resign
Politico: Acosta Saves His Job – For Now
Roll Call: Acosta Out As Labor Secretary As Epstein Child Sex Scandal Engulfs White House
Hill: Acosta Out as Trump Labor Secretary
Politico: Acosta's 72-Hour Failure To Win Back Trump
Politico: Trump's Acting Labor Secretary Pick Feared by Unions
CNBC: Incoming Acting Labor Secretary Patrick Pizzella Under Scrutiny for Work with Disgraced Lobbyist Jack Abramoff
2020 DEMOCRATS: 
AP News: Iowa, Nevada To Launch Caucus Reply By Telephone For 2020
Politico: Biden Plummets, Harris Vaults To Second In Major Poll
MISCELLANEOUS:
WSJ: The Founders Who Opposed The Constitution
NRO: Republican In 2020, Conservative In 2024
NRO: Russian Oligarch Oleg Deripaska Scoffed At FBI's Collusion Theory
Mother Jones: The Courts Won't End Gerrymandering. Eric Holder Has A Plan For It Without Them
WaPo: Outright Disrespectful: Four House Women Struggle As Pelosi Isolates Them
Politico: 'Do Not Tweet' Pelosi Scolds Progressives In Closed Door Meeting
Townhall: No Evidence Yet Trump Discussed Open Skies With Qatari Emir
Politico: Progressives Seek Concessions From Pelosi Over Massive Defense Bill
Politico: Pelosi Works To Placate Splintered Dems
NRO: Could Justin Amash Cost Trump Re-election?
WaPo: Justin Amash: 'Our Politics Is In A Partisan Death Spiral, That's Why I'm Leaving The GOP'
The Resurgent: The GOP Establishment's Secret Plan To Eliminate The House Freedom Caucus And Trump
NYT: Trump's Asia Gamble: Shatter Enduring Strategies On China And North Korea
Politico: Trump's Big Deal Gets Battered By 2020 Dems And Pelosi
Hill: Dems Rush To Support Pelosi Amid Fight With Ocasio-Cortez
WSJ: Equal Rights Amendment Could Soon Be Back In Congress
WE: The USMCA Trade Deal Is a Big Tax Cut