Tea Party Patriots Action Weekly Report from Washington for 6/24/19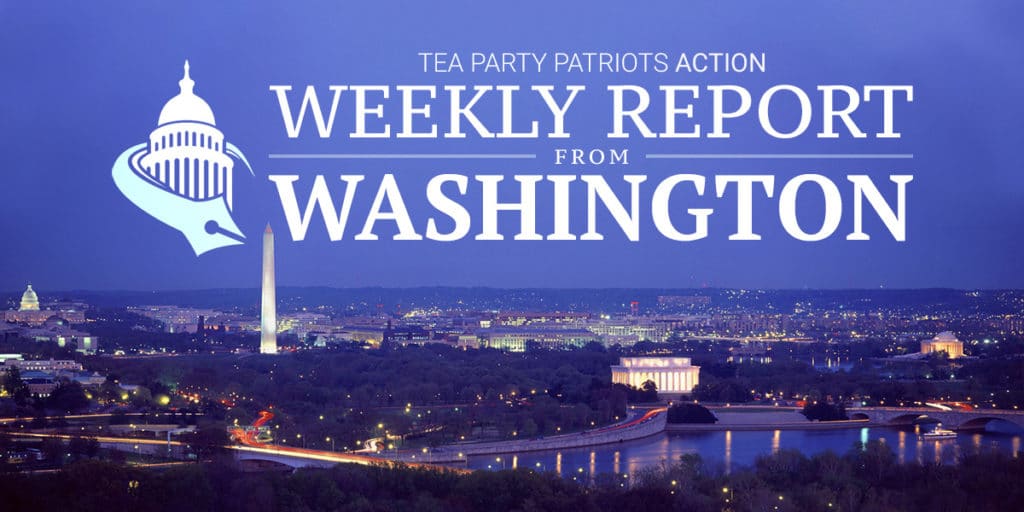 CALENDAR:
The House and Senate will both return Monday and stay in session through Thursday. Then they will go home for a week for the Fourth of July recess, and the Senate will not return until Monday, July 8, while the House will not return until Tuesday, July 9.
LAST TWO WEEKS ON THE HOUSE FLOOR:
The House came back to work on Monday, June 10, and passed three bills under Suspension of the Rules.
On Tuesday, June 11, the House passed the Rule for consideration of H.R. 2740 and H.Res. 430. H.R. 2740 is the big minibus appropriations bill that contains within it the appropriations bills for Defense; Labor, Health and Human Services, and Education; Legislative Branch; State, and Foreign Operations; and Energy and Water Development. H.Res. 430 is the measure that would authorize the Judiciary Committee to initiate or intervene in judicial proceedings to enforce certain subpoenas and for other purposes. Later that day, the House took up and passed another bill under Suspension of the Rules.
On Wednesday, June 12, the House took up H.R. 2740, the minibus appropriations bill. Through the course of the day and well into the night, the House considered a wide variety of amendments to the bill. One of our new conservative hero congressmen, Chip Roy of Texas, worked with other members of the House Freedom Caucus to invoke their rights to demand roll call votes on these amendments. This was, to put it mildly, outside the normal procedure for the Establishment, and caught just about everyone by surprise. Chip and the rest of the Freedom Caucus earned themselves no new friends among other Members of Congress, but they earned the undying loyalty of grassroots activists and regular patriotic American citizens who want to see recorded votes, especially when Congress is voting to spend money it doesn't have.
Consequently, the House was voting that Wednesday until 1 AM. Then they came back and began voting again just before noon Thursday, June 13. They voted until 1:40 PM Thursday, and then they were done.
The House returned to work on Tuesday, June 18, and resumed consideration of H.R. 2740. They continued to consider amendments on the bill through Wednesday, June 19, before finally passing the amended bill by a vote of 226-203. Seven Democrats crossed over to vote against it on final passage, while no Republicans crossed over to vote FOR it on final passage.
THIS WEEK ON THE HOUSE FLOOR:
The House will return on Monday, with the first votes set for 6:30 PM. At that time, the House is scheduled to consider two bills under Suspension of the Rules. The House will then resume its consideration of H.R. 3055, the minibus appropriations bill that combines the spending bills for Commerce, Justice, Science, Agriculture, Rural Development, Food and Drug Administration, Interior, Environment, Military Construction, Veterans Affairs, Transportation, and Housing and Urban Development.
In addition, the House will consider H.R. 3401, the Emergency Supplemental Appropriations for Humanitarian Assistance and Security at the Southern Border Act. That's the Trump Administration's request for $4.6 billion to respond to the border crisis.
The House will also attempt to take up H.R. 3351, the Financial Services and General Government Appropriations Act, and might even get to H.R. 2722, the Securing America's Federal Elections Act. And I doubt it, but they might get done with enough work that they can take up the FY2020 Legislative Branch Appropriations Act – that's the bill that will contain a pay raise for Members of Congress and their staffs.
LAST TWO WEEKS ON THE SENATE FLOOR:
The Senate came back to work on Monday, June 10, and began working on confirmations. During the course of that week, the Senate took up and confirmed the following people to the following positions:
Ryan T. Holte, to be a Judge of the U.S. Court of Federal Claims
Rossie David Alston, Jr., to be a U.S. District Judge for the Eastern District of Virginia
Richard A. Hertling, to be a Judge of the U.S. Court of Federal Claims
Sarah Daggett Morrison, to be a U.S. District Judge for the Southern District of Ohio
Pamela A. Barker, to be a U.S. District Judge for the Northern District of Ohio
Corey Landon Maze, to be a U.S. District Judge for the Northern District of Alabama
Rodney Smith, to be a U.S. District Judge for the Southern District of Florida
Thomas P. Barber, to be a U.S. District Judge for the Middle District of Florida
Jean-Paul Boulee, to be a U.S. District Judge for the Northern District of Georgia
David Stilwell, to be Assistant Secretary of State for East Asian and Pacific Affairs
Edward F. Crawford, to be Ambassador of the United States to Ireland
And then they were done.
The Senate came back work on Tuesday, June 18, and picked up where they left off, processing nominations. During the course of the week, the Senate confirmed the following people to the following positions:
Sean Cairncross, to be Chief Executive Officer of the Millennium Challenge Corporation
Matthew J. Kacsmaryk, to be U.S. District Judge for the Northern District of Texas
Allen Cothrel Winsor, to be U.S. District Judge for the Northern District of Florida
James David Cain, to be U.S. District Judge for the Western District of Louisiana
Greg Gerard Guidry, to be U.S. District Judge for the Eastern District of Louisiana
Rita Baranwal, to be Assistant Secretary of Energy
In addition, the Senate confirmed by voice vote the following people to the following positions:
Seth Daniel Appleton, to be Assistant Secretary of Housing and Urban Development
Dino Falaschetti,to be Director, Office of Financial Research, Department of the Treasury
Robert Hunter Kurtz,to be an Assistant Secretary of Housing and Urban Development
Bimal Patel,to be an Assistant Secretary of the Treasury
Allison Herren Lee,to be a Member of the Securities and Exchange Commission
Keith Krach,to be an Under Secretary of State (Economic Growth, Energy, and the Environment)
Keith Krach,to be United States Alternate Governor of the European Bank for Reconstruction and Development
Keith Krach,to be United States Alternate Governor of the International Bank for Reconstruction and Development for a term of five years; United States Alternate Governor of the Inter-American Development Bank for a term of five years
Jeffrey L. Eberhardt, to be Special Representative of the President for Nuclear Nonproliferation, with the rank of Ambassador
THIS WEEK ON THE SENATE FLOOR:
The Senate will return on Monday, with the first vote set for 5:30 PM. At that time, the Senate will proceed to a roll call vote on the Motion To Proceed to S. 1790, the National Defense Authorization Act for 2019. And I imagine they'll be spending a lot of time this week on the NDAA.
They'll also possibly have to do something on the $4.6 billion supplemental appropriations bill for the border crisis. They want to get that cleared off their desks before they break for the 4th of July recess. We'll talk more about that in a moment.
BORDER SECURITY/IMMIGRATION:
On Monday, June 17, the Trump Administration followed through on a promise it had made earlier to cut hundreds of millions of dollars in aid to El Salvador, Guatemala, and Honduras. Congressional aides said they had been informed by Administration officials that Trump had ordered the reallocation of $370 million in aid to Central America that had been funded for FY 2018, and would suspend an additional $180 million Congress had appropriated for FY 2017.
Democrats screamed bloody murder, arguing that this would likely increase violence and decrease economic growth in the region, resulting in an increase in the numbers of Central Americans deciding to leave Central America and come to the U.S. illegally. That's only true if you believe that U.S. foreign aid actually works to increase economic growth in foreign economies. If, on the other hand, you're like me, and you've actually had the opportunity to spend time in blighted Third World countries and you see how U.S. foreign aid is really used, you have no qualms about cutting off such aid because you know the vast majority of it never makes it to its intended recipients anyway.
What the Trump Administration is really trying to do with this move is to influence the political leaders in those three countries. And by cutting off the aid flow, I think the Trump Administration is very likely to get the attention of those Central American leaders – that's their retirement accounts that are being affected. So we'll see how this works out.
On Friday night, speaker Pelosi called President Trump and asked him to delay planned Immigrations and Customs Enforcement deportation raids that had been scheduled to begin this weekend in ten major U.S. cities. President Trump agreed to do so, and tweeted on Saturday that he was going to delay for two weeks the raids against illegal immigrants who had defied deportation court orders, to give congressional negotiators another opportunity to reach a deal amenable to all sides. But, given that Democrats don't seem to be willing to give an inch on anything that could result in the President claiming any kind of political victory, I don't hold out much hope for that, and I'll bet that congressional Republicans and Democrats will fail once again to reach a deal on immigration reform.
Meanwhile, there were hopes last week that a breakthrough had been reached on the President's request for $4.5 billion in emergency funding to help alleviate the humanitarian crisis at the southern border. But House and Senate appropriators are working off two different song sheets – and while both are likely to consider legislation this week to provide funds for the Administration's request, the two bills are far apart in terms of what they actually fund, and neither side appears willing to bend toward the other. So the House and Senate will likely pass conflicting bills this week, and those two bills will have to be conferenced – and that will take place after the House and Senate return from their 4th of July recess.
IRAN:
Early on the morning of Thursday, June 20, Iranian military forces shot down a $135 million U.S. surveillance drone in the Strait of Hormuz. Iran said the drone had violated Iranian airspace; the U.S. government insisted the drone had been flying in international airspace.
All day Thursday, the President met with advisers and congressional leaders. Near as I can figure out – the reporting on this is very nuanced – the President called off a planned retaliatory strike before it could be launched. I think it's likely he did so for two reasons: First, as he hinted during the day, he may have received intelligence indicating that the decision to shoot down the U.S. drone did not come from the Teheran high command, but instead from somewhere lower on the chain of command, and, thus, did not represent a strike order against the U.S. military from the Iranian regime's top leadership; and, second, he simply concluded that striking back against a radar station or missile battery, with as many as 150 Iranian deaths as a result, was not what he believed to be what he called a "proportionate" response to the downing of an unmanned drone.
So he rejected a military strike against an Iranian radar installation and a missile battery, and instead ordered a cyber-attack against Iranian computer targeting systems used to control missile and rocket launches. The Trump Administration on Saturday warned industry officials to be alert for retaliatory cyber-strikes being launched from Iran. Further, the President announced that he would impose more economic sanctions against Iran that will be announced Monday.
OBAMACARE:
A week ago Thursday, the Trump Administration announced it had finalized rules overturning Obama-era restrictions on employers using health reimbursement arrangements to help their employees purchase ObamaCare insurance plans. The new regulations – which go into effect in August, for health insurance plans beginning in 2020 – will allow employers to provide subsidies for their employees to buy individual coverage, either on or off the ObamaCare exchanges – but not for short term limited duration plans.
The White House believes that as many as 11.4 million workers, including 800,000 who are presently uninsured, will eventually enroll in individual plans that are subsidized through these HRAs.
Some have suggested that this maneuver, in a back-handed way, repeals Congress' special exemption from ObamaCare. And it is true that this maneuver does equalize treatment for individuals in the private insurance market – now, like Members of Congress, they can have their employer subsidize their purchase of health insurance with pre-tax dollars. But on the other hand, it's not like Congress isn't still lying about its status as a small business, and it's not like every Member of Congress and every congressional staff member who's getting his or her health insurance through the District of Columbia small business health exchange isn't taking advantage of a program that wasn't meant for them.
SPENDING:
Thank goodness for Mick Mulvaney, the Acting Chief of Staff in the White House. At least, that's what I deduce from reading between the lines on the reporting we've seen over the last few weeks on the ongoing spending negotiations between congressional leaders and the White House.
The most recent indication that Mulvaney is holding the line on the spending front is the headline of a piece in The Hill from yesterday: It said, "GOP Lawmakers Want Mulvaney Sidelined in Budget Talks," and the piece opens with this: "Senate Republicans, eager to avert a government shutdown or automatic spending cuts, want acting White House chief of staff Mick Mulvaney pushed to the sidelines in budget negotiations with Democrats. GOP lawmakers would prefer Treasury Secretary Steven Mnuchin take the lead in representing the White House, as they see him being more amenable to a two-year spending deal that would also raise the debt limit. Mulvaney, on the other hand, is viewed as resistant to striking a two-year deal, which would take the prospect of another government shutdown off the table until after the 2020 election. And Republicans point to Mulvaney's time in the House as the reason for their concern. As a founding member of the conservative House Freedom Caucus, Mulvaney was an outspoken critic of big budget deals that swell the federal deficit. That's also one of the main reasons President Trump appointed him to serve as White House budget director before he transitioned last year to serve as acting chief of staff."
So, just to be clear – Senate Republicans want Mulvaney sidelined because he's preventing them from caving in to Speaker Pelosi and just giving the Democrats everything they want on the spending negotiations. They prefer to do their caving with as little fuss as possible, and Mulvaney – and his former deputy, Acting OMB Director Russ Vought – are making the caving in difficult. To which my response is, good for you, Mick.
STAFFING:
On the staffing front, the President's choice to replace Jim Mattis as Secretary of Defense – Acting Secretary Patrick Shanahan – withdrew his nomination to be the permanent Secretary of Defense when it became clear that his family's history of domestic violence was going to be a thing.
President Trump, it was reported, did not push Shanahan to remove himself from consideration, but moved quickly to nominate as the new Secretary of Defense current Secretary of the Army/Acting Defense Secretary Mark T. Esper, a 1986 graduate of West Point and classmate of Secretary of State Mike Pompeo. Esper's conservative credentials are solid – he served from 1996-99 as Chief of Staff at The Heritage Foundation.
MISCELLANEOUS:
Congressman Justin Amash has resigned from the House Freedom Caucus.
SUGGESTED READING
JENNY BETH MARTIN/TEA PARTY PATRIOTS
Breitbart: Jenny Beth Martin: The Internet Is No Place For Government Interference
Fox News: Jenny Beth Martin: Liberals Have A Secret List Of Judicial Nominees: Why Won't They Share It With Voters?
BORDER SECURITY/IMMIGRATION
WaPo: How Mexico Talked Trump Out Of Tariff Threat With Immigration Crackdown Pact
Hill: Trump Drops Mexican Tariff Threat After Deal On Migrants
WSJ: Trump's Threat Of Tariffs On Mexico Prompts Outcry
Politico: Democrats Scramble To Break Impasse Over Funding Migrant Crisis
Politico: Senate To Take Up Border Funding
Hill: Senators Reach $4.5 Billion Deal On Trump's Emergency Border Request
AP News: Trump Could Have A Hard Time Meeting His Deportation Threat
WaPo: ICE Raids Targeting Migrant Families Slated To Start Sunday in Major U.S. Cities
WaPo: Trump Vows Mass Immigration Arrests, Removal Of Millions Of Illegal Immigrants Starting Next Week
Reuters: As Promised, Trump Slashes Aid To Central America Over Migrants
Axios: US To Permanently End Aid To Guatemala, Honduras And El Salvador
NRO: McConnell Plans Vote On $4.5 Billion Bill To Address Humanitarian Crisis At Border
Politico: Kushner Tries To Strike Bi-Partisan Asylum Deal
Politico: House Inches Toward 11th Hour Deal On Aid For Border Crisis
Breitbart: GOP Senators Grant Policy Wins To Democrats $4.6 Billion Migration Budget
CR: Senate Heads Toward Addressing Border Crisis … by Funding Refugee Resettlement & Legal Aid
Hill: Congress Unlikely To Reach Deal on Trump Border Bill Before Break
Hill: Trump Delays Operation To Deport Migrant Families
WSJ: Trump Announces Two-Week Delay in Deportation Raids
WE: Trump Delays Massive ICE Deportation Crackdown in Major Cities
RC: Trump Delays ICE Raids Hoping for Bipartisan Plan — But Doesn't Say What He'll Support
CNN: Nancy Pelosi Called Trump Friday Night Asking Him To Call Off ICE Raids
IRAN
CNN: Iran Shoots Down US Drone Aircraft, Raising Tensions Further in Strait of Hormuz
NYT: Strikes on Iran Approved by Trump, Then Abruptly Pulled Back
NYT: Urged To Launch an Attack, Trump Listened to the Skeptics Who Said It Would Be a Costly Mistake
WaPo: 'I Stopped It': Inside Trump's Last-Minute reversal on Striking Iran
AP: A Half-Hour Away: How Trump Opted Against Iran Strike
WSJ: Trump Bucked National-Security Aides on Proposed Iran Attack
WaPo: Trump Approved Cyber-Strikes Against Iran's Missile Systems
Hill: Trump Claims Media Got It Wrong on Iran Strike: 'I Never Called the Strike' Back
OBAMACARE
NYT: Trump Wants To Neutralize Democrats On Health Care, Republicans Say Let It Go
Hill: Trump's Health Care Focus Puts GOP On Edge
WaPo: Trump Could Revolutionize The Private Health Insurance Market
PAY RAISE
NYT: A Truce Fails And A Plan To Raise Congress's Pay Falls Apart
Politico: Dems To Yank Bill To Raise Congressional Pay After Backlash
Hill: House Democrats Pull Legislation That Would Give Lawmakers A Raise
Politico: Steny Hoyer Fears Storm Over Congressional Pay Boost
Roll Call: Leaders On Collision Course On Member Pay Raise Issue
RUSSIA HOAX
Politico: House Delays Legal Action Against Barr As Dems Secure 'Key' Mueller Evidence
Politico: Pelosi Tells Dems She Wants To See Trump 'In Prison"
Politico: Democrats Investigating Trump Have A New Tactic To Break His Blockade
Politico: Pelosi Rules Out Censuring Trump
Hill: FBI Warned Early And Often That Manafort File Might Be Fake Used It Anyway
Politico: Pro-Impeachment Ranks Grow As Pelosi Remains Unmoved
Politico: Impeachment Ranks Grow — and Backers See More Coming
Politico: Nadler: Hope Hicks Testimony Is Huge Gift in Legal Battle with Trump
Axios: House Judiciary Committee Releases Transcript of Hope Hicks Interview
SPENDING
Politico: Trump Budget Negotiators Get Republican Brushback
Politico: White House, Congressional Leaders Will Try Again To Reach Spending Deal
Hill: GOP Nervous That Border Wall Fight Could Prompt Year End Shutdown
WaPo: GOP In Disarray As Budget Impasse Threatens Shutdown, Deep Cuts And Default
Hill: New Poll Finds Little GOP Support For Spending Cuts To Specific Federal Programs
AP News: Pelosi: No Debt Increase Until Spending Limits Are Raised
Politico: Trump And Congress Race To Avoid Fiscal Time Bomb
NYT: Pelosi: No Debt Increase Until Spending Limits Are Raised
NYT: House Moves Forward With Spending Bills As Congress Grapples With Looming Fiscal Deadlines
Politico: Budget Talks At Impasse As Spending Cuts, Debt Ceiling Threatens Economy
Politico: Top Dems Make Final Pitch to Caucus for Border Compromise
Hill: GOP Lawmakers Want Mulvaney Sidelined in Budget Talks
STAFFING
USAT: Patrick Shanahan: Trump's Defense Chief Pick Faces Scrutiny
Axios: Patrick Shanahan's Final Talk With Trump
WaPo: Acting Defense Secretary Bows Out Of Running To Be Confirmed As Pentagon Chief
Politico: New Acting Defense Chief Has Closer Ties To Trump
Hill: Shanahan Drama Shocks Capitol Hill, Leaving Pentagon Rudderless
NYT: Trump To Officially Nominate Esper as Next Defense Secretary
THF: Former Heritage Chief of Staff To Serve as Acting Secretary of Defense
SUBPOENAS
Politico: House Panel Votes To Hold Barr, Ross In Contempt
Hill: Trump Asserts Executive Privilege Over Subpoenaed Census Documents
2020 DEMOCRATS
Hill: Biden World Shocked Amid Hyde Furor
BuzzFeed News: A Majority Of Democratic Presidential Candidates Want To Make DC The 51st State
Hill: Biden Under Fire From Talking Of Civility With Segregationist Senators
MISCELLANEOUS
Politico: Justin Amash Quits House Freedom Caucus
Hill: Amash Exits House Freedom Caucus In Wake Of Trump Impeachment Stance
Politico: Trump Campaign Makes A Radical Break From 2016
NBC News: Trump Campaign Cutting Ties With Pollsters After Internal Numbers Leaked
NYT: US Escalates Online Attacks On Russia's Power Grid
ABC News: "I Think I'd Take It" In Exclusive Interview, Trump Says He Would Listen If Foreigners Offered Dirt On Opponents
Newsweek: Following Trump Comments Federal Election Commission Chair Clarifies Law On Foreign Contributions
Detroit News: Michigan Judicial Nominee Bogren Withdraws From Consideration
Politico: Trump Stages His Greatest Show Yet
Fox News: State Department Identifies 233 Violations, 'Multiple Security Incidents' Of Clinton Emails
WaPo: Federal Judge Says Census Citizenship Question Merits More Consideration In Light Of New Evidence