Tea Party Patriots Action Weekly Report from Washington for 11/11/19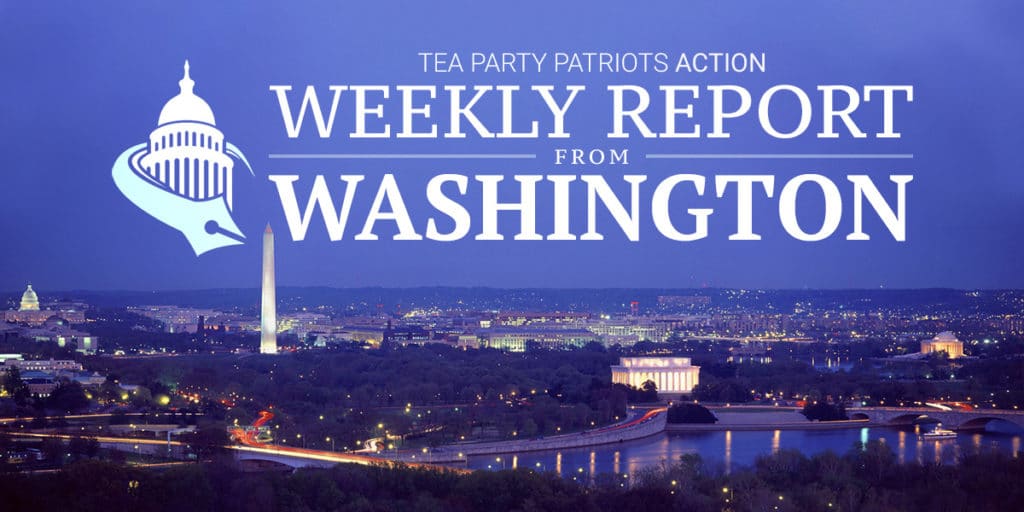 CALENDAR:
The House and Senate will return Tuesday and stay in session through Friday.
LAST WEEK ON THE HOUSE FLOOR:
The House was in recess.
THIS WEEK ON THE HOUSE FLOOR:
The House will return on Tuesday, with the first votes set for 6:30 PM. At that time, the House is scheduled to consider nine bills under Suspension of the Rules. All of them deal with veterans of our military services in one way or another.
On Wednesday, and for the remainder of the week, the House will consider another nine bills on the Suspension Calendar.
In addition, the House will consider H.R. 4863, the United States Export Finance Agency Act of 2019. That's a bill to reauthorize and rename the Export-Import Bank.
LAST WEEK ON THE SENATE FLOOR:
The Senate came back to work on Tuesday, and voted to invoke cloture on the nomination of David Austin Tapp to be a Judge of the United States Court of Federal Claims. Then the Senate voted to confirm him to that position.
Over the next two days, the Senate voted to confirm the following people to the following positions:
Danielle J. Hunsaker to be a United States Circuit Judge for the Ninth Circuit
William Joseph Nardini to be a United States Circuit Judge for the Second Circuit
Lee Philip Rudofsky to be a United States District Judge for the Eastern District of Arkansas
Jennifer Philpott Wilson to be a United States District Judge for the Middle District of Pennsylvania
On Wednesday, Senate Minority Leader Chuck Schumer and Sen. Mazie Hirono of Hawaii asked for unanimous consent to pass a resolution putting the Senate on record supporting the efforts of whistleblowers across the government and protecting whistleblowers from retaliation. Republican Rand Paul of Kentucky objected, and pointed to his own whistleblower protection legislation that included a clause that would extend Sixth Amendment protections to impeachment proceedings – that is, it would allow the president to face his accuser. But Sen. Hirono objected to that, and, consequently, objected to the notion of dropping the Democrat resolution and supporting instead the Paul resolution. The result? Neither resolution advanced.
And then they were done.
THIS WEEK ON THE SENATE FLOOR:
The Senate will return on Tuesday, and will resume consideration of Chad Wolf to be Under Secretary for Strategy, Policy, and Plans at the Department of Homeland Security. At 5:30 PM, the Senate will proceed to take a roll call vote on the motion to invoke cloture on the Wolf nomination.
After that, the Senate will take up the nomination of Steven Menashi to be a U.S. Circuit Judge for the Second Circuit Court of Appeals.
IMPEACHMENT:
Week six of the House Democrats' impeachment saga saw new developments on multiple fronts.
Things did not start out well for Democrats. On Monday, four senior White House officials refused to testify, despite congressional subpoenas ordering them to do so. National Security Council lawyer John Eisenberg, National Security Council lawyer Michael Ellis, National Security aide Robert Blair, and OMB official Brian McCormack all failed to appear for their scheduled depositions Monday.
Also on Monday, investigative reporter John Solomon revealed that Hunter Biden and his Burisma Holdings colleagues had "multiple contacts with the Obama State Department during the 2016 election cycle, including one just a month before Vice President Joe Biden forced Ukraine to fire the prosecutor investigating his son's company for corruption … During that February 2016 contact, a U.S. representative for Burisma Holdings sought a meeting with Undersecretary of State Catherine A. Novelli to discuss ending the corruption allegations against the Ukrainian firm where Hunter Biden worked as a board member, according to memos obtained under a Freedom of Information Act lawsuit … Just three weeks before Burisma's overture to State, Ukrainian authorities raided the home of the oligarch who owned the gas firm and employed Hunter Biden, a signal the long-running corruption probe was escalating in the middle of the U.S. presidential election. Hunter Biden's name, in fact, was specifically invoked by the Burisma representative as a reason the State Department should help, according to a series of email exchanges among U.S. officials trying to arrange the meeting …" You'll find a link to the entire piece in the Suggested Reading.
On Tuesday, U.S. Ambassador to the European Union Gordon Sondland changed the testimony he had given earlier in the proceedings, saying that he did, after all, recall a September 1 meeting with a senior aide to the Ukrainian president, in which Sondland said the U.S. assistance to Ukraine was contingent on the release of a public statement by the Ukrainian president committing to have Ukraine launch investigations President Trump wanted. "After a large meeting, I now recall speaking individually with Mr. Yermak, where I said that resumption of U.S. ad would likely not occur until Ukraine provided the public anti-corruption statement that we had been discussing for many weeks," Sondland said.
On Wednesday, the House Intelligence Committee announced that the closed door testimony phase of the proceedings is over. This week, on Wednesday, the Intelligence Committee will hold its first public hearing on the matter, featuring U.S. Ambassador William Taylor and Deputy Assistant Secretary of State George Kent as its first witnesses. On Friday, the Intelligence Committee will hold its second public hearing on the matter, featuring testimony from former U.S. Ambassador to Ukraine Marie Yovanovitch.
Elsewhere on Wednesday, Sens. Chuck Grassley and Ron Johnson sent a letter to Secretary of State Mike Pompeo, asking the State Department to disclose any documents involving Hunter Biden and his former Ukrainian energy firm, Burisma Holdings. The letter follows up on the John Solomon revelations discussed above.
On Friday morning, just one minute before the House Intelligence Committee hearing was to begin, acting White House Chief of Staff Mick Mulvaney's attorneys informed Intel Chairman Adam Schiff's staff that Mulvaney would not be appearing for his scheduled testimony that morning.
Later on Friday, the House Republican leadership announced that it had assigned House Oversight and Reform Committee Ranking Member Jim Jordan to the House Intelligence Committee, so he can join in the questioning of witnesses during the public hearings phase of the impeachment inquiry. Jordan will temporarily replace Rick Crawford, Republican of Arkansas.
Still later on Friday, former Trump National Security Adviser John Bolton's attorney, Chuck Cooper, made clear to anyone who wanted to know that Bolton was a first-person witness to what he called "many relevant meetings and conversations" about Ukraine that the House Intelligence Committee did not yet know about, but Bolton would not testify unless a federal court rules that Bolton must comply with House demands for his testimony.
And even later on Friday, The Wall Street Journal broke a fascinating and potentially very important story, reporting that "Months before President Trump pressed Ukraine's newly installed leader to investigate Joe Biden's son and allegations of interference in the 2016 U.S. election, two associates of Rudy Giuliani urged the prior Ukrainian president to announce similar probes in exchange for a state visit to Washington, according to people familiar with the matter. A late February meeting in Kyiv between Lev Parnas, Igor Fruman and then-Ukrainian President Petro Poroshenko took place at the offices of Ukrainian general prosecutor Yuriy Lutsenko, the people said. It came soon after Messrs. Parnas and Fruman met with Mr. Giuliani, the president's personal lawyer, and Mr. Lutsenko in New York in late January and again in Warsaw in mid-February, Mr. Giuliani has said … The meeting, which hasn't previously been reported, shows associates of the U.S. president's personal lawyer as early as February were pressing the president of Ukraine to open investigations that could benefit Mr. Trump politically in exchange for a White House visit."
What's so important about this? Well, it's that "late January" bit. Joe Biden did not announce his candidacy for president until late April of 2019. If this reporting is accurate, Giuliani was working to get the Ukrainians to reopen investigations into what happened in Ukraine in 2016 three months before Biden ever announced – in other words, at a time when it would not have helped Trump against his main 2020 rival, because his main 2020 rival wasn't even a candidate yet.
On Saturday, House Republicans unveiled their witness wish list for the public hearings. They announced in a letter that they want to hear from the whistleblower, the whistleblower's sources, Hunter Biden, Hunter Biden's business partner Devon Archer, former DNC staffer Alexandra Chalupa, and former Fusion GPS employee Nellie Ohr, among others.
Within a few hours, reported The Washington Examiner, Chairman Schiff had rejected the GOP's request to summon Hunter Biden and Alexandra Chalupa. 
SPENDING:
On Tuesday, Roll Call reported that the Trump Administration was "backing off its demand for $8.6 billion in fiscal 2020 border wall spending in negotiations with top congressional leaders and appropriators." The Trump Administration, says the piece, is not just coming to grips with reality on border wall funding, it's acknowledging the reality that if the government is funded by Continuing Resolution, it will lose a substantial boost in defense funding, too.
But White House legislative affairs director Eric Ueland "stressed that a condition of support for any continuing resolution would be no strings attached to the administration's plans to transfer military funds to the wall project."
The other sticking point in the ongoing spending negotiations is just how long should be the duration of the next Continuing Resolution. We're currently operating under a CR that funds the government until November 21. Some appropriators are suggesting the next CR should last until February or even March, but I'm getting the sense that the leadership would prefer to extend government funding only through Christmas, to create a pressure incentive to get all the spending bills done by Christmas.
The House will likely vote next week on a second Continuing Resolution.
STAFFING:
On Wednesday, the White House announced that former Treasury Assistant Secretary for Public Affairs Tony Sayegh and former Florida Attorney General Pam Bondi will be joining the Trump Administration to help the Administration respond to the ongoing impeachment inquiry.
SUGGESTED READING:
JENNY BETH MARTIN/TEA PARTY PATRIOTS:
CHQ: Stop Impeachment Action: Visit Your Representative's Local Office This Week
SGS: Jenny Beth Martin: Democrats Can Thank Their Own Impeachment Resolution for Trump's Reelection Next November
IMPEACHMENT:
Politico: White House Officials Spurn Demand To Testify in Impeachment Probe
WaPo: Transcripts Show Republicans' Scattershot Strategy in Early Days of Impeachment Inquiry
CBS: Republicans Consider Moving Jim Jordan to House Intelligence Committee
Politico: House Republicans Eye Placing Jim Jordan on Intel Panel During Impeachment Inquiry
NYT: Republicans Try Different Response to Ukraine Call: Quid Pro Quo Isn't Impeachable
Hill: Sondland, Trump's Appointee, Changes Testimony To Say There Was a Clear Quid Pro Quo
Politico: Sondland Reverses Himself on Ukraine, Confirming Quid Pro Quo
Politico: 'It Kept Getting More Insidious': What Sondland and Volker Told Trump Impeachment Investigators
Politico: Republicans on Sondland Impeachment Bombshell: Who Cares?
NYT: Inside Adam Schiff's Impeachment Game Plan
Hill: Rand Paul Blocks Senate Resolution Backing Protection for Whistleblowers
USAT: House Democrats Announce First Public Hearings in Trump Impeachment Inquiry
FOX: Jarrett: Whistleblower Not Entitled to Anonymity — He's an Informant Acting as a Democratic Operative
Politico: First Public Impeachment Hearings Will Take Place Next Week
WaPo: Trump Wanted Barr To Hold News Conference Saying the President Broke No Laws in Call with Ukrainian Leader
Politico: Impeachment Transcripts Reveal a Consistent, Damaging Narrative for Trump
Politico: Trump's Impeachment Trial Hinges on McConnell and Schumer
Hill: Jordan: Republicans To Subpoena Whistleblower To Testify in Public Hearing
Reuters: Explainer: Is It Illegal for Trump or Congress To Name the Impeachment Whistleblower?
NYT: Ukraine's Zelensky Bowed to Trump's Demands, Until Luck Spared Him
FOX: 'Coup Has Started,' Whistleblower's Attorney Said in 2017 Posts Calling for Impeachment
FOC: Bossie: Trump Impeachment Witch Hunt Must End
WaPo: House GOP Looks To Protect Trump by Raising Doubts About Motives of His Deputies
NRO: Mulvaney Informs House Dems That He Will Defy Subpoena Just One Minute Before Hearing
FOX: Jim Jordan Assigned to Intel Committee Ahead of Trump Impeachment Hearings
Politico: Bolton Knows About Meetings Not Yet Investigated, Lawyer Says
WSJ: House Freedom Caucus Emerges as Trump's Main Defender
Politico: Mulvaney Moves for Ruling on House Impeachment Probe Subpoena
FOX: Byron York: Bolton Testimony Would Get Impeachment Inquiry 'Inside the White House'
WSJ: Giuliani Associates Urged Ukraine's Prior President to Open Biden, Election Probes
DW: BOMBSHELL: Audio, Email Evidence Shows DNC Colluded with Ukraine To Boost Hillary By Harming Trump, Report Says
WSJ: Trump Impeachment Inquiry Delves into Idea of Quid Pro Quo
NRO: McCarthy: Right to Confrontation: The Latest Bogus Legal Argument over the 'Whistleblower'
NRO: McCarthy: The 'Whistleblower' and the President's Right To Present a Defense
WSJ: Defending Trump: The Republican Playbook
NYT: Bolton Said To Know of 'Many Relevant Meetings' on Ukraine, but Will Not Testify
Politico: The Unsolved Mystery of Frozen Ukraine Aid
Hill: House Republicans Add Hunter Biden, Whistleblower to Impeachment Hearing Witness Wish List
NTO: House Republicans Will Call Hunter Biden To Testify Publicly as Their Top Impeachment Witness: Report
WE: Schiff Signals He Will Reject GOP 'Sham' Witness Requests
NYT: In Seeking To Join Suit Over Subpoena Power, Mulvaney Goes Up Against the President
Politico: Trump Says He'll Release Transcript of a Second Call with Ukrainian President Tuesday
IMPEACHMENT TESTIMONY:
HPSCI: Lt. Col. Alexander Vindman
SPENDING:
WSJ: Spending Bills Divide Congress as Funding Deadline Nears
RC: White House Backing Off $8.6 Billion Demand for Border Wall Funding
Politico: House Plans Vote To Stave Off Shutdown This Month
STAFFING:
Axios: Pam Bondi and Tony Sayegh To Join White House To Assist Impeachment Strategy
Politico: White House Recruits 2 Allies To Assist in Impeachment Fight
CNN: Democrats' New Moves Show House Could Wrap Up Impeachment by Christmas
WSJ: Congressional Watchdog Reviewing Hold on Ukraine Aid
Politico: 'Campaign of Lies': What George Kent Told Impeachment Investigators
2020 DEMOCRATS:
WaPo: Billionaire and Ex-NYC Mayor Michael Bloomberg Is Taking Steps To Run for President
Hill: Bloomberg Officially Files To Run in Alabama Presidential Primary
YF: Why Medicare for All Could Come with a 42% National Sales Tax
Axios: Elizabeth Warren's "Medicare for All" Requires Another $20.5 Trillion of Federal Spending
THE BIDENS:
JSR: Hunter Biden's Ukraine Gas Firm Pressed Obama Administration To End Corruption Allegations, Memos Show 
HA: Uh Oh: Hunter Biden's Name Pops Up in 2016 State Dept E-Mails Discussing Pressure To End Burisma Corruption Probe
WaPo: Senate Republicans Consider Including Bidens in Trump Impeachment Trial
NRO: Grassley, Johnson Call on State Dept To Release Documents Pertaining to Hunter Biden and Burisma
WSJ: Firm Hired by Ukraine's Burisma Tried To Use Hunter Biden as Leverage, Documents Show
WSJ: Ukraine Company's Campaign To Burnish Its Image Stretched Beyond Hunter Biden
MISCELLANEOUS:
Hill: Trump's Battleground Ratings Sound Warning for Democrats