Tea Party Patriots Action Weekly Report from Washington for 10/28/19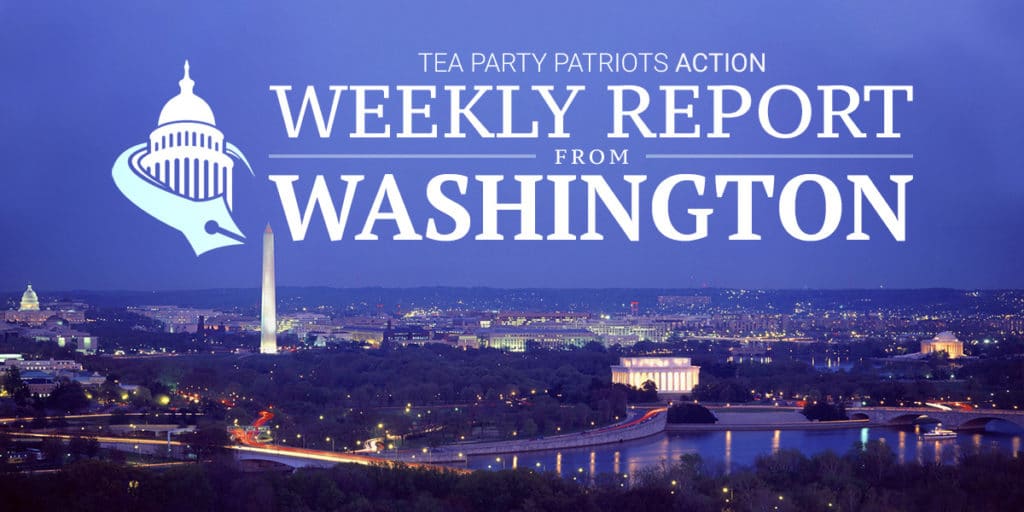 CALENDAR:
The House and Senate will both return Monday, and stay in session until Thursday.
LAST WEEK ON THE HOUSE FLOOR:
The House returned on Monday, and moved to consider H.Res. 647, Rep. Andy Bigg's resolution censuring and condemning Rep. Adam Schiff for his conduct in overseeing the so-called "official" impeachment inquiry. As expected, Democrats instead offered a motion to table the resolution. That motion to table the Biggs resolution passed by a straight party-line vote of 218-185.
Then the House passed two bills under Suspension.
On Tuesday, the House passed the Rule for consideration of H.R. 2513, the Corporate Transparency Act. Then the House took up several amendments to the bill, and later took up the bill as amended. The bill passed, by a vote of 249-173. Then the House passed another bill under Suspension of the Rules.
On Wednesday, the House passed the Rule for consideration of H.R. 4617, the Stopping Harming Interference in Elections for a Lasting Democracy Act. For those keeping score at home, the acronym for that bill is the "SHIELD Act." And being the pop culture maven that I am, I cannot help but take a brief trip into a conversational cul-de-sac.
In the pilot episode of the television series known as "MARVEL'S Agents of S.H.I.E.L.D," there's a brief exchange between two characters. The first asks, "What does S.H.I.E.L.D. stand for, Agent Ward?" He replies, "Strategic Homeland Intervention, Enforcement and Logistics Division." She asks, "And what does that mean to you?" And he replies, "It means someone really wanted our initials to spell out 'shield.'"
Back to the House. So, after passing the Rule, the House then took up and passed H.R. 4617, the SHIELD Act. Then the House passed a bill under Suspension of the Rules.
And then they were done.
THIS WEEK ON THE HOUSE FLOOR:
The House will return on Monday, with the first vote set for 6:30 PM. At that time, the House is scheduled to consider 18 bills under Suspension of the Rules.
On Tuesday, and for the balance of the week, the House will consider another four bills under Suspension of the Rules.
In addition, the House is scheduled to consider four other pieces of legislation:
Res. 296, offered by Rep. Schiff, affirming the U.S. record on the Armenian genocide.
R. 1373, the Grand Canyon Centennial Protection Act.
R. 2181, the Chaco Cultural Heritage Area Protection Act of 2019.
R. 823, the Colorado Outdoor Recreation and Economy Act.
LAST WEEK ON THE SENATE FLOOR:
The Senate returned on Monday and voted to invoke cloture on treaty document 116-1, the protocol to the North Atlantic Treaty of 1949 on the accession of the Republic of North Macedonia.
On Tuesday, the Senate voted to ratify the accession of the Republic of North Macedonia to the North Atlantic Treaty. So the Republic of North Macedonia is now a member of NATO.
Then the Senate voted to invoke cloture on the nomination of, and then voted to confirm,
Andrew Bremberg to be Representative of the United States of America to the Office of the United Nations and Other International Organizations in Geneva, with the rank of Ambassador.
Later on Tuesday, the Senate voted to invoke cloture on the Motion to proceed to Calendar #141, H.R. 3055, Commerce, Justice, Science, Agriculture, Rural Development, Food and Drug Administration, Interior, Environment, Military Construction, Veterans Affairs, Transportation, and Housing and Urban Development Appropriations Act of 2020.
On Wednesday, Minority Leader Schumer used the Congressional Review Act to force a vote on overturning the rule submitted by the IRS relating to "Contributions in Exchange for State or Local Tax Credits." That measure failed, by a vote of 43-52.
On Thursday, the Senate voted to invoke cloture on the nomination of, and then voted to confirm, Justin Reed Walker to be U.S. District Judge for the Western District of Kentucky.
And then they were done.
THIS WEEK ON THE SENATE FLOOR:
The Senate will return on Monday, with the first vote set for 5:30 PM. At that time, the Senate will proceed to up to three roll call votes in relation to the following amendment in relation to H.R. 3055, the Commerce, Justice, State, Agriculture, Interior, Transportation, and Housing and Urban Development appropriations bill:
An amendment offered by Sen. Cortez-Masto, #961, that would require the Agriculture Secretary to do a study on the challenges faced by its Food Distribution Program on Indian Reservations (along with other food distribution programs)
An amendment offered by Sen. Paul, #1019, that reduces appropriations made available in the underlying substitute by 2% from their corresponding FY2019 spending levels
An amendment offered by Sen. Jones, #1067, that provides funding to initiate a pilot program to assist families with resolving property ownership on farmland that has multiple owners
HEALTH CARE:
On Tuesday morning, the Republican Study Committee released its new healthcare proposal. Its major provisions can be divided into three areas: First, it continues the body politics' fixation on pre-existing conditions, extending the Health Insurance Portability and Accountability Act (HIPAA) portability and pre-existing conditions protections by establishing federally funded, guaranteed coverage pools that would be administered at the state level. Further, it would change existing ACA premium subsidies and Medicaid expansion funding to flex-grants to state governments, and it would reduce regulatory barriers further.
Second, it would significantly change the tax treatment of health insurance, so that employer and individual health insurance markets would be treated the same, and it would dramatically ramp up incentives for using Health Savings Accounts. Under the proposal, you could use a HSA to cover insurance premiums, primary care service fees, and health-sharing ministry dues. And the allowable pre-tax HSA contributions would rise from $3,500 to $9,000 for individuals and from $7,000 to $18,000 for families.
Third, the plan places a greater emphasis on personalizing health care to specific individual needs.
Michael Cannon at The Cato Institute has a good critique of the plan. You'll find a link to it in the Suggested Reading this week. After pointing out what he sees as a few flaws in the plan, Cannon gets to his favorite part of the plan: "The RSC also includes a sleeping giant of a proposal," he writes, "one that would deliver the largest effective tax cut any living American has ever seen, on the order of $11 trillion over the next decade. A quirk in the federal tax code (the tax exclusion for employer-paid health premiums) allows employers to control roughly $15,000 of the earnings of workers with family coverage and $6,000 of the earnings of employees with self-only coverage. Those numbers represent the average amounts employers pay toward health benefits for their workers. Even though employers are signing the checks, those funds come out of workers' wages. Absent the exclusion, labor markets would force employers to provide those funds to workers as cash or other forms of compensation. Under the current exclusion, if workers insist on receiving that compensation as cash wages, they must pay income and payroll taxes on it. In effect, the tax exclusion for employer-paid health premiums penalizes anyone who does not purchase a government-approved health plan. Across all workers with employer-sponsored health insurance, that's a lot of employee earnings the exclusion allows employers to control: $828 billion in 2019 alone, or nearly one-quarter of total U.S. health spending. Over the next decade, it adds up to nearly $11 trillion … The RSC proposal would free workers to control their $15,000 for the first time ever. It would do so by expanding tax-free health savings accounts … Giving consumers control of the nearly one-quarter of U.S. health care spending that employers currently control cannot help but make the markets for health insurance and medical care more responsive to consumers. It would also represent an effective tax cut 38 percent larger than President Reagan's tax cuts and four times the size of President Trump's tax cuts."
IMPEACHMENT:
Nancy Pelosi's bid to impeach President Trump continued last week, with the big bombshell testimony of the week coming from Ambassador Bill Taylor, a career public servant who graduated from West Point and served in Vietnam, and who has worked previously as U.S. Ambassador to Ukraine from 2006-2009, and who has been serving for the last several months as the top U.S. diplomat in Ukraine following the departure of the former U.S. Ambassador, Marie Yovanovitch.
According to media coverage generated by Democrat leaks, Taylor told members of the three committees investigating the President that Trump "had sought to withhold critical military aid to Ukraine and refuse a White House meeting with the country's president unless he pursued politically motivated investigations into Trump's rivals," as Politico put it. "The diplomat … painted a damaging portrait of events that directly tied Trump to a quid pro quo with Ukraine, according to his prepared remarks obtained by POLITICO and his responses to questions as described by sources in the room for the closed-door testimony."
Allies who were inside the room tell us that Rep. John Ratcliffe's questioning of Taylor punched holes in his testimony. I wish I could point you to a news article about that, but I can't, because the hearings are being conducted in secret and our side either isn't as good at leaking as the Democrats are or has decided for some reason not to leak.
On Wednesday morning, a group of about three dozen Republicans stormed the secure room where the Intelligence Committee hearings are taking place, and delayed the proceedings for about five hours. President Trump applauded their efforts via Twitter.
On Thursday, Sen. Lindsey Graham decided to up the pressure on House Democrats. After conferring with the President and Majority Leader McConnell, Graham introduced a resolution – S.Res. 378 – entitled, "A resolution expressing the sense of the Senate that the House of Representatives should, consistent with long-standing practice and precedent, prior to proceeding any further with its impeachment investigation into President Donald J. Trump, vote to open a formal impeachment inquiry and provide President Trump with fundamental constitutional protections." Within three days, he was up to 49 cosponsors, leaving just three Republican Senators – Lisa Murkowski, Susan Collins, and Mitt Romney – off the resolution.
Graham's strategy isn't just to generate support for a non-binding resolution – it's to scare the House. What he's doing is showing the House that the votes are not there to convict the President in any impeachment trial. He's now demonstrated there are at least 50 GOP votes to support President Trump, and that means the Senate will not convict Trump. If the Senate will not convict Trump, goes Graham's thinking, why would Pelosi want to force her 31 Trump-district Democrats to cast a vote that could be the end of their lives in Congress? It's a gutsy, hardball play.
Finally, you'll find in the Suggested Reading, clearly marked as a "blast from the past," an article that ran in Politico on January 11, 2017 – nine days before Donald Trump took the oath of office to become the 45th President of the United States.
The article is entitled, "Ukrainian Efforts To Sabotage Trump Backfire," and it reads like this:
Donald Trump wasn't the only presidential candidate whose campaign was boosted by officials of a former Soviet block country.
Ukrainian government officials tried to help Hillary Clinton and undermine Trump by publicly questioning his fitness for office. They also disseminated documents implicating a top Trump aide in corruption and suggested they were investigating the matter, only to back away after the election. And they helped Clinton's allies research damaging information on Trump and his advisers, a Politico investigation found.
A Ukrainian-American operative who was consulting for the Democratic National Committee met with top officials in the Ukrainian Embassy in Washington in an effort to expose ties between Trump, top campaign aide Paul Manafort and Russia, according to people with direct knowledge of the situation.
The Ukrainian efforts had an impact in the race, helping to force Manafort's resignation and advancing the narrative that Trump's campaign was deeply connected to Ukraine's foe to the east, Russia. But they were far less concerted or centrally directed than Russia's alleged hacking and dissemination of Democratic emails.
Stay tuned.
INVESTIGATING THE INVESTIGATORS:
On Thursday, Department of Justice Inspector General Michael Horowitz told House and Senate members in a letter that the process of finalizing his report on potential FISA abuses related to the 2016 election was "nearing completion." Wrote the IG, the "lengthy" draft report "concerns sensitive national security and law enforcement matters," and he anticipated that "the final report will be released publicly with few redactions." Horowitz said he did not see a need for a classified and an unclassified version of the report.
Later Thursday, multiple media outlets reported that the separate probe being conducted at Attorney General Bill Barr's behest by U.S. Attorney John Durham has now morphed from an administrative review into a criminal investigation. That means that Durham now has the power to subpoena witness testimony and documents, convene a grand jury, and file criminal charges.
ISIS:
Sunday morning, President Trump announced that U.S. armed forces had killed ISIS leader Abu Bakr al-Baghdadi last night in northwest Syria. "Last night, the United States brought the world's number one terrorist leader to justice," said the president. "Abu Bakr al-Baghdadi is dead."
SPENDING:
Two items of note on the spending front:
First, the Senate was able to move forward on the first minibus of its spending season, H.R. 3055. That's the minibus appropriations bill that contains within it four separate appropriations bills, covering government spending for Commerce, Justice, Science, Agriculture, Rural Development, Food and Drug Administration, Interior, Environment, Military Construction, Veterans Affairs, Transportation, and Housing and Urban Development. They'll be considering amendments and finishing up that bill this week. But they still have the hard work left to do, including the FY 2020 Defense Department appropriations.
Second, the government released its final report on spending for FY 2019. The deficit for FY 2019 was $984 billion, up 26 percent from the year before, and the highest it's been in seven years. That's also perilously close to a trillion dollars a year, which we have not seen since Barack Obama's first term.
SUGGESTED READING:
JENNY BETH MARTIN/TEA PARTY PATRIOTS:
WAMU: Conservatives Urge Trump To Keep Mick Mulvaney as Chief of Staff
AJC: Isakson, Perdue Both Sign On To Oppose Impeachment Inquiry
Breitbart: Line in the Sand: Graham Senate Resolution Against House Democrat Impeachment Process Becomes Rallying Cry
ECONOMY:
FOX: Steve Moore: It's a Middle-Class Boom — How Americans Are Really Doing Under Trump Economy
HEALTH CARE:
RSC: RSC Releases Health Care Plan
ET: Republican Study Committee's Health Care Proposal Emphasizes Patient Choice, Control
Cato: Republican Study Committee Proposes an $11 Trillion Tax Cut
HSA: Health Experts Endorse GOP HSA Plan
IMPEACHMENT:
WSJ: White House, Battling Impeachment, Looks To Coordinate With Hill GOP
WaPo: New Testimony Undercuts Trump's Claim Of No Quid Pro Quo On Ukraine. How Will Washington Respond?
Politico: Top US Envoy Ties Trump Directly To Ukraine Quid Pro Quo
Hill: Diplomat Says Ukraine Aid Was Tied To Political Investigation
Politico: Steve Bannon Launches Radio Show And Podcast On Impeachment
VF: Ukraine Diplomat Bill Taylor Confirms 'Crazy' Quid Pro Quo In Explosive Testimony
NYT: An Envoy's Damning Account Of Trump's Ukraine Pressure And Its Consequences
Hill: Diplomat Says Ukraine Aid Was Tied To Political Investigation
Hill: Trump Urged To Hire Chief Strategist For Impeachment Fight
Fox News: House Impeachment Inquiry Is 'Political Revenge', 'Should Be Dismissed Quickly' In Senate, Lindsay Graham Says
Politico: Republicans Rip Mick Mulvaney's 'Rough Patch'
Politico: Pentagon Official Testifies About Withheld Military Aid To Ukraine
Politico: Trump Allies Work To Plug White House Hole On Impeachment
WaPo: House Democrats Look To Take Private Impeachment Probe Public As Soon As Mid-November
Politico: Impeachment Deposition Delayed After Republicans Storm Proceedings
Hill: Sondland Attorney Disputes Key Portions Of Taylor Testimony Report
Hill: Schedule For Additional Dispositions In Impeachment Inquiry Revealed
WaPo: Republicans Storm Closed Door Impeachment Hearing As Escalating Ukraine Scandal Threatens Trump
AP News: Ukraine Leader Felt Trump Pressure Before Taking Office
WSJ: Schiff's Secret Bombshells
RC: Democrats May Regret Choosing Impeachment Over Independents
CNN: Democrats See Impeachment Proceedings Taking Longer Than Some Initially Expected
Politico: Senate Republicans Toughen On Impeachment After Trump Gripes
Hill: Trump Allies Mull How To Quickly Quash Impeachment Articles
Fox News: Democrats Leading Trump Impeachment Bring Their Own Baggage
Hill: Trump Urges GOP To Defend Him More Strongly On Impeachment
Hill: Judge Orders DOJ To Release Grand Jury Material from Mueller Report to Congress
CNN: Graham Introduces Resolution Condemning House Impeachment Inquiry Process
Axios: 44 Republicans Sign Onto Graham's Resolution Condemning Trump Inquiry
Breitbart: Three GOP Senators Have Yet To Back Movement To Condemn Democrat Impeachment Practices
WSJ: Strassel: Behold the Lord High Impeacher
AP: House Democrats Get a Legal Victory in Impeachment Inquiry
WaPo: Trump Frustrated as White House Effort To Defy Impeachment Inquiry Fails To Halt Witness Testimony, Advisers Say
WSJ: Sondland Told House Panel Trump's Ukraine Pressure Was Quid Pro Quo
Hill: GOP Vows To Take New Steps To Protect Trump
WaPo: In Impeachment Inquiry, Republican Lawmakers Ask Questions About Whistleblower, Loyalty to Trump and Conspiracy Theories
Breitbart: Levin: House Dems Seized Control of the Instrumentalities of the House, Bastardized the Impeachment Clause for 2020 Advantage
FOX: Sen. Ron Johnson Says President Trump's Reservations About Supporting Ukraine Have Been Consistent
FOX: Newt Gingrich: Pathetic Trump Impeachment Inquiry Is Falling Apart — What Are Pelosi and Dems Afraid Of?
FOX: Gingrich: Schiff Running a Totally Fraudulent Fundamental Violation of the American System
NRO: Andrew McCarthy: Part One: Stop Claiming 'No Quid Pro Quo'
NRO: Andrew McCarthy: Part Two: The President's Best Defense Ukraine Defense: Not an Impeachable Offense
ET: Trump Campaign Told Ukraine in 2016 That Funds Weren't Assured
Politico: BLAST FROM THE PAST: Ukrainian Efforts To Sabotage Trump Backfire
INVESTIGATING THE INVESTIGATORS:
Fox News: Dunham's Investigation Into Possible FBI Misconduct Expanded Based On New Evidence, Sources Say
NYT: Justice Department Is Said To Open A Criminal Inquiry Into Its Own Russia Investigation
WSJ: Barr's Review Of Russia Probe Now A Criminal Investigation
FOX: Michael Horowitz: Finalizing of FISA Probe Report 'Nearing Completion'
FED: Sidney Powell Drops Bombshell Showing How the FBI Trapped Michael Flynn
ISIS:
Hill: Trump Announces Death of ISIS Leader in US Raid
SPENDING:
Hill: Congress Faces Major Hurdles To Spending Deal
Four Appropriations Bills Are Slated For Senate Floor This Week
Hill: Senate Democrats Signal They'll Support Domestic Spending Package 
Hill: 2019 Deficit Nears $1 Trillion, Highest Since 2012: Treasury
CNBC: Federal Deficit Increases 26% to $984 Billion for Fiscal 2019, Highest in 7 Years
STAFFING:
Politico: Trump Aides Nix His Picks To Take Over DHS
Politico: Republicans Rip Mick Mulvaney's 'Rough Patch'
Politico: Embattled Mulvaney Draws Sudden Wave Of Support From Key Conservatives
MISCELLANEOUS:
NRO: Hawley To Introduce Bill Moving Federal Agencies Out Of Washington, DC To Economically Stagnant Areas
Hill: Senate Democrats Aim To Repeal Rules Blocking Trump Tax Law Workarounds
RC: Republican Effort To Censure Adam Schiff Halted
Hill: House Rejects GOP Measure Censuring Schiff
AP News: US Takes Step To Require DNA Sample From Asylum Seekers
WSJ: White House Moves Testing Republican Support For Trump
NYT: Why Trump Dropped His Idea To Hold The G-7 At His Own Hotel
NBC: Hunter Biden's Legal Work in Romania Raises New Questions About His Overseas Dealings
OAN: Son of House Speaker Pelosi Made Money in Ukraine, Used Her in Ads
Hill: Rep. Katie Hill Resigns Amid Ethics Probe