Tea Party Patriots Action Weekly Report from Washington for 10/15/19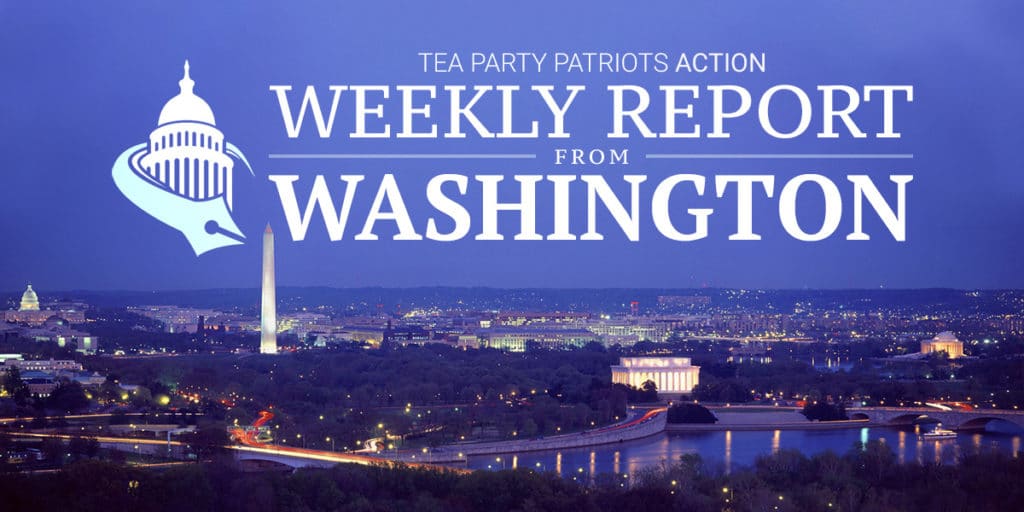 CALENDAR:
The House and Senate will both return today, and stay in session until Friday.
THIS WEEK ON THE HOUSE FLOOR:
The House will return Tuesday, with the first votes set for 6:30 PM. At that time, the House is scheduled to take up eight bills under Suspension of the Rules.
On Wednesday, and for the balance of the week, the House is scheduled to take up another 14 bills under Suspension of the Rules. Twelve of those bills rename Post Offices, including one in Van Nuys, California, that will be named the "Marilyn Monroe Post Office," and another one in Pacoima, California, that will be named the "Ritchie Valens Post Office Building."
The House is also scheduled to consider H.R. 1815, the SEC Disclosure Effectiveness Testing Act, and H.R. 3624, the Outsourcing Accountability Act of 2019.
And though it's not on the schedule yet, I'm betting that the House will also consider a resolution condemning President Trump's decision to withdraw U.S. armed forces from northern Syria, and we may see a second measure imposing tough sanctions on Turkey.
THIS WEEK ON THE SENATE FLOOR:
The Senate will return on Tuesday. At 5:30 PM, the Senate will proceed to a roll call vote on the motion to invoke cloture on the nomination of Barbara McConnell Barrett to be Secretary of the Air Force.
Then, based on the Majority Leader's cloture filings before they went into recess, I'd say the Senate will move to consideration of other nominations, as follows:
Frank William Volk, to be U.S. District Judge for the Southern District of West Virginia
Charles R. Eskridge, III, to be U.S. District Judge for the Southern District of Texas
David John Novak, to be U.S. District Judge for the Eastern District of Virginia
Rachel P. Kovner, to be U.S. District Judge for the Eastern District of New York
And though it's not on the schedule, I wouldn't be surprised to see the Senate consider a bill that comes over from the House regarding tough sanctions on Turkey.
EXECUTIVE ORDERS:
Last Wednesday afternoon, President Trump issued two new Executive Orders – one on Promoting the Rule of Law Through Improved Agency Guidance Documents, and a second one on Promoting the Rule of Law Through Transparency and Fairness in Civil Administrative Enforcement and Adjudication.
The first EO will require agencies to publish their guidance documents online, so that small businesses and all citizens can find them more easily. Any regulation that's not put up on the agency's web site is rescinded. Agencies will be required to seek public input on the most important guidance, and the White House will closely oversee the entire process.
The second EO will protect us from secret agency interpretations of regulations, unexpected penalties, and violations of our rights. Federal agencies will now be required to inform individuals about any case against them and respond to their arguments, and it will be the agency's responsibility to educate small businesses about new regulatory changes.
IMPEACHMENT:
The Democrats' drive for impeachment continued last week, but on Tuesday, the White House struck back. White House Counsel Pat Cipollone sent an eight-page letter to House Speaker Nancy Pelosi and the three committee chairman she's designated to lead the impeachment inquiry, telling them the White House would not cooperate with the ongoing impeachment inquiry. Cipollone's letter accused the House Democrats of making what he called "legally unsupported demands" of the executive branch, and accused them of violating the Constitution and precedent in failing to hold a vote of the full House to open the inquiry.
"Given that your inquiry lacks any legitimate constitutional foundation, any pretense of fairness, or even the most elementary due process protections, the Executive Branch cannot be expected to participate in it … Because participating in this inquiry under the current unconstitutional posture would inflict lasting institutional harm on the Executive Branch and lasting damage to the separation of powers, you have left the President no choice," he wrote.
"Consistent with the duties of the President of the United States, and in particular his obligations to preserve the rights of future occupants of his office, President Trump cannot permit his Administration to participate in this partisan inquiry under these circumstances."
The letter goes on to characterize the Democrats' impeachment inquiry as "constitutionally invalid" because it has not been authorized by a majority vote of the House of Representatives.
Pelosi responded that night, describing the letter as "another unlawful attempt to hide the facts of the Trump Administration's brazen efforts to pressure foreign powers to intervene in the 2020 elections."
Elsewhere, U.S. Ambassador to the European Union Gordon Sondland – whose planned testimony last week was scrapped on orders of the Department of State – is now planning to testify this coming Thursday. According to press reports, he "intends to tell Congress this week that the content of a text message he wrote denying a quid pro quo with Ukraine was relayed to him directly by President Trump in a phone call … Sondland plans to tell lawmakers he has no knowledge of whether the president was telling him the truth at that moment. 'It's only true that the president said it, not that it was the truth,' said the person familiar with Sondland's planned testimony."
Kim Strassel of the Wall Street Journal, as she so often does, clarifies what's going on here:
In the two weeks since the White House released the transcript of President Trump's call with Ukrainian President Volodymyr Zelensky, the debate has descended into the weeds of process and people. This is unsurprising given House Democrats' decision to keep hidden the central doings of their impeachment inquiry, and the media's need to fill a void.
The press has responded by seeking to weave dozens of obscure Ukrainian and U.S. names into a crazy quilt of corruption. Readers have no time to keep track of all the Vlads, envoys and meetings in Spain, and that's the point. The goal is to cover the Trump administration in ugly.
Republicans for their part are miffed at the highly irregular manner in which all this is unfolding. So they're highlighting the anonymous whistleblower, his motives and his methods. They've pointed out the whistleblower's admission that his information was secondhand. They're drilling into whether he was biased on behalf of a current Democratic presidential candidate. They are (correctly) pointing out that the whistleblower has no legal right to anonymity.
Motive matters, but what matters more is the accuracy of the complaint itself. The real news of the past few weeks has been the steady accumulation of evidence that its central claim is totally wrong.
Which shouldn't be surprising, given how many facts the complaint mangled about the call. It alleged, for instance, that Mr. Trump asked Ukraine to "locate and turn over servers." He didn't. It claims Mr. Trump "praised" a prosecutor named Yuriy Lutsenko and suggested the Ukrainian president "keep him in his position." That didn't happen either. There's more, and when the whistleblower can't get the facts of the call right, it's no surprise he got his conclusion wrong too.
There is simply no evidence of what House Democrats have made the central claim of their impeachment inquiry: that Mr. Trump engaged in a "quid pro quo" by withholding aid to Ukraine unless it "opened an investigation" into former Vice President Joe Biden.
We now have the transcript of the call, in which Mr. Trump never threatened to withhold aid as a condition of an investigation. He doesn't even mention money. The press is trying to suggest the threat was "implicit"—which means he didn't say it.
There's also the belated and devastating fact that the Ukrainians say they had no knowledge the aid was being withheld until a month after the call. How can you demand a quo when the target is unaware of the quid? Further, the aid was released—despite no "investigation" or "dirt" from Ukraine. And Mr. Zelensky has twice said there was no "pressure" or "blackmail" from the U.S. with regard to an investigation.
We also now have the opening statement of Kurt Volker, the former special representative to Ukraine, from his testimony last week to the House Intelligence Committee. "As you will see from the extensive text messages I am providing," Mr. Volker said, "Vice President Biden was never a topic of discussion" during negotiations with Kyiv. He also testified he did not discuss the withholding of aid with his Ukrainian counterparts until "late August." This is second confirmation of the Ukrainians' statement that they had no clue during the July phone call there was any risk to aid.
Then there are the text messages. Democrats have highlighted several in which a State Department diplomat frets that aid is being withheld for political reasons. They neglect to point out that the U.S. ambassador to the European Union, Gordon Sondland, shut down that claim in his own text: "You are incorrect. . . . The President has been crystal clear no quid pro quo's of any kind."
Republicans will be tempted to keep jumping down the rabbit holes the media and the left dig for them. They'd be better off uniformly noting that the central players in this episode, and the written record, have already refuted the complaint, and that anything further is theater, no different from the Russia-collusion hype. The left is again counting on the public getting lost in a swirl of innuendo. But facts matter, especially when it comes to impeachment.
Toward the end of the week, contradicting himself yet again – about which, more in a moment – House Intelligence Committee Chairman Adam Schiff, who had earlier told the press that he had already reached an agreement with the whistleblower's lawyers to have the whistleblower testify in front of his committee, revealed that maybe, just maybe, the whistleblower would not testify, after all. Schiff said he was worried about the whistleblower's identity remaining a secret, and was concerned that were he or she to testify, the whistleblower's identity might remain a secret no longer. He could have thought of that consideration before he told everyone he had already secured the whistleblower's testimony, of course, but that would have required a working brain.
So as Congress returns from its latest recess, we enter week four of the so-called "official," or "deemed," impeachment inquiry. Democrats are moving quickly. Yesterday, they interviewed Fiona Hill, the recently-departed NSC staffer for Russia, who spent nine hours being interviewed by members and staff of the three committees directed to conduct this portion of the inquiry. Interestingly, GOP Congressman Matt Gaetz, who is a member of the Judiciary Committee but NOT a member of one of three committees conducting this portion of the inquiry, was kicked out of the Fiona Hill interview.
Hill told her interviewers that former National Security Adviser John Bolton was so concerned about what Rudy Giuliani was doing with Ukraine that Bolton directed Hill to alert the White House Counsel's office. "Giuliani's a hand grenade who's going to blow everybody up," she says Bolton said.
SCHIFF COMPLAINT:
Last Tuesday, Tea Party Patriots Action filed a three-pronged complaint with the Office of Congressional Ethics against California Democrat Congressman Adam Schiff, Chairman of the House Permanent Select Committee on Intelligence. The complaint charges Schiff with violating Rule XXIII of the Rules of the House of Representatives, the Code of Official Conduct, which says, "A Member, Delegate, Resident Commissioner, officer, or employee of the House shall behave at all times in a manner that shall reflect creditably on the House." The complaint charges that in three separate episodes, Schiff has acted in a manner that does not reflect creditably on the House – first, when, in the wake of being prank called by two Russian comedy radio hosts he had an Intelligence Committee staffer follow up, seeking naked photos of the president; second, when, at the start of an Intelligence Committee hearing a few weeks ago, he put words in the mouth of the president, and only backed off when he was called on it; and, third, when he repeatedly lied in saying neither he nor his committee staff had had any contact with the Ukraine whistleblower, when, in fact, they had.
The Office of Congressional Ethics is not the House Ethics Committee. The latter is a committee of the House, and is composed of an equal number of Democrat and Republican Members of the House. The OCE was created in 2008, and is the office that handles non-Member ethics complaints against Members.
STAFFING:
On Friday, President Trump announced via tweet that Acting Homeland Security Secretary Kevin McAleenan would be stepping down. The president said he would announce McAleenan's replacement this week. In the meantime, next in line to become Acting Secretary is David Pekoske, administrator of the Transportation Security Administration, who has also been serving as acting deputy secretary at DHS. Conservative leaders are pushing for President Trump to nominate Citizenship and Immigration Services Acting Director Ken Cuccinelli to serve as Secretary of Homeland Security.
TURKEY/KURDS:
Last Sunday evening, President Trump told Turkish President Recep Tayyip Erdogan that U.S. armed forces would withdraw from their observation posts in northern Syria. That withdrawal would allow Turkish forces to make an incursion into that section of Syria, where Syrian Kurdish forces control territory. The Syrian Kurds, who have worked closely with U.S. armed forces in the region to combat ISIS, have long wanted to create their own independent nation, and have been in conflict with the Turks for quite some time.
Following President Trump's decision to withdraw U.S. forces from the area, the Erdogan government wasted no time in launching military attacks in the region. The attacks began on Wednesday. Air assaults pounded the region, and ground forces went in.
On Friday, Turkish forces launched artillery that bracketed a U.S. Special Operations post overlooking the Syrian town of Kobani. Though no U.S. armed forces were injured in the shelling, the 155 mm rounds landed within a few hundred yards of the base on Mistenur Hill.
By Monday, Kurdish forces under attack had struck an alliance with the Syrian government of Bashar al-Assad. President Trump, apparently sensing that he was on thin ice with congressional Republicans, declared that he would impose sanctions against Turkey, in the form of a 50 percent tariff against Turkish steel and a halt to talks over a $100 billion trade deal. Then he spoke by phone with Turkish President Erdogan and pressed Erdogan to initiate a cease-fire and launch negotiations. The White House announced that Vice President Mike Pence and National Security Adviser Robert O'Brien would be traveling to Ankara as soon as possible in an effort to begin such peace negotiations.
SUGGESTED READING:
JENNY BETH MARTIN/TEA PARTY PATRIOTS:
USAT: Jenny Beth Martin: If Trump Is Impeached, Senate Republicans Should Simply Vote To Dismiss The Case
FOX: Jenny Beth Martin: California Now the First State To Legally Require Public Colleges To Provide Abortion Medication on Campus
ET: Graham Tells Pelosi GOP Senators Won't Remove Trump Over Ukraine Call
DS: Trump on Possible Senate Trial: 'I Don't Know How You Can Impeach'
ET Tea Party Patriots Hold National Action Day Opposing Impeachment
ET: Tea Party Patriots Launch Nationwide Campaign To Protest Impeachment Effort
One News Now: Trump Supporters Taking Action
Conservative HQ: 126 Conservative Leaders Denounce Attempts To Impeach President Trump
Newsmax: Tea Party Chair: GOP Senate Should Vote Down Trump Impeachment
Politico: Pence Going After Democrats Over Impeachment – In Their Districts
Conservative HQ: Today Is National Day Of Action To Stop Impeachment
ONN: The Values Voter Summit Continues To Preserve Faith, Family, and Freedom in 2019
DC: Conservative Leaders Push Trump To Choose Ken Cuccinelli To Lead DHS
EXECUTIVE ORDERS:
WH: Executive Order on Promoting the Rule of Law Through Improved Agency Guidance Documents
WH: Executive Order on Promoting the Rule of Law Through Transparency and Fairness in Civil Administrative Enforcement and Adjudication
WH: Remarks by President Trump at Signing of Executive orders on Transparency in Federal Guidance and Enforcement
FOX: Vought: Trump Keeps Promise To Tame Bureaucracy That Runs Roughshod over Americans
GIULIANI:
Hill: Giuliani Predicts Senate Judiciary Will Call On Biden To Testify On Ukraine
Bloomberg: Trump Urged Top Aide To Help Giuliani Client Facing DOJ Charges
WaPo: How Two Soviet-Born Émigrés Made It into Elite Trump Circles — and the Center of the Impeachment Storm
Hill: Five Things To Know About Arrest Of Giuliani Associates
MSNBC: Trump's Other New Scandal Takes an Even More Serious Turn
IMPEACHMENT:
NBC News: Former Rep Trey Gowdy Joins Trump's Legal Team
WT: Trey Gowdy Joins Trump Legal Team
Yahoo: 'Trey Is A Joke Among Us' Gowdy Is A Divisive Addition To Trump's Legal Team
NYT: Inside Trump's Botched Attempt To Hire Trey Gowdy
Hill: White House Tells Pelosi And Committee Chairs It Won't Cooperate With Impeachment Inquiry
Politico: White House Vows To Block 'Illegal' Impeachment Effort
Politico: White House Letter Re Impeachment
Fox News: White House Announces It Will Not Cooperate With 'Illegal' And 'Unconstitutional' Impeachment Inquiry
Politico: Democrats Confident In Obstruction Case Against Trump – But Want More
Hill: Ukraine President Says He Will 'Happily' Investigate Possible Interference In 2016 US Election
Politico: NRCC Polling On Impeachment
Bloomberg: Blindsided Trump Allies Urge Better Coordination On Impeachment
Politico: Impeachment Is Helping GOP Recruit New Candidates
Politico: Mulvaney Sidelined As Trump's Impeachment Crisis Rages
WE: Whistleblower Had Professional Tie To 2020 Democratic Candidate
Breitbart: Report: Ukraine Whistleblower Had Professional Relationship With 2020 Democratic Candidate
LA Times: Why Republicans May Want A House Vote On Impeachment Inquiry And Pelosi Doesn't
WSJ: Ukraine Whistleblower May Not Testify In Person
WaPo: At Least Four National Security Officials Raised Alarms About Ukraine Policy Before And After Trump Call With Ukraine President
NBC News: Trump's Former Russia Adviser Set To Give Testimony On Giuliani And Sondland
Politico: Trump Predicts Senators Will Quash Impeachment. His Allies Aren't So Sure
Politico: Democrats Weigh Knee-Capping A Republican Impeachment Criticism
WE: Adam Schiff's Staff Includes 2 Aides Who Worked with Whistleblower at White House
WSJ: Strassel: Ukraine Smoke and Mirrors
NBC: E.U. Ambassador To Testify in Impeachment Inquiry, Defying Trump Administration
WaPo: Trump's Envoy To Testify that 'No Quid Pro Quo' Came from Trump
WSJ: Gordon Sondland To Testify He Took Trump's Denial of Ukraine Quid Pro Quo at His Word
WSJ: House Lawyers To Ask Sondland About Efforts To Sway Ukrainians
USAT: Nearly 3 Weeks into the Trump Impeachment Inquiry, Polls Show a Shift in Public Opinion
WSJ: Dershowitz: Hamilton Wouldn't Impeach Trump
NRO: McCarthy: What Is Impeachment For?
Politico: Adam Schiff Says Whistleblower May Not Testify in Impeachment Probe
NYT: Bolton Objected to Ukraine Pressure Campaign, Calling Giuliani 'a Hand Grenade'
SCHIFF COMPLAINT:
Fox News: Tea Party Group Wants Schiff Investigated For Ethics Violations In Impeachment Inquiry
Townhall: Tea Party Patriots Actions Slap Shifty Schiff With Ethics Complaint
STAFFING:
Hill: Trump Says Acting Homeland Security Chief McAleenan Will Step Down
WaPo: Trump Says He Is Replacing McAleenan as Acting Homeland Security Secretary
Politico: Trump's Latest Homeland Security Secretary Will Resign
TURKEY/KURDS:
FP: Trump Gives Erdogan Green Light for Syria Incursion
Politico: Trump's Republican Allies Condemn President After 'Sickening' Turkish Incursion
NBC News: National Security Officials Say ISIS Could Regroup After US Betrayal Of Kurds
Hill: Senators Demand Briefing On Trump's Decision To Withdraw From Syria
Hill: Five Things To Know About Trump's Decision On Syria, Turkey And The Kurds
WaPo: U.S. Forces Say Turkey Was Deliberately 'Bracketing' American Troops with Artillery Fire in Syria
Politico: Congress Pressures Trump To Back Down On Syria 'Betrayal'
Politico: Republicans Unload On Trump When He Needs Them Most
NRO: McCarthy: Turkey and the Kurds: It's More Complicated Than You Think
Hill: Furious Republicans Prepare To Rebuke Trump on Syria
Hill: Fury Over Trump Syria Decision Grows
Hill: Trump To Impose Sanctions on Turkey for Military Offensive in Syria
WaPo: Trump Calls for Cease-Fire in Northern Syria and Imposes Sanctions on Turkey
Hill: Trump Calls on Turkey To Broker Ceasefire
NYT: Abandoned by US in Syria, Kurds Find New Ally in American Foe
MW: Pence Headed to Turkey as US Calls for Ceasefire in Syria
2020 DEMOCRATS:
Politico: Why Biden Declared War On Trump And Poked At Warren
Hill: Turley: He Who Must Not Be Named: How Hunter Biden Became a Conversation-Stopper
DW: Biden Sends Letter Excoriating New York Times for Unfavorable Coverage. NYT Responds.
Free Beacon: County Records Contradict Warren's Claim She Was Fired Over Pregnancy
Politico: Sander's Heart Attack Casts Doubts Over His Candidacy
MISCELLANEOUS:
WaPo: Barr's Review Of The Russia Investigation Has Won Trump's Favor But Some Facing Scrutiny Suspect He's Chasing Conspiracy Theories
Politico: Trump Faces Twin Crises as Congress Returns