Tea Party Patriots Action Weekly Report from Washington 04/27/20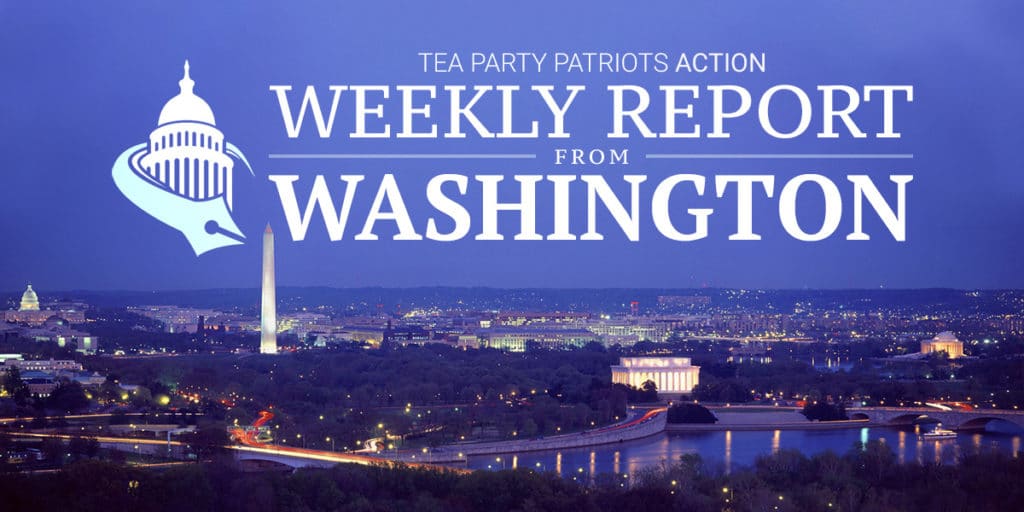 CALENDAR: 
The House and Senate are scheduled to be in recess until May 4. Given that the District of Columbia is under a shutdown order until May 15, I wouldn't be at all surprised to see that May 4 date slip.  
SOCIAL SECURITY: 
Trustees for the Social Security and Medicare systems released their annual report last week, and project that for the first time in 40 years, Social Security will pay benefits that exceed its income in 2021. The good news is, that's one year later than previously projected. The bad news is, the trustees acknowledged that the projection does not take into account the potential effects of the coronavirus crisis, which is likely to cause Social Security and Medicare spending to increase even as it reduces revenue flow into the two systems. 
The trustees did the same thing on the longer-term projection for Social Security – in this year's report, they project that the system will exhaust its reserves by 2035. That is the same as they projected in last year's report – but, again, they fail to adjust for the effects of the coronavirus crisis. 
According to the report, if no changes are made in the Social Security system, then beginning in 2035, the programs would only be able to pay 79 percent of currently scheduled benefits. 
Meanwhile, a new study from the Bipartisan Policy Center, a center-left think tank that gets a lot of attention from Democrats, suggests that the economic impact of the coronavirus crisis could deplete the Social Security Trust Fund by 2028. 
CORONAVIRUS RESPONSE: 
Congress passed its fourth coronavirus response bill, which for some reason is being tagged as the "third and a half" bill. It's an emergency spending bill that will appropriate $484 billion for various aspects of relief, broken down as follows: $320 billion to replenish the Small Business Administration's Paycheck Protection Program; $60 billion for the Emergency Injury Disaster Loan, another SBA loan program for small businesses; $75 billion for hospitals and community health centers; and $25 billion to fund COVID-19 testing. 
But Democrats did not get everything they wanted – Senate Majority Leader Mitch McConnell drew a line in the sand over more funding for state and local governments, and he won this round. He may not win that fight on the next round, because both President Trump and Treasury Secretary Mnuchin have made clear they will support more funding for state and local government bailouts in the next funding bill, but at least he won this round. 
What's happening, of course, is that governors around the country – and particularly in those blue states that have a history of profligate spending – are seeing that the federal trough is open in a way no one has ever seen. So they're putting their snouts in the trough as deeply as they can. State governments that have been spending wildly for decades now see the opportunity to make themselves whole again, and they're going at with gusto. 
Of course, that's wrong. There's no reason in the world that a taxpayer of Utah should be required to send tax dollars to Illinois to bail out the Illinois government from the consequences of its own misdeeds. But that's what the Democrats are after. And we're going to have a fight on our hands a few weeks from now, when that next bill comes up. 
Meanwhile, while Congress was stealing another half-trillion dollars from future generations, grassroots activists around the country stepped up and protested their states' shelter-in-place orders. In Virginia, Michigan, Wisconsin, North Carolina, Pennsylvania, and California, among others, protests were planned, organized, and carried out, letting our fellow citizens know that not everyone believes this virus is as lethal as we've been told, and not everyone believes we need to shut down the economy to save our vulnerable populations. 
On the research front, a new study from Stanford University researchers seems to indicate that a far higher percentage of the population has been exposed to and contracted the virus than previously thought – perhaps by a factor of as much as 50 to 85 times. That is, there may actually be 85 times as many people who have contracted the disease as we previously thought. And that, by the way, would not be a bad thing, it would be a good thing, because it would mean the lethality rate is much lower than we had been led to believe – in fact, if those numbers are accurate, that would mean COVID-19 is about as lethal as the common influenza. 
PERSONNEL: 
Politico reports that White House staffers are considering replacing current Health and Human Services Secretary Alex Azar. On the short list to replace him are Centers for Medicare & Medicaid Services Administrator Seema Verma; Coronavirus Response Coordinator Deborah Birx; and deputy HHS Secretary Eric Hargan. 
Azar has reportedly been under fire in senior administration councils for some time, but what may end up being the straw that broke the camel's back is the ouster last week of vaccine expert Rick Bright. Bright was serving the Trump Administration at HHS as the director of the  
Biomedical Advanced Research and Development Authority until a few days ago, when he was transferred to a role at the National Institutes of Health. To make a long story short, Bright was not happy with the move, which had been in the works for more than a year, but Azar had told Vice President Pence and other members of the administration that the personnel move was handled smoothly, and Bright's move was a promotion. That narrative was blown out of the water when Bright filed a whistleblower complaint. 
On Sunday evening, The Wall Street Journal reported that President Trump, having seen some of the negative coverage, had called Secretary Azar to assure Azar that he was still in good standing with the president. 
2020 DEMOCRATS: 
The story of Tara Reade, a former staffer for then-Senator Joe Biden, just won't go away. Reade accused the former vice president of sexual assault several weeks ago, and the mainstream media has been slow to pick up and report on it, despite her story having more evidence behind it than some of the charges made against Supreme Court Justice Bret Kavanaugh during his confirmation hearings. 
Last week it was revealed that Ms. Reade's mother – who Ms. Reade claims to have told at the time of the alleged assault – called into Larry King's show on CNN on August 11, 1993, and asked King and his guests the following: 
"I'm wondering what a staffer would do besides go to the press in Washington? My daughter has just left there, after working for a prominent senator, and could not get through with her problems at all, and the only thing she could have done was go to the press, and she chose not to do it out of respect for him." 
King responded, "In other words, she had a story to tell but, out of respect for the person she worked for, she didn't tell it?" and Reade's mother replied, "That's true." 
There will be more to come on this story. 
SUGGESTED READING: 
JENNY BETH MARTIN/TEA PARTY PATRIOTS: 
Federalist: Jenny Beth Martin: With 26 Million Unemployed, Partially Opening Georgia's Economy Is a Good Start 
AP: As Hundreds Protest Wisconsin Restrictions, Some in GOP Skip 
Hill: The Memo: Trump Shores Up Base Amid Crisis 
TIME: How Some Anti-Quarantine Protest Are Being Promoted by National Players with Ties to Trump 
Guardian: Michigan Conservatives Hail Protest Success — and Set Sights on Trump's Reelection 
USAT: Who's Behind Lockdown Protests? Demonstrators Tout Independence as National Groups Eye Election 
CHQ: Conservative Leaders Stand with 'Get America Back To Work' Governors 
Conservative HQ: President Trump Should Adjourn Congress And Fill Critical Executive Positions 
CTR: Colorado GOP Elects Tea Party Activist to National Post 
SOCIAL SECURITY: 
WSJ: Social Security Costs Expected To Exceed Total Income in 2021 
CHINA: 
Fox News: Missouri Files Suit Against China For Enormous Consequences Of Coronavirus Deceit 
DW: Tom Cotton, Dan Crenshaw Make Bold New Accusations Against China 
Politico: GOP Memo Urges Anti-China Assault over Coronavirus 
CORONAVIRUS RESPONSE: 
Politico: A Feud over Face Masks and Pandemic Relief: Congress Returns 
US News: Congress Set To Pass $483B Virus Aid As Trump Eyes Next Deal 
Axios: White House And Congress Reach Interim Coronavirus Funding Deal 
Hill: White House, Congress Reach Deal To Replenish Small Business Loan Program 
Politico: Senate Eyes Passage Tuesday For Latest Coronavirus Relief 
Politico: Coronavirus Relief Package Stalls Just Short Of A Deal 
WSJ: Congress Creates A Coronavirus Mess 
Hill: House Passes $484B Coronavirus Relief Package 
Hill: McConnell, Democrats Feud over State Aid Amid Coronavirus 
CORONAVIRUS PROTESTS: 
Deseret News: Coronavirus: Who Is Behind Widespread Protests On Reopening The Economy? 
Raw Story: 'Jesus Is My Vaccine': Hundreds Of Protesters Gather Without Protective Gear In Pennsylvania 
WE: Could Anti-Lockdown Protest Be The New Tea Party Movement? 
NYT: The Quiet Hand Of Conservative Groups In The Anti-Lockdown Protests 
Politico: The Koch Network, Avatar Of The Tea Party, Rejects Shutdown Protests 
Hill: Trump Appears To Back Those Protesting Social Distancing Measures 
USA Today: Coronavirus: Trump Touts State Protests, But Organizers Focus On Economy 
WSJ: Jenkins: The Lockdowns Were the Black Swans 
LAM: More 'Reopen' Protests Are Being Planned in California 
CORONAVIRUS SECOND THOUGHTS: 
Tennessee Star: More People Died Of Suicide Than Coronavirus In Tennessee Last Week 
Bloomberg: Barr Threatens Legal Action Against Governors Over Lockdowns 
Detroit News: State Changes Vendors For COVID-19 Data After Furor Over Democrat-Connected Firm 
WSJ: Trump's Best Re-Election Bet: Run Against China 
Deseret News: Scott Rasmussen: Are We Asking The Right Questions About The Economy? 
WSJ: New Data Suggest The Coronavirus Isn't As Deadly As We Thought 
NRO: Coronavirus Crisis: Ventilator Shortages Have Not Come To Pass 
Politico: Republicans Attack Facebook As Network Shuts Down Anti-Lockdown Protests 
WSJ: Sending Hospitals Into Bankruptcy 
Business Financial Post: 'Family Farms Will Be Lost': Hog Farmers Fear Bankruptcies, Pork Shortages As Meat-Packing Plants Close 
DW: Top UN Official Suggests Economic Fallout From Pandemic Could Kill More Than The Virus 
Hill: The Data Is In-Stop The Panic And End The Total Isolation 
NRO: Preliminary Study Suggests 13 Per Cent Of New York State Residents Have Contracted Coronavirus 
WaPo: 'Complete Disbelief': Governors Blindside Front-Line Staff with Abrupt reopening Plans 
AG: The Deadly Cost of Extended Shutdown Orders 
AI: A Free-Market Agenda for Rebuilding from the Coronavirus 
WSJ: The New Antibody Evidence 
FOX: PA Removes 200 Deaths from State Coronavirus Count as Questions Mount About Reporting Process, Accuracy 
WSJ: Coronavirus Projected To Trigger Worst Economic Downturn Since 1940s 
WSJ: Roy: Reopening the US Economy Even if the Pandemic Endures 
RCM: George Gilder: This Pandemic Is Over. Let's Stop the Economic Suicide, and Get Back to Work 
NRO: McCarthy: Government Bears the Burden of Proof on Coronavirus Restrictions 
WSJ: The Bearer of Good Coronavirus News 
WSJ: Coronavirus Means the Era of Big Government Is … Back 
CORONAVIRUS STATE BAILOUTS: 
Hill: States Should Say "No Thanks" To A Federal Bailout 
Hill: McConnell Says He Supports Letting States Declare Bankruptcy Amid Coronavirus 
Hill: GOP Lawmaker Calls McConnell Remarks On State Bankruptcy 'Shameful And Indefensible' 
Hill: State Governments Face Financial Abyss With Coronavirus 
Daily Signal: 3 Reasons Why States Shouldn't Get A Congressional Bailout 
Hill: McConnell Sparks Bipartisan Backlash With State Bankruptcy Remarks 
WSJ: A Bailout for Illinois? Not Without Strict Conditions 
PERSONNEL: 
Politico: White House Weighing Plan To Replace Azar 
Politico: Ousted Vaccine Expert Battles with Trump Team over His Abrupt Dismissal 
2020 DEMOCRATS: 
NYT: A Candidate in Isolation: Inside Joe Biden's Cloistered Campaign 
Politico: New Evidence Surfaces in Tara Reade Allegation Against Biden 
Intercept: New Evidence Supporting Credibility of Tara Reade's Allegations Against Joe Biden Emerges 
MISCELLANEOUS: 
WE: Ex-FBI Officials: Obama Order Drove Push To Include Steele Dossier In Report On Russian Interference 
Hill: House Postpones Plans To Enact Remote Voting 
Fox Video: Tucker: Some Lockdown Lawmakers Want To Stamp Out Dissent 
Department Of Health: What To Do 
Politico: Trump Revs Up For A State-By-State Fight Over Coronavirus Shutdowns 
Politico: Cash-Rich Democrats Tighten Grip On House Majority