President Trump Must Condemn Antifa as a Terrorist Group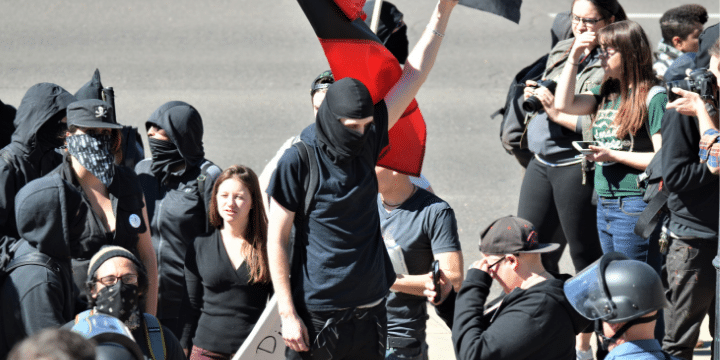 Recent bloody and violent clashes between political movements all have the same thing in common: they were instigated and perpetrated by masked agitators hell-bent on silencing anyone they disagree with. The leftist group, known as "Antifa," has beaten conservatives, innocent bystanders, and their own kind into submission. In Antifa's bid to overthrow what they claim is "fascism," (conservativism, moral values, President Trump), they themselves have become the fascists.
This is why President Trump should move forward in labeling Antifa as a terror organization. Fox News reports:
President Trump said "major consideration" is being given by his administration to designating the far-left antifa movement a terrorist organization, as the city of Portland, Ore., prepares for dueling protests between right-wing demonstrators and antifa on Saturday.

"Major consideration is being given to naming ANTIFA an 'ORGANIZATION OF TERROR,'" the president tweeted. "Portland is being watched very closely. Hopefully the Mayor will be able to properly do his job!"

In his tweet, the president did not mention the expected far-right groups that are expected to protest, like Proud Boys group, the white nationalist American Guard and the Three Percenters. Hate group watchdogs say the Daily Stormers, a neo-Nazi group, are also expected.

More than two dozen local, state and federal law enforcement agencies, including the FBI and the Federal Protective Service, are in Portland to help police monitor the protests.

Ahead of the rally, Democratic Mayor Ted Wheeler said Friday on Fox News' "Outnumbered Overtime" said he's confident "from a law enforcement perspective, we're going to have all the tools and the resources and personnel we need."

"We support people's rights to demonstrate," Wheeler said. "But we don't care about who you are or your politics are. If you engage in violence in this city, you will be held accountable."

The self-described anti-fascists have vowed to confront the rally while leaders from the far-right urged their followers to turn out in large numbers to protest the arrests of six members of right-wing groups in the run-up to the event. Members of antifa often cover their faces with masks, making it harder to identify them.
It's time for these low-life cowards pretending to be gangsters to face reality: using violence and intimidation to enforce political viewpoints are the tactics of terrorists.