Patriot Spotlight: John Berry is California Dreamin' of An End of Marxism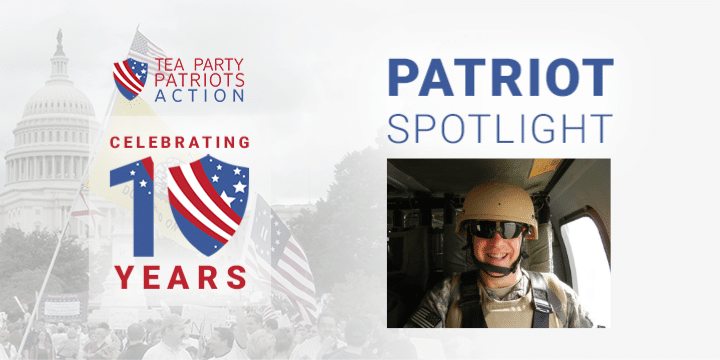 To celebrate our ten-year anniversary of the tea party, we are doing a weekly spotlight of our members and activists.
John Berry was a newspaper reporter for 20 years before he became an activist for the Tea Party. Before that, he was a military intelligence chief warrant officer and served in Iraq and Afghanistan.
He was always passionate about politics, but as a reporter living in California, he had to keep his personal opinions to himself. It wasn't until circumstances changed with his job, and he saw Congress pass ObamaCare that he made the decision to join the Tea Party.
At this point, John decided that he would do anything he could to keep his son from growing up in a socialist country. His local group, the Redlands Tea Party Patriots, gave him the opportunity to fight back.
John is the California state coordinator for the Tea Party Patriots. He does what he can to use the resources and notoriety offered through Tea Party Patriots to help champion our values of personal freedom, economic freedom, and a debt-free future.
What John does now for the Tea Party Patriots is just as important as the war work he accomplished for his country in Iraq and Afghanistan in 2011. It's now 2019, and in civilian life, he has a family as well as civilian and military careers. He looks forward to retirement when he will have the time and resources to do even more for conservative causes as well as the Tea Party Patriots.
When he's not fighting the hard fight for the Constitution and conservative values, he's involved in his church, spends time with his wife, his son, and their three cats named Rock, Paper and Scissors. John is floored by the impact and the significance of the tea party movement. After being smeared and pronounced dead by a gleeful media, the tea party movement remains strong.
John believes the Tea Party Patriots will continue to be the action arm for grassroots conservatives fed up with establishment Republicans. He predicts that that tea party activism will continue to give rank-and-file conservatives a way to get off the couch and onto the political football field. John says, "During Trump's second term, we will be the stalwart troops Trump relies on to get his agenda through Congress and Republicans elected. He will also rely on us to keep the grassroots motivated, educated, and engaged."
We hope motivated and engaged patriots like John will continue to fight with us because it's not over until the Swamp is drained and the forces of Marxism are dismantled.