Tea Party Patriots Action Weekly Report from Washington for 10/7/19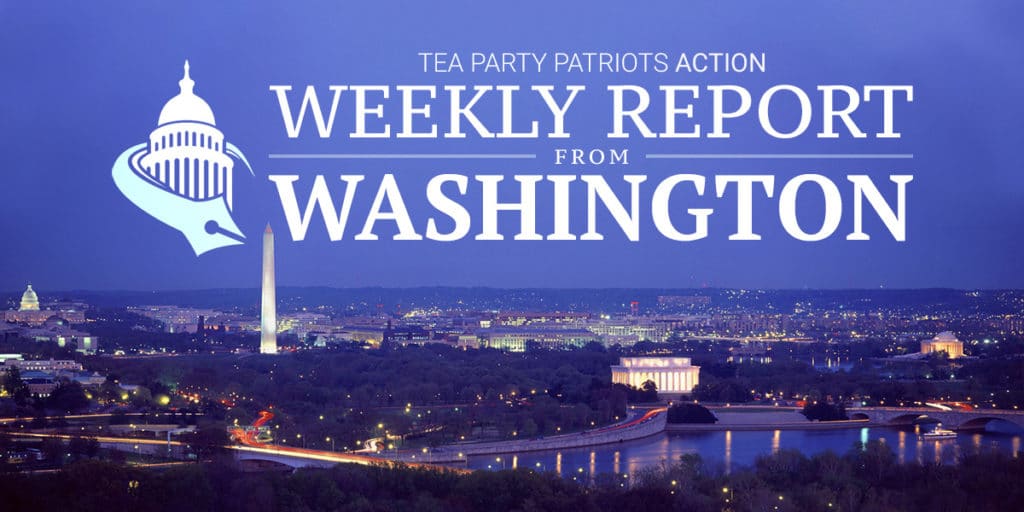 CALENDAR:
The House and Senate are both in recess for another week.
BORDER SECURITY/IMMIGRATION:
Following on the Trump Administration's announcement of its "public charge" rule, the Administration announced on Friday night a new proclamation requiring many future visa applicants to demonstrate that they can afford health insurance. That could make it harder for some poor immigrants to enter the United States. The action is set to go into effect a month from now.
Writes The Wall Street Journal, "Subsidized plans purchased on the Affordable Care Act insurance exchanges wouldn't count as an eligible form of insurance under the White House's new definition." That is, if you're planning on getting subsidies to buy health insurance, that health insurance doesn't count as approved health insurance for purposes of issuing a visa.
I expect the first lawsuits to be filed by the end of the week.
IMPEACHMENT:
Democrats continued their drive to impeach President Trump last week, but the big bombshell news story of the week didn't help them. On Wednesday, The New York Times reported that the so-called "whistleblower" had, in fact, met with the staff of the House Permanent Select Committee on Intelligence, and had sought and received guidance on how to move his complaint forward before filing it.
This directly contradicts an earlier statement from Intelligence Committee Chairman Adam Schiff, Democrat of California, who, when asked, had denied having had direct contact with the whistleblower before the filing of the complaint. It explains how Schiff knew to ask the Inspector General of the Intelligence Community for a copy of the complaint.
The whistleblower, acting under the advice of House Intelligence Committee staff, went out and hired as his attorneys Andrew Bakaj and Mark Zaid, two lawyers with a great deal of experience in the field. Bakaj, not surprisingly, has experience working for some of the most partisan Democrats ever – Daniel Patrick Moynihan, Chuck Schumer, and Hillary Clinton. And Zaid previously represented a pair of DC business owners who filed suit against President Trump and the Trump Organization for unfair trade practices, on the grounds that their bar might lose business to the bar in the Trump hotel because of drinkers trying to earn favor from the president by patronizing his establishment. Zaid lost that case.
That the so-called "whistleblower" would hire as his lawyers Democrats who have experience suing President Trump is not surprising. According to a report in RedState, the so-called "whistleblower" is a partisan Democrat who previously worked for a current 2020 Democratic presidential candidate.
Following publication of the Times' piece, Schiff immediately went into damage control mode. He maintains that committee staff did not write or assist in the writing of the whistleblower complaint, and Zaid and Bakaj insist that Intelligence Committee staff had nothing to do with it.
Meanwhile, President Trump wants the whistleblower to be outed. In his view, he has a right to face his accuser. But whistleblower protection laws are written to do just that – protect whistleblowers. As long as the whistleblower follows the rules of whistleblowing – and yes, there are rules – he will be protected from official outing. But his identity is now one of the most sought-after secrets in the world of politics, and the news outlet that breaks the news is going to be remembered for it. They may have hell to put up with from the professional left, which wants to protect all whistleblowers who blow the whistle on various agencies and players inside the Trump Administration, but they may decide that being known as a fearless news agency is worth the cost of admission.
For his part, Schiff insists that he's reached an agreement with the whistleblower's lawyers to get him to testify before the Intelligence Committee. Of course, this is the same Adam Schiff who insisted for the better part of two years that he had "more than circumstantial" evidence of Trump campaign collusion with Russia, so we've got to factor that in.
On Thursday, President Trump publicly called on the Chinese government to investigate the Bidens. Democrats and the media, predictably, went nuts.
By week's end, three House committees – Intelligence, Oversight and Government Reform, and Foreign Affairs – had sent subpoenas to the White House, demanding documents related to Ukraine. Vice President Pence's office, too, was subpoenaed. And, you'll recall, last week the House committees subpoenaed Secretary of State Mike Pompeo.
But the White House has rejected the House subpoenas, saying they won't respond to subpoenas until the House holds a formal vote putting everyone on record on the launch of an impeachment investigation. The Constitution, for those who care, is quite clear on the matter – it says the HOUSE has the sole power of impeachment, not the Speaker. The Speaker is just one member of the House, and Speaker Pelosi has no power to issue subpoenas on her own. More importantly, without a formal floor vote launching an official impeachment inquiry, the subpoenas coming from the House committees are no stronger than regular subpoenas, and they wouldn't be treated as anything different from a regular subpoena by any judge.
Moreover, the House cover letters with the subpoenas say that failure to respond to the subpoenas will in and of itself be taken as evidence of obstruction of justice, and could warrant an article of impeachment on its own. This is pure poppycock, as a piece by Andy McCarthy at NRO makes clear. You'll find it in the Suggested Reading.
Over the weekend, a second whistleblower emerged, represented by the same two lawyers – Zaid and Bakaj. This one, they say, has first-hand knowledge of President Trump's misdeeds, and has already spoken with the Intelligence Community Inspector General, when the ICIG was investigating the first whistleblower's claims. So the second whistleblower may not need to file a separate complaint, since he was part of verifying the gravity of the original complaint.
Of course, the fact that there is a second whistleblower means nothing at all – there was only the one phone conversation on July 25, and having two people complain about it doesn't make the complaint any more serious than having just one person complain about it. The facts of the phone call don't change. Maybe if the White House had not already released the record of the phone call, so a second complainant's complaint might lend increased credibility to the charge, but now that the record of the phone call has been made public, it really makes no difference how many complaints there are.
For his part, Senate Majority Leader Mitch McConnell appears to be holding firmly in President Trump's corner. Speaking Monday on CNBC, McConnell said Senate rules made it clear he would have to take up any articles of impeachment that come over from the House of Representatives, but he indicated there is no rule on how long the Senate must spend on such articles.
"I would have no choice but to take it up," he said. "How long you're on it is a whole different matter."
If he follows history – and Leader McConnell loves the history of the Senate – he could even decide to deal with articles of impeachment by taking up a motion to dismiss them by simple majority vote.
That's what happened in January 1999, when Sen. Robert Byrd, Democrat of West Virginia, offered a motion to dismiss the articles of impeachment against President Bill Clinton. The motion failed, and the trial went on for five weeks before a final vote failed to convict President Clinton.
The difference this time, of course, is that the Senate is now controlled by the same political party that controls the White House.
Meanwhile, on Friday, Ukrainian Prosecutor General Ruslan Ryaboshapka told reporters in Ukraine that his prosecutors were reopening all the old cases that were closed or dismissed by former prosecutors, including several related to Mykola Zlochevsky, the owner of the Burisma Holdings energy company on whose board Hunter Biden sat.
STAFFING:
Politico reported on Thursday evening that Energy Secretary Rick Perry, the former governor of Texas, is planning to resign his position and leave the Trump Administration in November. According to Politico, Energy Deputy Secretary Dan Brouillette is expected to replace him.
Elsewhere in the Trump Administration, there are Trump political appointees being pushed out the door or resigning in disgust. According to the Washington Examiner, Acting Secretary of Homeland Security Kevin McAleenan has seen to the departure of no fewer than 17 Trump political appointees since he took over the department last spring. Most of the departing appointees appear to have come from the communications shop, and they've been replaced by career bureaucrats who are less likely to be supporters of the president's agenda for DHS.
And Bloomberg News reported late Friday evening that with the transition to a new National Security Adviser, President Trump has ordered what Bloomberg called a "substantial" reduction in the size of the NSC staff. Under President Obama, it had grown to more than 300 staffers, most of whom were professional detailees from other cabinet departments.
TRUMP TAX RETURNS:
The Washington Post reported on Thursday that an IRS official has filed a whistleblower complaint indicating "that he was told that at least one Treasury Department political appointee attempted to improperly interfere with the annual audit of the president's or vice president's tax returns, according to multiple sources familiar with the document.
"Trump administration officials dismissed the whistleblower's complaints as flimsy because it is based on conversations with other government officials. But congressional Democrats were alarmed by the complaint, now circulating on Capitol Hill, and flagged it in a federal court filing. They are also discussing whether to make it public."
The complaint was filed by a career IRS official, and was formally lodged with the chairmen of the Senate Finance Committee and the House Ways and Means Committee, and the Treasury Inspector General for Tax Administration, on July 29.
SUGGESTED READING:
JENNY BETH MARTIN/TEA PARTY PATRIOTS:
C-SPAN: Jenny Beth Martin on Impeachment Inquiry of President Trump
Breitbart: Exclusive Video 911 Called Constituents Press Lawmaker On Impeachment
Conservative HQ: Tea Party Patriots Announce October 10 As National Day Action Against Impeachment
Reporter Newspapers: Tea Party Members Protest Impeachment At US Representative McBath's Sandy Springs Office
Conservative HQ: Assault on America, Day 278: Joe Biden, Hunter, and the Photo That Wrecked a Campaign
BORDER SECURITY/IMMIGRATION:
WSJ: Immigrant-Visa Applicants Required To Show They Can Afford Healthcare
IMPEACHMENT:
NRO: The Senate Should Change Its Rules On Impeachment
Lawfare: What Powers Does Formal Impeachment Inquiry Give To The House?
WaPo: Odd Markings, Ellipses Fuel Doubts About Rough Transcript Of Trump's Ukraine Call
NYT: Schiff Got Early Account Of Accusation As Whistleblowers Concerns Grew
Hill: Whistleblower Contacted Schiff's Committee Before Filing Complaint: Report
Washingtonian: Meet the Attorneys Representing the Whistleblower Who Helped Launch the Impeachment Inquiry
Fox News: Trump Says Schiff 'Helped Write' Whistleblower Complaint, After House Panel Admits Advance Knowledge
Politico: Pelosi Fiercely Defends Impeachment Inquiry As Trump Blows Up
TWITTER: Fred Fleitz: This Article Proves Whistleblower's Claims On Transcript Safeguards Are False
Politico: Pompeo Rebuffs Democrats' Demands In Impeachment Inquiry
Hill: McConnell Signaling Trump Trial To Be Quick If It Happens
Politico: Republicans Prep Formal Rebuke Of Schiff To Defend Trump
CNN: Trump Raised Biden With Xi In June Call Housed In Highly Secure Server
NYT: Trump Envoys Pushed Ukraine To Commit To Investigating Biden
WSJ: Trump Ordered Ukraine Ambassador Removed After Complaints From Giuliani And Others
Hill: Both Sides Dig In After Marathon Trump- Ukraine Briefing
Fox News: McCarthy Calls On Pelosi To Suspend Impeachment Inquiry, Accuses Her Of 'Recklessness'
NYT: Impeachment Rules Say Senate Must Act, But Its Act Might Be A Swift Dismissal
WaPo: McConnell Says If House Impeaches Trump Senate Rules Would Force Him To Start A Trial
Politico: McConnell: Senate Would 'No Choice' But To Take Up Impeachment
WaPo: Trump Amps Up Attacks On Whistleblower As Some Republicans Call For More Strategic Response To Impeachment
NYT: Trump Pressed Australian Leader To Help Barr Investigate Mueller Inquiry Origins
NRO: McConnell Says Senate Has No Choice But To Take Up Impeachment Vote If House Charges Trump
NYT: Trump Was Repeatedly Warned That Ukraine Conspiracy Was 'Completely Debunked'
NYT: Back Home, House Democrats Tread Carefully On Impeachment And 2020
BuzzFeed: The Former Special Envoy To Ukraine Told Congress That Trump's Biden Conspiracy 'Has No Credibility To Me'
WE: Trump Dumps Ukraine Call on Rick Perry
Politico: House Democrats Subpoena White House for Ukraine Documents
Bloomberg: Trump Orders Cut to National Security Staff After Whistleblower
Gingrich: Pelosi's Rigged Game and Hyde-Rodino Rules for Fairness
Commentary: The Senate Shouldn't Cut an Impeachment Trial Short
Hill: House Democrats Subpoena White House for Ukraine Documents
Hill: House Committees Seek Ukraine Docs from Pence in Impeachment Inquiry
WaPo: Four Pinocchios: Schiff's False Claim His Committee Had Not Spoken to the Whistleblower
RS: News Breaks That the Whistleblower Worked for a Current 2020 Democratic Candidate
Hill: McConnell Signaling Trump Trial To Be Quick, If It Happens
Hill: Democrats Claim New Momentum from Intelligence Watchdog Testimony
WSJ: Trump Order Ukraine Ambassador Removed After Complaints from Giuliani, Others
WaPo: Trump Publicly Calls on China To Investigate Bidens
NYT: The President's Trial: The Overview: Byrd Will Offer A Motion To End Impeachment Of Clinton
Hill: Key Republicans Split with Trump on Biden Investigation Push
NRO: Pelosi's Impeachment Bank Shot
WSJ: Attorneys for CIA Officer Behind Trump Complaint Say They Now Represent 'Multiple Whistleblowers'
WT: Ukraine's Top Prosecutor Reopens Corruption Case Linked to Joe Biden's Son
WE: Second Whistleblower Comes Forward To Denounce Trump Dealings with Ukraine
NRO: McCarthy: If the House Won't Vote, Impeachment Inquiry Is Just a Democratic Stunt
PL: Report: A Second "Whistleblower" May Be Coming Forth. Does It Matter?
LI: "Resistance by Whistleblower" Was Part of the Anti-Trump Plan from the Start
ABC: Second Whistleblower Comes Forward After Speaking with IG: Report
Legislative Procedure: Senate Impeachment Trial Resources
STAFFING:
WE: Mas Exodus At DHS Of Trump Political Appointees Under Secretary McAleenan
Politico: Energy Secretary Perry Eyeing Exit in November
TRUMP TAX RETURNS:
WaPo: IRS Whistleblower Said To Report Treasury Political Appointee Might Have Tried To Interfere in Audit of Trump or Pence
2020 DEMOCRATS:
NYT: Bernie Sanders Is Hospitalized, Raising Questions About Candidacy
NRO: How The Trump Campaign Is Preparing For 2020
JOE BIDEN:
WaPo: The Hunter Biden Story Is a Troubling Tale of Privilege
WaPo: Iran, Burisma and Hunter Biden: The Democrats' Terrible Decision To Go All In on Impeachment
BuzzFeed: Joe Biden's Advisers Knew in 2018 His Comments About Ukraine Would Be a Problem
New Yorker: Will Hunter Biden Jeopardize His Father's Campaign?
MISCELLANEOUS:
NRO: Do Republicans See The Strategy To Discredit The Barr Investigation?
Real Clear Investigations: How Many Spy Targets Were There In Russiagate? One, Or Four?