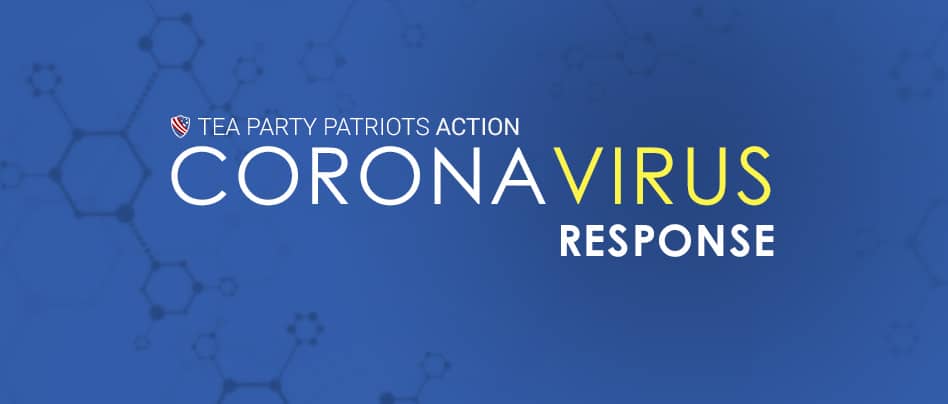 To our fellow Americans:
Tea Party Patriots Action is committed to doing what we can to help our country as we navigate through this crisis, and get through it we shall because we are Americans. We are the most charitable, entrepreneurial, and resilient people in the world, and we can win this battle without panicking.
This resource page contains basic COVID-19 information collated in one place, a template letter you can customize and use to communicate with your neighbors to start the conversation of how you can work together, a list of ten actions you can take while stuck at home, and more.
Our hope is that this page will serve as a resource that helps you, your family, and your community thrive during this emergency. We also want to make it clear that we do not believe that panic is warranted or necessary, contrary to what the mainstream media seems to be trying to promote.
Additionally, we are wary of the opportunists who seek to exploit this crisis to push their anti-American and anti-freedom agendas, and feel strongly that the more we can do for ourselves and our communities, the less of a foothold a would-be tyrant can gain.
We can do this together and we can do it without making things worse. Let's show the world that Americans can take care of ourselves and each other because that is our nature and our heritage. Remember, this too shall pass and we will get through it.
In liberty,
Tea Party Patriots National Support Team
LETTER TO YOUR NEIGHBORS
Use this Word document to write a letter to people in your community. Note: be sure to modify/remove any instructions we have added before you send this!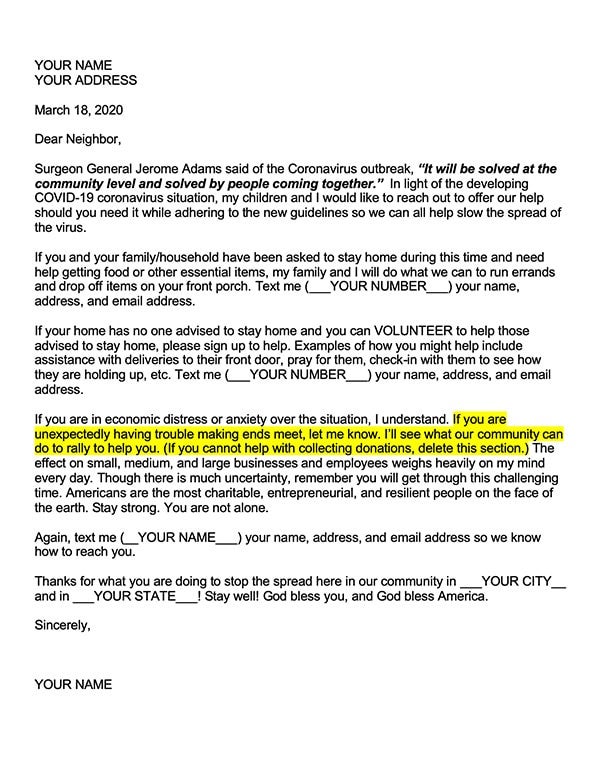 STATE COVID-19 (CORONAVIRUS) RESOURCE PAGES
THINGS TO DO DURING THE "SLOW THE SPREAD" PERIOD
Pray for President Trump
Have your child email a card to his or her teacher while school is out.
Offer to pick up supplies for a neighbor who is shut in because of the quarantine.
Order restaurant or grocery food for a friend.
Do a video chat with an elderly friend or family member.
Call a friend or neighbor whose business is going through a rough period. Encourage him or her.
Take the extra time to read more to your child.
Start a new family tradition — family reading hour together, for example.
Thank your postman for his work. Leave a card for him.
Find one way each day to show your neighbor that Americans have been identified as the most charitable people in the world — for good reason.
Support local businesses and buy their products.
Don't forget to exercise!
THE PRESIDENT'S CORONAVIRUS GUIDELINES FOR AMERICA
30 DAYS TO SLOW THE SPREAD
Listen to and follow the directions of your STATE AND LOCAL AUTHORITIES.
IF YOU FEEL SICK, stay home. Do not go to work. Contact your medical provider.
IF YOUR CHILDREN ARE SICK, keep them at home. Do not send them to school. Contact your medical provider.
IF SOMEONE IN YOUR HOUSEHOLD HAS TESTED POSITIVE for the coronavirus, keep the entire household at home. Do not go to work. Do not go to school. Contact your medical provider.
IF YOU ARE AN OLDER PERSON, stay home and away from other people.
IF YOU ARE A PERSON WITH A SERIOUS UNDERLYING HEALTH CONDITION that can put you at increased risk (for example, a condition that impairs your lung or heart function or weakens your immune system), stay home and away from other people.
DO YOUR PART TO SLOW THE SPREAD OF THE CORONAVIRUS
Even if you are young, or otherwise healthy, you are at risk and your activities can increase the risk for others. It is critical that you do your part to slow the spread of the coronavirus.
Work or engage in schooling FROM HOME whenever possible.
IF YOU WORK IN A CRITICAL INFRASTRUCTURE INDUSTRY, as defined by the Department of Homeland Security, such as healthcare services and pharmaceutical and food supply, you have a special responsibility to maintain your normal work schedule. You and your employers should follow CDC guidance to protect your health at work.
AVOID SOCIAL GATHERINGS in groups of more than 10 people.
Avoid eating or drinking at bars, restaurants, and food courts – USE DRIVE-THRU, DELIVERY OR PICKUP OPTIONS.
AVOID DISCRETIONARY TRAVEL, shopping trips, and social visits.
DO NOT VISIT nursing homes or retirement or long-term care facilities unless to provide critical assistance.
PRACTICE GOOD HYGIENE:
Wash your hands, especially after touching any frequently used item or surface.
Avoid touching your face.
Sneeze or cough into a tissue or the inside of your elbow.
Disinfect frequently used items and surfaces as much as possible.
STOP THE SPREAD OF GERMS
Help prevent the spread of respiratory diseases like COVID-19.