Tea Party Patriots Citizens Fund Weekly Report from Washington for 10/29/18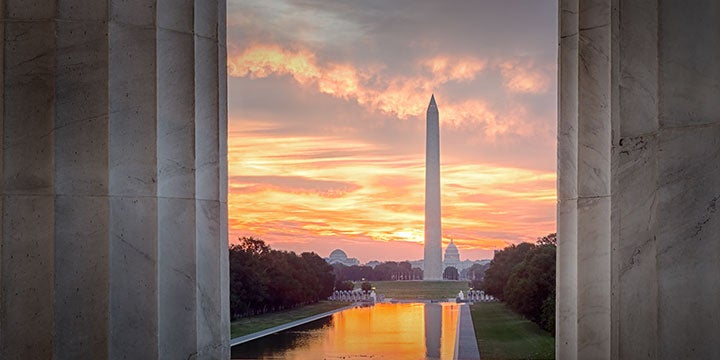 CALENDAR:
The House and Senate are both in recess, and will not return until November 13.
TPPCF ELECTION UPDATE:
THE NBC NEWS/WALL STREET JOURNAL POLL AND THE GENERIC BALLOT:
For the last 23 years, NBC News and The Wall Street Journal have been running an excellent bipartisan poll, using the Democrat pollster Peter Yang and the Republican pollster Bill McInturff. That means that we have an archive of 23 years' worth of polling information that's in the same format, and that's very helpful when we're trying to figure out historical trends.
One of the questions that election analysts always like to look at is what's called the "generic ballot" question. That's where the pollster asks, "if the election for the U.S. House of Representatives were being held today, would you vote for the Democratic candidate or the Republican candidate in your congressional district?" They rotate "Democratic" and "Republican" to ensure there's no bias affecting the poll results.
Many analysts believe that Republicans have a hidden advantage on the generic ballot. Because Republican voters tend to be older, whiter, better educated, and better off financially, they tend to have a greater propensity to vote than do Democrat voters. These analysts suggest those hidden advantage is worth between 4 and 6 points on the generic ballot. So if a generic ballot question shows Democrats with a 6-point advantage, these analysts believe, that's actually going to work out pretty close to a tie when the ballots are actually counted.
Of course, elections are not run by generic ballot. Ballots don't just say "Democrat candidate" and "Republican candidate." They actually have names of the actual candidates. And that makes a huge difference.
Nevertheless, the generic ballot question is useful in helping to determine the overall mood of the electorate, so we pay attention to it.
Since 1980, the Democrats have only three times picked up 23 seats or more in the House in one election – in 1982, when they picked up 26 seats; in 2006, when they picked up 30 seats; and in 2008, when they picked up 23 seats.
There was no NBC News/Wall Street Journal poll around in 1982, so we have no data for that year's election. But in both 2006 and 2008, the last NBC News/Wall Street Journal poll before the election – released in the third week of October – showed the Democrats had a 15-point lead on the generic ballot question.
This year's final pre-election NBC News/Wall Street Journal poll was released last week. It showed Democrats with a 7-point advantage on the generic ballot, at 50-43.
Does that mean there's no way for the Democrats to pick up the 23 seats they need to take control of the House? No, it does not. But it does mean any "blue wave" that's out there is much smaller than they were hoping.
PASCOE'S RULE OF THUMB FOR INCUMBENTS RUNNING FOR REELECTION:
Typically, incumbents are better known than their challengers. They've had the advantage of having a pliable media all to themselves for years, while challengers struggle to raise their name identification during the course of the campaign.
Consequently, the default position for virtually every race where there's an incumbent running for reelection is that the incumbent begins with a big lead. And, therefore, the key number to look at in any ballot test question on a survey is not what is the margin between the incumbent and the challenger, but where is the incumbent in relation to the magic 50 percent mark?
As long as an incumbent is over 50 percent on the ballot, he or she will be difficult to beat. But when incumbents poll below 50 percent on the ballot test question, they're in trouble – even if they might be leading their challenger by double digits.
Why? Because if the incumbent is below 50 percent on the ballot test, that's another way of saying a majority of the electorate HAS decided ONE thing – they've decided they DO NOT LIKE the incumbent!
Look at it this way: Incumbent Smith leads challenger Jones by 42-32 percent. An inexperienced analyst might say incumbent Smith is in good shape, because he's got a 10-point lead. But in reality, what that poll is telling us is that only 42 percent of the electorate surveyed in that poll has made a decision to cast a ballot for Smith, while 58 percent – almost all of whom know Smith – have decided they know him and DO NOT like him. 32 percent of that 58 percent have learned enough about challenger Jones to tell the pollster they feel comfortable voting for Jones, while the remaining 26 percent of the electorate – the so-called "undecideds" – aren't REALLY undecided: They HAVE decided they don't like Smith, but they just don't yet know enough about Jones to feel comfortable telling the pollster they're planning to vote for him.
Consequently, in the closing days of a contest, between three-quarters and four-fifths of the "undecided" voters will end up deciding to cast their ballots for the challenger.
That's why the real number to look at in any race where there's an incumbent running for reelection is not how much he or she is leading by, it's how close is that incumbent to 50 percent on the ballot? An incumbent at 42 percent two weeks before election day is in very serious trouble; an incumbent at 48 percent is in trouble, but might pull it out. An incumbent at 45, 46, or even 47 percent is in serious trouble and could well lose.
Keep that in mind as we go through these key contests.
SENATE:
TED CRUZ: INCUMBENT TED CRUZ REELECT AGAINST DEM BETO O'ROURKE
RCP average: Cruz +6.8 at 50.8-44.0. That represents a very, very, very slight uptick for O'Rourke, who was at 43.8 average last week. The new poll that came out last week has Cruz leading by 6 at 51-45.
MIKE BRAUN: CHALLENGING INCUMBENT DEM JOE DONNELLY
RCP average: Donnelly +0.4 at 42.7-42.3. That represents a significant tightening of the race – one week ago, Donnelly's average lead at RCP was +3 at 43.7-40.7. That's because the RCP average includes a new poll in the field from 10/15-10/20 showed Braun leading by 4, at 47-44. And RCP did not include a new CBS News Battleground Tracker poll that fielded from 10/23-10/26, which shows Braun leading by 3, at 46-43.
JOSH HAWLEY: CHALLENGING INCUMBENT DEM CLAIRE McCASKILL
RCP average: Hawley +1.0 at 46.5-45.5. That represents a slight improvement for Hawley, whose average lead a week ago was 0.5 at 46.3-45.8. That's because a new poll in the field from 10/24-10/25 showed Hawley leading by 4, at 49-45.
MATT ROSENDALE: CHALLENGING INCUMBENT DEM JON TESTER
RCP average: Tester +4.5 at 47.3-42.8. That represents a slight increase in Tester's lead, which last week averaged +3 at 48.3-45.3. That's based on a new poll in the field from 10/8-10/13 that showed Tester leading by 9 at 47-38.
PATRICK MORRISEY: CHALLENGING INCUMBENT DEM JOE MANCHIN
RCP average: Manchin +12.0 at 47.7-35.7. That represents a significant uptick for Manchin, whose average lead last week was +9.4. That's based on the addition of a new poll that fielded from 10/12-10/19 that showed Manchin leading by 16, at 52-36. But the RCP average does NOT include a second poll that was released last week. Conducted 10/16-10/18 by GOP pollsters Fabrizio, Lee & Associates, that survey shows Morrisey LEADING Manchin by 2, at 44-42, with about 3 percent supporting the Libertarian candidate and 12 percent undecided.
LEAH VUKMIR: CHALLENGING INCUMBENT DEM TAMMY BALDWIN
RCP average: Baldwin +10.6 at 52.3-41.7. Baldwin has had double digit leads in the two most recent polls. Wisconsin Republicans may be wishing they had nominated Kevin Nicholson. We haven't seen a new poll in Wisconsin since October 7.
LOU BARLETTA: CHALLENGING INCUMBENT DEM BOB CASEY, JR.
RCP average: Casey +16. But we haven't seen a poll of PA Senate since the Kavanaugh confirmation – the latest polling data is now more than a month old.
MARSHA BLACKBURN: BOB CORKER OPEN SEAT
RCP average: Blackburn +6.5 at 48.8-42.3. Looks good for Blackburn, who should be able to hold this traditionally red seat in a red state. No new polls last week.
DEAN HELLER: INCUMBENT DEAN HELLER AGAINST DEM JACKY ROSEN
RCP average: Heller +1.7 at 46.0-44.3. There was not a new poll last week. Heller is only polling at 46%, traditionally viewed as the danger point for incumbents running for reelection. Republicans will nervously point out that he's led in every poll that's been fielded in the month of October, which is three in a row, but I promise you they're concerned about this one.
RICK SCOTT: CHALLENGING INCUMBENT DEM BILL NELSON
RCP average: Nelson +3.2 at 47.9-44.7. That represents a significant movement toward Nelson – last week the RCP average had the two of them tied. There have been no fewer than SEVEN new polls published in the last week. Five of the seven showed Nelson in the lead by margins ranging from a low of 1 point to a high of 8 points, and two of them showed Scott in the lead, both by 1 point.
MARTHA McSALLY: COMPETING WITH DEM KIRSTEN SINEMA FOR THE JEFF FLAKE OPEN SEAT
RCP average: McSally +0.7 at 46.0-45.3. That's the same as last week, because RCP didn't see a new poll in this race last week. But CBS News released a Battleground Tracker poll that showed Sinema leading by 3 at 47-44 percent.
BOB HUGIN: CHALLENGING INCUMBENT DEM BOB MENENDEZ
RCP average: Menendez +6.5 at 49.5-43.0. New Jersey has not elected a Republican to the U.S. Senate since 1972, and there's a reason for that – there are 900,000 more registered Democrats than registered Republicans in the state, and Democrats in New Jersey are far better organized than are Republicans. So even when a Democrat incumbent is vulnerable, Republicans are at a great disadvantage. This year's race features a terribly crippled incumbent Democrat, Bob Menendez, who was admonished by the Senate Ethics Committee for his personal corruption. Republicans nominated Bob Hugin, a former pharmaceutical executive, who has put $27 million of his own money into the race, mostly in the form of negative campaign ads on TV. The result is a race that just got moved to the Toss Up column. There have been four polls released in the month of October, and all four show the race very competitive – Menendez leads by +9, +7, +5, and +5. The most recent survey was fielded from 10/24-10/26, and shows Menendez leading by just 47-42 percent. National Democrats are so panicked at the thought of losing New Jersey that they've diverted $6 million over the last two weeks to help Menendez, and that's money that won't be helping Claire McCaskill in Missouri or Heidi Heitkamp in North Dakota or Joe Donnelly in Indiana. And here's another thing to keep in mind – New Jersey is one of the most expensive states in the nation to run a campaign in, because it doesn't have its own media market. It's fed by New York television in the north, and Philadelphia television in the south. That's the most expensive media market in the country, and the fourth most expensive media market in the country. So $6 million in New Jersey buys about the same number of actual TV ads as $10 million or $12 million in smaller states like Indiana, Missouri, and North Dakota.
SELECTED HOUSE CONTESTS:
Scott Perry, PA-10
RCP average: Perry +1. A new poll out Saturday showed Perry leading by 2 at 45-43.
Dave Brat, VA-07
RCP average: Brat +2 at 47-45. A new poll came out this morning that shows Democrat Abigail Spanberger leading by 1 at 46-45.
Peter Roskam, IL-06
A new poll came out Saturday, and it shows Democrat Sean Casten leading by 2 at 46-44 – with a 4.7 percent MOE, that's essentially the same as the last poll we saw in this district, back in early September, that showed Roskam leading by 1 at 45-44.
SUGGESTED READING:
JENNY BETH MARTIN/TEA PARTY PATRIOTS:
Tea Party Patriots: Why President Trump's Wall Is Needed To Curb Opioid Epidemic
NBC News: For Trump, the Latest Tough Border Moves Are a Political Necessity
COURTS:
WSJ: Trump Has Named a Lot of Judges, But Courts' Ideological Balance Slow To Shift
WSJ: Trump, Republicans Continue Remaking the Federal Courts — Evan as Senate On Recess
FBI/DOJ:
RC: Rosenstein Interview Abruptly Postponed
Politico: Rosenstein Meeting With House Leaders Postponed
IMMIGRATION:
Hill: Caravan Furor Stokes Wall Fight
CR: Do Border States Have The Power To Repel Illegal Entry?
National Review: Asylum Immigration Crisis Is Security Challenge, Not Legal Problem
Breitbart: Cuccinelli: States Can Stop Migrant Caravan Invasion With Constitutional War Powers
Politico: White House Weighs Executive Actions To Stop Caravan At Border
OBAMACARE:
Politico: Trump Administration Widens ObamaCare Escape Hatch For Red States
RUSSIA HOAX:
DC: FBI Acknowledges Using Multiple Informants In Investigation Of Trump Campaign Aide
WaPo: Rosenstein, Papadopoulos Set To Give Closed Door Testimony To House Committees This Week
Sara A Carter: Papadopoulos: FBI Withheld Exculpatory Information From Secret Court
Politico: Papadopoulos Threatens To Pull Out of Mueller Plea Agreement
Politico: Meadows: Papadopoulos' House Interview Shows Weakness of Mueller's Probe
MISCELLANEOUS:
WaPo: Where The Money Is Going In The Final Push Before Election Day
WaPo: The Late Trump Bump-And What It Doesn't Mean
RC: Grassley Refers Avenatti, his Kavanaugh Accuser Client For Criminal Investigation
Hill: Grassley Refers Swetnick, Avenatti To Justice Department For Investigation
WaPo: 'These Are Trump States': GOP Increasingly Confident of Adding to Senate Majority
WT: Two Polls Tell Very Different Stories in West Virginia Contest
CBS: Tight Contests Mark Critical Senate Races — CBS News Battleground Tracker Poll