Action Items for this Week: Mar 11 – Mar 15
WASHINGTON REPORT FOR 3/11/2019

WASHINGTON REPORT FOR
3/11/2019
We have two calls to action this week: call your GOP Senators and tell them to support President Trump's National Emergency Declaration to secure our border to get this very obvious crisis under control, and sign up to host or commit to attend a rally on April 15th!
Call your GOP Senators and tell them you want them to support President Trump's National Emergency Declaration so that we can finally secure our border and get this crisis under control! For a great analysis and background information, visit our website to see what the great Mark Levin has to say, and about Republicans who oppose the President on this issue. If you don't have a GOP Senator, please contact Senate Majority Leader Mitch McConnell and then post the article on your social media to help educate others.
At this hour, senior Senate Republicans are working with the White House to come to agreement on a deal that would sidetrack the Democrats' attempt to terminate President Trump's national emergency.
Under the terms of the National Emergencies Act, President Trump – any president, for that matter – is authorized to take certain actions to reprogram funding after he declares a national emergency. But that same law also allows Congress to overturn the president's action, if both houses of Congress pass a resolution declaring the national emergency over.
Such a resolution has already moved through the House of Representatives, and is now sitting in the Senate, awaiting action. Four Senate Republicans have already announced their intent to vote for the resolution, meaning it would likely pass, and then be sent to President Trump for his signature or veto. If he vetoed it, it would be the first veto of his presidency. He would prefer not to do that, but he has made clear that he will veto the measure if necessary.
Even as the outcome of the episode remains unclear, it has served to highlight an issue of larger concern to many members of Congress on both sides of the aisle and in both houses of Congress – to wit, the concern many share that over the last decades, Congress has slowly but inexorably ceded power to the executive branch. This case in point – the president's use of a law passed in 1976 – is but the most recent high-profile example of the problem.
So some of the smarter members of Congress who recognize that earlier Congresses ceded too much power to the executive branch now see an opportunity to use this episode to redress at least one area of that imbalance. Senator Mike Lee of Utah has now offered new legislation that would amend the National Emergencies Act to put more power back in the hands of Congress. Under his bill, the National Emergencies Act would be amended so that, were the President to declare a state of national emergency, Congress would be required to pass a resolution supporting that declaration of national emergency through both houses within a certain time frame, or the state of national emergency would automatically end.
That is, both houses of Congress would have to take an affirmative action – passing a resolution – in order for the president's declaration of national emergency to remain in effect. It would, in effect, be a legislative veto, giving Congress a kind of veto power over a president's action.
In its current form, the Lee bill would allow Congress 30 days to pass a resolution affirming the declaration of national emergency. The White House believes 30 days may be too short a time frame, and is considering 30 "legislative days" or 60 days. Either way, that's a relatively minor detail, and we are confident White House and Senate negotiators can work it out to both sides' satisfaction.
While President Trump has said nothing publicly on this matter, we are hearing from our sources that he is looking favorably on such legislation – and, more specifically, on a deal. If he can get 50 Republican Senators to vote against the House-passed resolution of disapproval, leaving his declaration of a national emergency intact without necessitating his veto, then he would sign the Lee bill when it passes both houses of Congress and is presented to him for his signature.
This could be a win-win for our side. We would be keeping the president's declaration of a state of national emergency in effect, while at the same time redressing an imbalance of power between the executive and legislative branches that has existed for years.
We encourage you to call your GOP Senators and tell them to allow President Trump's current national emergency for border security to stand and also to work with Senator Lee to pass legislation to roll back the executive branch power on future emergency actions. If you don't have a GOP Senator, please sign up below to organize a Stop Socialism and Choose Freedom Rally on April 15th.
Recommended Reading:
The border is flooded with fraudulent families. When will Congress do something about it?
Where Is #MeToo for Women at the Border?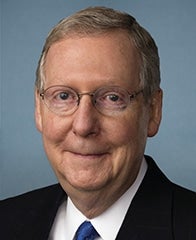 The entire field of Democrat Party presidential primary candidates have embraced full-on socialist policies, and even 29% of millennial Republicans have a positive view of socialism. The time to defeat socialism is now. Please sign up to attend or host a rally to Stop Socialism and Choose Freedom! It can be as simple as sign waving at an intersection or as large as your first Tax Day Tea Party in 2009, with speakers and music and booths! You decide!

[donate organization="TPPCF"][/donate]