Citizens Fund Endorses Bunni Pounds for Congress in TX-05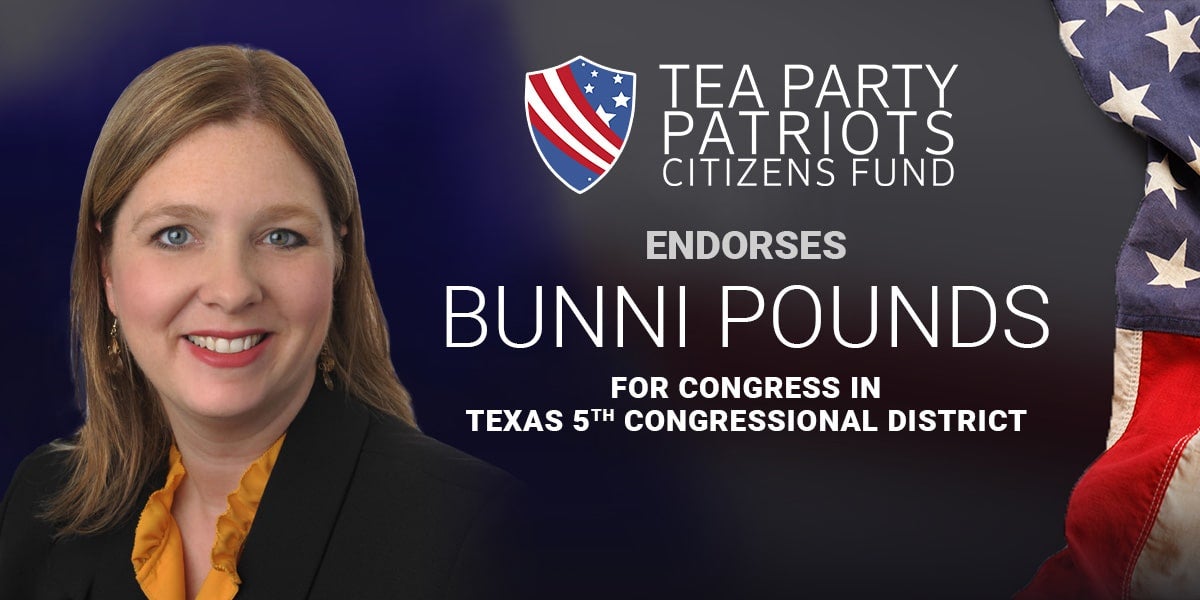 ATLANTA, Ga. – Tea Party Patriots Citizens Fund (TPPCF) Chairman Jenny Beth Martin today released the following statement, announcing that the Super PAC associated with the nation's largest Tea Party group has endorsed Bunni Pounds for Congress in Texas' 5th congressional district.
"In Texas' 5th congressional district, the choice for conservatives is clear – Bunni Pounds.
"Bunni is not a business-as-usual politician, climbing the career ladder. She's an independent small businesswoman, a grassroots activist, and an outsider determined to drain the swamp in Washington.
"Bunni understands that Washington's biggest problem is its addiction to spending. Consequently, she supports a Balanced Budget amendment with spending limitations, and opposed passage of the omnibus spending bill that exploded federal spending.
"Bunni wants to repeal ObamaCare and ObamaCare's illegal special exemption for Members of Congress and their staffs. She opposes Common Core, and is a strong supporter of the Second Amendment.
"And when it comes to illegal immigration, Bunni opposes amnesty and believes in first things first – build the wall and secure the border, and THEN let's talk about immigration reform.
"Not surprisingly, she has already been endorsed by House Freedom Caucus Chairman Mark Meadows, the Susan B. Anthony List, and Club for Growth PAC – and, perhaps most importantly, by the conservative Congressman she seeks to replace, Congressman Jeb Hensarling.
"Consequently, on behalf of Tea Party Patriots Citizens Fund, I am pleased to endorse Bunni Pounds for Congress in Texas' 5th congressional district, and I urge all voters in the district to make a plan to be a voter for her in the May 22 runoff election and the November general election."
Tea Party Patriots Citizens Fund is committed to equipping grassroots activists at the state and local level with the tools and resources needed to hold elected officials and government accountable and elect new and qualified candidates.  For more information, visit www.teapartypatriotscitizensfund.com. 
-30-