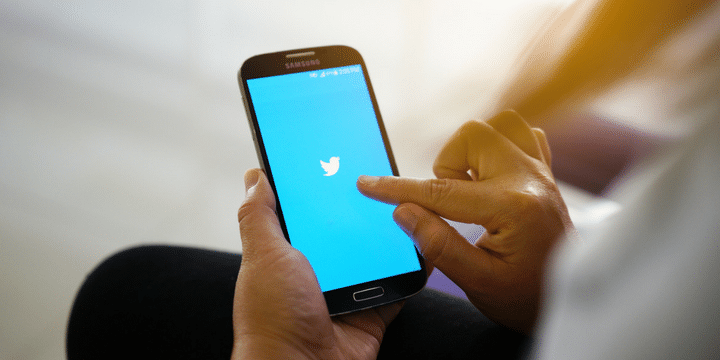 Using Twitter is one of the easiest ways we can all make a difference in our fight for America. Though each individual's efforts on Twitter might be small, when they're all added together, we can make a huge difference in all sorts of battles.
What is Twitter? In a nutshell, Twitter is an online message board where you "tweet" out short messages of less than 280 characters (letters, spaces, numbers, symbols, etc.); you read other people's messages, and you can respond back and forth with other uses.
Let me explain why Twitter is so important, and why we all need to use it.
Journalists use Twitter and they look to Twitter to determine what is newsworthy. If we aren't on Twitter, then it is only left wing voices that journalists hear.
The President uses Twitter, and if you use Twitter, you can amplify his voice by re-tweeting his messages above the racket of the mainstream media; a media that flat out lies about what he says and does. Twitter is one of the only tools that President Trump has to speak directly to the people, instead of being forced to rely on people that hate him, begging them to tell the truth.
Members of Congress use Twitter. More and more members of Congress are personally monitoring and posting on Twitter or they have a dedicated staffer to managing their social media. Several surveys of Congressional staff have found that as little as 20 to 30 tweets on a specific issue can get the attention of a member of Congress.
We originally organized using Twitter. There might not have been a tea party movement without Twitter, or it may not have grown as quickly as it did. People are still using Twitter to organize, and with the left promising unending protests and disruptions, it will be helpful for conservatives to be able to organize quickly as well.
The left uses Twitter. A lot. We should not cede such a powerful tool to leftists, who we now see have no problem using violence to get their way. The left expects us to just give up any and all institutions and mediums that they feel should belong to them. Don't let them control social media. Don't give it to them without a fight.
As you can see, there are a lot of very good reasons to use Twitter. So now let's talk about how to use it.
Signing up For a Twitter Account
You will be guided through a sign-up experience and prompted to enter information such as your name and email address.
Once you sign up for an account, you can select a username (usernames are unique identifiers on Twitter).
Learn how to customize settings for your new account.
For more information about setting up your Twitter account on your mobile phone and other helpful information, see this page from Twitter support.
Other Useful Tutorials
What Should I Tweet?
We make it really easy to start tweeting. In most of our weekly action items we include tweets that are already written to amplify a message of support of or opposition to an important issue. All you have to do is click the tweet on our weekly action page and if you are logged into your Twitter account, it will populate the tweet for you. Then you just click "tweet" and it's done!
Start with our action items and as you get more comfortable, you can start tweeting more of your own items.
How Do I Follow Someone on Twitter?
Following another person's account on Twitter is easy. You just click the "Follow" button on their profile page, or when you hover your mouse over their name and the "Follow" button will pop up there too.
Why would you "follow" people? Because you are interested in reading what they have to say, or you want to converse with them over Twitter, or you want to re-tweet what they are saying to amplify their messages, or share news, etc.
People to Follow
You should follow the people listed below right away, and then you'll see other people in your newsfeed (which is just the Home page) that you want to follow. Note that usernames on Twitter always start with the @ symbol and have no spaces. To find the people below, simply search in the Twitter search bar using their usernames or click the links below.
Phone calls, emails, sign waving, get out the vote, etc. are all important activities, too. We aren't saying they aren't. We are asking that you add this to your engagement options. Even if it seems odd to do, it will help support the President and help advance our values. Trust me – Twitter is an important tool in our tool belt, and we need as many conservatives tweeting as we can get.
So, if you do not have an account, please get one. Let's be ready to tweet next week when the President's Supreme Court nominee is announced so that journalists see that there is a massive amount of support for the President.
See you on Twitter!