3/23/14 – Legislative Update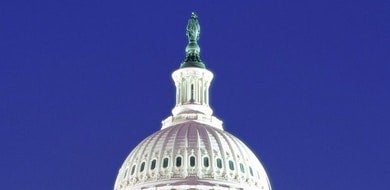 House/Senate Action: Week of 3/17/14-3/23/14
The House will be in session Monday through Thursday this week.
The Senate will be in session Monday through Friday.
EXPECTED ACTION THIS WEEK:
With negotiations stalled on a bipartisan bill to find a long-term or permanent approach to paying Medicare physicians, congressional negotiators will move toward another short-term "doc fix" of nine months to a year. They must act by March 31 to avert an automatic cut to those payments.
Secretary of State John Kerry is to testify Tuesday before the Senate Foreign Relations Committee on the national security and foreign policy priorities in the president's budget proposal. Expect him to get questions about events in Ukraine.
The Foreign Relations Committee also holds a hearing on Syria on Wednesday.
Treasury Secretary Jacob Lew will not only be appearing Tuesday before the House Appropriations Committee, he also is set to appear on Wednesday before the House Financial Services Committee on the state of the international financial system. Expect him, too, to get questions about Ukraine.
The House Financial Services Committee on Tuesday will hold the first in a planned series of hearings on the $17 trillion national debt. This hearing is to examine the debt's impact on jobs, economic growth, and the ability of the nation to fund entitlement programs and discretionary spending.
Advocates of exporting natural gas will ramp up their efforts, ready to make their case before Congress that surging U.S. gas production should open the door for exports that help Europe ease reliance on Russian energy. On Tuesday the Senate Energy and Natural Resources Committee will have a hearing on the topic. A day later the House Foreign Affairs Committee will follow up with a hearing on the "Geopolitical Potential of the U.S. Energy Boom."
IRS TARGETING:
On Thursday, House Oversight and Government Reform Committee Chairman Darrell Issa and Rep. Jim Jordan of Ohio sent a letter to Attorney General Eric Holder urging the Justice Department to give them details about an interview federal law enforcement officials conducted with Lois Lerner. Particularly galling to the two is the fact that Lerner refused to answer their committee's questions without immunity, while she went ahead and sat down with federal officials without any promise of immunity. In response, Lerner's lawyer acknowledged the different attitude, and said she was willing to sit down with federal officials because she believed she would be treated fairly.
Issa and Jordan specifically asked to learn details about where and when the Lerner interview took place, and who was involved. They also asked whether she took the Fifth Amendment in that interview, but they did not request a transcript.
Given that the Justice Department has already rejected House Republican requests that it appoint a Special Prosecutor in the case, I don't expect much to come of this.
BUDGET:
Friday, House Majority Leader Eric Cantor sent a memo to all GOP Members, indicating that, contrary to what the Senate will do, the House WILL take up and pass a budget resolution before the April 15 statutory deadline.
This is going to be difficult. Remember, 62 House Republicans voted against the Ryan-Murray budget deal in December. If the new House GOP budget adheres to the spending limits contained in the two-year, $1.1 trillion spending plan passed in December, it's going to need Democratic votes to pass, which is going to be difficult if Republicans turn their budget into a messaging vehicle for cuts to social programs, or includes additional defense spending.
Nevertheless, Cantor's memo indicated the Leadership's determination to bring to the floor a budget measure that "will adhere to the agreed upon spending limits and balance in 10 years."
UNEMPLOYMENT INSURANCE EXTENSION:
Five Senate Democrats and five Senate Republicans have been working for the last several weeks to find a solution to extending unemployment benefits for the long-term unemployed. They appear to have reached consensus: Under the agreement, benefits would be extended for five months. The measure would be paid for by a combination offsets including temporarily reducing companies' pension payments – also known as pension smoothing – and extending U.S. Customs and Border Protection user fees through 2024. The final agreement would not prevent individuals from collecting both unemployment and disability benefits simultaneously, as previously proposed by Sen. Rob Portman (R-OH).
The bill also reforms the overall program by asking state and federal agencies involved to determine why an individual remains unemployed and offer "personalized assessments" as to how that person can improve their prospects for finding work, under a provision championed by Sen. Susan Collins (R-ME). It also builds on an earlier provision pushed by Sens. Tom Coburn (R-OK), and Jon Tester (D-MT), that would prevent individuals from receiving the benefits who earned a gross adjusted income of $1 million or more the previous year.
But Speaker Boehner on Wednesday rejected the compromise, in a statement posted on his blog, responding to a letter he received from the National Association of State Workforce Agencies warning that the Senate unemployment bill would take most states one to three months to implement and would create new bureaucratic requirements that would be, in their words, "virtually impossible" to enforce retroactively.
Nevertheless, Senate Democrats intend to push ahead with a vote on the bill when they return tomorrow.
SHIELDING JOURNALISTS, BUT NOT CONSERVATIVES
Democrat Senator Chuck Schumer of New York on Friday predicted that the Senate will take up and pass a bill providing protections for journalists but not conservative bloggers or for Matt Drudge, for that matter.
He said he's got just about every Democratic Senator on board, and said there are five Republicans on record being for it, of whom three are cosponsors. In addition to the three cosponsors, he noted that Republicans Lindsey Graham, Roy Blunt, Johnny Isakson, Chuck Grassley, and Orrin Hatch all voted for the bill during the Judiciary Committee markup.
There are two issues at stake here: first, the bill's definition of "journalist," which would seem to leave out all those who post on the Internet without being part of what's called a "legitimate news organization" (like, oh, say, The Drudge Report), and second, the heavy deference the bill gives to the government in the case of national security reporting, where the judge is actually directed to give deference to government prosecutors seeking a journalist's sources.
It's important to remember that about the only time the government actually goes to the extent of seeking a reporter's sources, they're dealing with a national security leak. Since this bill is weak in this area, it's an open question if it would actually improve journalists' security. And by overriding the common law privilege already afforded to journalists, it could actually weaken their protection against the government.
There's no timeline on this bill, so we'll stay on top of it.
OBAMACARE:
Today marks the four-year anniversary of the President signing ObamaCare into law.
Several items of note on the ObamaCare front to discuss this week:
House Republicans are moving forward on plans for a comprehensive alternative to ObamaCare, a bill they can rally around for the fall elections. It still has not yet been finalized, and Speaker Boehner is still keeping his cards close to his vest on whether or not he'll even bring such a bill to the floor, but at this point it looks like it will include an expansion of high-risk pools, promotion of Health Savings Accounts, inducements for small businesses to group up and purchase health insurance together, the ability to buy insurance across state lines, guaranteed renewability of policies, and changes to medical malpractice regulations.
When the House breaks next month for their Easter recess, the House GOP Leadership will provide Members with a PowerPoint presentation on the GOP plan, and ask Members to discuss it at their town hall meetings. And they're still looking to find constituents who have ObamaCare horror stories to tell.
But this may never get to the floor – especially after the Florida special election two weeks ago, many House Republicans don't want to bring an alternative up for a vote, for fear that vulnerable Democrats would take advantage of the opportunity to distance themselves from their votes for ObamaCare four years ago.
On Monday, CBS reported on a new study that reveals that a third of Americans without health insurance intend to remain that way. The report says that the most common reason for not wanting to purchase is its cost – but the report also reveals that 70 percent of those planning to stay uninsured do not know about the federal subsidies, which kind of makes one wonder about the efficacy of the more than half a billion dollars the federal government has spent to advertise just that.
Interestingly, 17 percent – the second highest percentage – said they weren't going to purchase insurance because they oppose ObamaCare. Half the Republicans who said they plan to stay uninsured cited this reason, compared with just 5 percent of Democrats.
One analyst suggested she thinks part of the problem is that the Administration focused too much on getting information to the Young Invincibles, and not enough on low-income young families. But the focus on Young Invincibles isn't doing so well, either – nearly a third of those between the ages of 18 and 29 say they don't plan to purchase insurance because they're healthy and don't need it.
On Tuesday, the Supreme Court will hear arguments in the Hobby Lobby and Conestoga Wood challenges to ObamaCare's contraception mandate. These two cases have been in several lower federal courts, with split rulings, so the Supreme Court has combined the two.
At issue are two fundamental questions: First, do the two corporations have standing to sue? The answer to that question rests on the answer to a subsidiary question: can a corporation practice religion (and therefore be protected by the First Amendment's guarantee of freedom of religion)? The second question is, does the ObamaCare contraception mandate violate freedom of religion? Interesting note: the Administration has won a few cases on the basis of the court's answer to the first question, but the Administration has never won a case on the second question.
The lower courts have split on this issue – in the Conestoga Woods case, the 3rd Circuit Court of Appeals sided with the Administration, and said the owners of a corporation and the corporation itself are two distinct legal entities, and requiring the corporation to do something is not the same as requiring the owners to do something. On that basis, the 3rd Circuit denied the Conestoga Woods challenge, leading the Hahn family (owners of the closely-held corporation) to appeal.
Meanwhile, the 10th Circuit Court of Appeals heard the Hobby Lobby challenge, and cobbled together four different majorities in one ruling against the mandate. So the Administration is appealing that decision.
And here's the kicker – there's a way that the Supreme Court could rule in an attempt to confine the issue to the two corporations at hand. Remember, Chief Justice Roberts has shown a tendency to keep the Court's ruling as narrow as possible on big issues. In these cases, the big question is whether or not corporations can practice religion, so he might try to find a way to address the underlying issues without having to come down squarely on one side or the other on that threshold question.
How could he do that? Look at the amicus brief filed by the Cato Institute. Avoid the question of whether corporations are people, and focus on whether – in these specific cases – people are their corporations. Cato suggests in their brief that because both these corporations are closely-held, the Court could rule in their favor without setting a broader precedent that corporations in general can practice religion.
Jenny Beth, the TPP Support Team, and TPP supporters will be at the Supreme Court on Tuesday morning, making our voices heard.
Meanwhile, a second serious challenge to ObamaCare will be heard in the D.C. Circuit Court of Appeals, the second-highest court in the country. That case is the appeal in Halbig v. Sebelius, one of the most important challenges to the law. Just as a quick reminder, the issue in Halbig is very simple:
Congress authorized the IRS to offer health insurance subsidies, and penalize certain employers and individuals, only "through an Exchange established by the State under Section 1311 of the PPACA." That is, subsidies flow to citizens in states that have established their own Exchanges, NOT to citizens residing in states that did NOT establish their own Exchanges. Moreover, the individual and employer mandates only apply to businesses and citizens in those states that established their own Exchanges, not to those residing in the 34 states that opted instead for the federal Healthcare.gov Exchange.
SUGGESTED READING:
Hill: Republicans to Holder: Spill Lerner Details
Hill: Houser To Consider Ryan Budget in April
NJ: No Doubt: Cantor Says Republicans Will Do a Budget
RC: Boehner Rejects Senate Unemployment Extension Bill
RC: Senate Pushes Ahead on Effort To Extend Unemployment Benefits
Politico: Chuck Schumer: Shield Bill Could Pass Senate
Breitbart: Congress Pushes Ahead with Journalist Shield Law
FOPF: White House Shield Bill Could Actually Make It Easier for the Government To Get Journalists' Sources
RNC: ObamaCare at 4: An Irresponsible Law
House Republicans Craft Their Vision for an Alternative to ObamaCare
NYT: GOP House Members Plan Tour To Test Alternatives on Health Care
Politico: GOP Health Plan Could Be Road to Nowhere
FORBES: Cannon: Halbig v. Sebelius: Amicus Brief of Public-Health Scholars Tries, Fails To Explain away the ACA's Clear Language
CBS: Report: Many Americans Intend To Stay Without Health Insurance