When it comes to Iran, Trump is keeping his campaign promises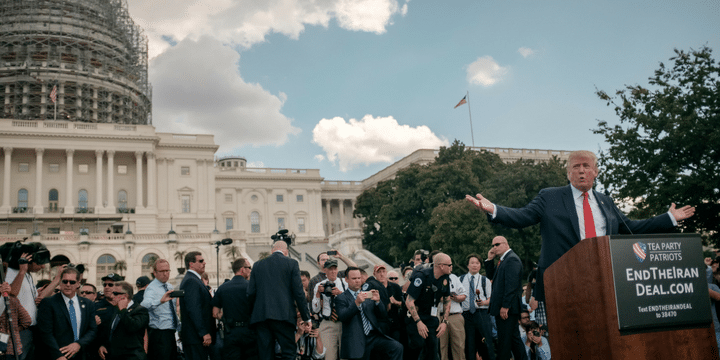 In 2015, then-candidate Trump declared at our rally that the Iran Nuclear Deal is "the worst deal in history" and promised to end it. President Trump kept his campaign promise by ending the deal in May and now re-imposing economic sanctions on Iran. On Tuesday, President Trump banned the use of American currency for financial transactions, stopped sales of Iranian cars, and revoked import permits on some consumer goods.
"The United States is fully committed to enforcing all of our sanctions, and we will work closely with nations conducting business with Iran to ensure complete compliance. Individuals or entities that fail to wind down activities with Iran risk severe consequences," Trump said in a statement Monday.

 

"The JCPOA, a horrible, one-sided deal, failed to achieve the fundamental objective of blocking all paths to an Iranian nuclear bomb, and it threw a lifeline of cash to a murderous dictatorship that has continued to spread bloodshed, violence, and chaos," he added, using the acronym for the official name of the nuclear deal.

 

…

 

Seeking to fulfill a campaign promise to tear up what he's called the "worst deal ever negotiated," Trump announced in May he was withdrawing the United States from the 2015 nuclear deal.

 

The accord, negotiated with Iran under the Obama administration alongside Germany, France, the United Kingdom, Russia and China, gave Tehran billions in sanctions relief in exchange for curbs on its nuclear program.

 

When announcing the withdrawal, the Trump administration gave companies two wind-down periods before it would reimpose sanctions. The first 90-day wind-down period ends Monday.

 

The sanctions that will come back into effect after midnight target transactions with U.S. dollar banknotes; trade in gold and precious metals; direct or indirect sales of graphite and metals such as steel and aluminum; certain transactions related to the Iranian rial; certain transactions related to issuing Iranian sovereign debt; and Iran's automotive sector.

 

Additionally, authorizations will be revoked for the import of Iranian-origin carpets and foodstuff and the export of commercial aircraft.  
For years, former President Obama allowed Iran to abuse this disastrous nuclear deal. President Trump has made national security a top priority by ending the deal that threatened our security as well as our allies. Re-imposing sanctions was the next step in showing that we are no longer a nation that will be pushed around.