News Briefing for Monday, December 22, 2014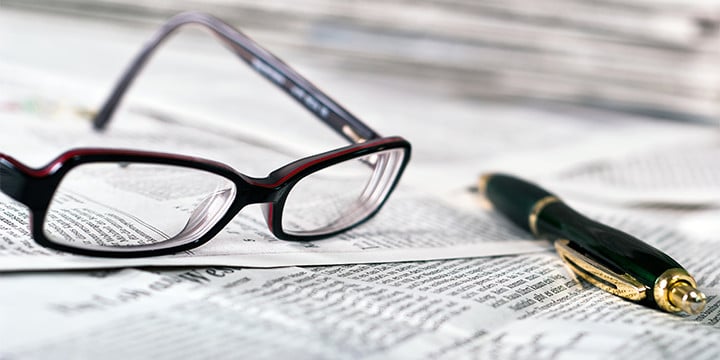 HEALTHCARE:
A Firsthand Account of What It's Like to Re-Enroll for Obamacare (State-Based Exchange)
"What it's like to re-enroll in Obamacare – With that in mind, and with the Dec. 15 deadline to re-enroll and be covered by Jan. 1, 2015, bearing down on me this past weekend, I decided it was time to re-enroll myself for healthcare in my home state of Washington (a state-run exchange). Let me walk you through what it was like re-enrolling for health insurance on my end so you can get a better feel for what might be going right and wrong with the process as a whole. If I had to sum up my enrollment experience in just a few short words I would refer to it as "overly complicated." As a single person with no dependents my re-enrollment should be an absolute breeze. But the information I received through the mail and electronically via Washington Health Plan Finder and my current insurer, Coordinated Care, a Centene (NYSE: CNC  ) company, weren't spelled out perfectly."
http://www.fool.com/investing/general/2014/12/21/a-firsthand-account-of-what-its-like-to-re-enroll.aspx
Survey: Michigan employers prefer pre-Obamacare health care system
"A majority of employers in Southeast Michigan said in a recent survey that they believe the Patient Protection and Affordable Care Act has worsened the nation's health care system. But only 2 percent of 118 employers surveyed said they are undecided whether to terminate their employer-sponsored health insurance group coverage, said the survey by Livonia-based American Society of Employers. At least 98 percent plan to continue employer-sponsored coverage, but many continue to tweak their offerings in a variety of ways to reduce costs. "The vast majority don't think (the Affordable Care Act) was an improvement over the (previous) health care system," said Kevin Marrs, vice president and director of survey services for the association.  "Maybe it is still in its early days to see if this slows the curve in health care costs. The verdict still out whether employers still see this over improvement over what they previously had." The survey found 36 percent strongly disagreed that the Affordable Care Act improved the nation's health care system, 25 percent disagreed and 29 percent were neutral. Only 8 percent agreed and 3 percent strongly agreed. Founded nearly 100 years ago, the American Society of Employers represents more than 800 companies in Michigan, most located in metro Detroit. The average size of an ASE member is just less than 500 employees and the median size firm is slightly less than 100.  Marrs said the survey was the second one of its kind on health care reform conducted on its members. The association conducts regular employee benefit surveys. The first survey, taken in 2013, also surveyed employers on what they are doing to reduce costs and retain talented workers. "Employers use the survey to benchmark how they are doing in controlling costs, but also retaining employee base, attracting new talent," Marrs said. "They want to make sure their plan is competitive in the market, but at the same time not overspend." To control costs, employers are trying some tried-and-true approaches. For example, 32 percent are considering changing their health insurer or administrator; 33 percent are considering increasing employee co-pays or deductibles; and 30 percent are considering adding or expanding high-deductible health plans. In recent years, health insurers have begun to offer alternatives to fully funded health plans.  Some 17 percent are considering moving to a self-funded plan, but only 12 percent are considering using a private health insurance exchange with defined contribution approach and 17 percent are considering using a narrow network of providers to reduce costs. Here are some other key survey findings:
–89 percent of employees will or might experience increases in their health care costs in 2015, up from 83 percent in last year's survey. Employees will pay higher deductibles, co-pays and co-insurance.
–72 percent have or plan to implement changes to their prescription drug plans. This will involve the increased use of prescription formularies where lower copayments will be used to encourage lower-cost drugs.
–71 percent have or plan to implement or expand wellness programs."
http://www.crainsdetroit.com/article/20141221/NEWS/141219810/survey-michigan-employers-prefer-pre-obamacare-health-care-system
Republicans eye obscure budget tool to repeal ObamaCare
"Republicans on and off Capitol Hill are rallying behind using a rarely-deployed budget tool next year to dismantle ObamaCare. But the issue of how to use "budget reconciliation" has divided Republicans, with some calling for it to be implemented to overhaul the tax code or to push through major energy reforms. The tool is useful because it could allow newly-empowered Senate Republicans to pass legislation with a 51-vote simple majority rather than the usual 60, greatly increasing the chances of moving legislation to President Obama's desk. And while Obama is certain to veto anything that tries to roll back his landmark healthcare law, Republicans increasingly see reconciliation as an important messaging tool to help paint a contrast with Democrats on Obamacare ahead of 2016. "My guidance is that's where members are headed," said one senior Senate Republican aide familiar with the behind-the-scenes budget discussions. There already appears to be strong bipartisan support to undo smaller pieces of Obamacare — things like restoring the 40-hour workweek and repealing the medical device tax — so those provisions wouldn't require the filibuster-proof budget tool. While Democrats will certainly have more leverage if they retain the ability to use the Senate's filibuster, Republicans think they can work across the aisle to enact legislation on taxes and energy. If Republicans are serious about enacting tax reform next year, they should aim for 60 Senate votes, said Douglas Holtz-Eakin, a former director of the Congressional Budget Office who leads the conservative think tank American Action Forum. Republicans will hold 54 seats come January, so they they'd need at least six Democratic votes. "That's better for tax reform because it means it's more durable," Holtz-Eakin said. "When you've done the work of getting the minority to sign on, it makes it much more likely the White House signs it." Furthermore, if reconciliation is used on tax reform or energy, Democrats may refuse to cooperate. The senior Senate Republican aide called it "unrealistic" to turn to reconciliation to pass tax or energy reform. "That's a way to pass something, but it's not necessarily the way to get an outcome," the aide said. "If you're looking to get an outcome, which we are on energy and tax reform, using reconciliation won't get you any Democrat votes for that." To be sure, the issue has not been resolved in the Republican conferences. A spokesman for House Budget Committee Chairman Paul Ryan (R-Wis.) said discussions about reconciliation are ongoing and nothing's been decided yet. And Ryan, who will grab the gavel of the powerful tax-writing Ways and Means Committee next month, has signaled he's open to using the powerful budget tool to enact tax reform. Rep. Tom Price (R-Ga.), who will replace Ryan as Budget chairman, threw out a number of possibilities for which Republicans could use the reconciliation process, including reforms to the tax code, entitlements like Medicare, or energy programs. "I think the conference has to decide, and will decide, whether or not the tools ought to be used for things that we know will provide a contrast with the president, that we know the president will not support," Price told reporters at the end of the legislative session. "Or things that will get us to do a true change in public policy with his signature." Republicans will likely settle on a strategy in mid-January when they map out their 2015 agenda at a joint House and Senate retreat in Hershey, Pennsylvania."
http://thehill.com/homenews/house/227795-gop-eyes-obscure-budget-tool-to-repeal-obamacare
Budget experts: Move Tricare beneficiaries to Obamacare
"The Defense Department could slash its enormous health care budget by requiring Tricare beneficiaries not on active duty to get health care coverage through Affordable Care Act exchanges, according to several current and former congressional budget experts. In the past several budget cycles, the Pentagon has sought to reduce its $52 billion health budget by asking Congress to approve cost-savings measures that include increased Tricare fees for retirees, fees for Tricare For Life beneficiaries and cost-shares for active-duty families. Some proposals, such as reducing prescription costs by promoting use of military and mail-order pharmacies, have been implemented, but for the most part, Congress has resisted changes to the status quo for those who use the military health system and its private health care network. But, the budget analysts said, the Defense Department could realize tremendous savings if it tapped into the resources offered by the general, civilian health care system and coverage available through federal or state exchanges. "It's a little radical, but should we be thinking about how some of the military system might transition some of their people to the Affordable Care Act exchanges, especially in sparsely populated areas of the country?" said Alice Rivlin, former director of the Congressional Budget Office and the Office of Management and Budget who now serves as a senior fellow in economic studies at the Brookings Institution. "The case for the special supply of [health] services is strong for the active duty. For the families … the case for having a dedicated supply system is much weaker. That suggests the possible appeal of the option Alice mentioned, which is to help them have fair, well-financed access to the general health care system," said Henry Aaron, also a senior fellow at Brookings who once served as assistant secretary for planning and evaluation at the former Department of Health, Education and Welfare. The military health system budget funds military hospitals and clinics, a medical school, research, medical support for military operations and health care for 9.6 million beneficiaries, including about 1.3 million active-duty service members. The Congressional Budget Office issued a report in January 2013 noting that the increases in the military health budget — a 130 percent increase since 2000 to the current $52 billion cost — largely are attributable to the introduction of the Tricare For Life benefit, which supports Medicare-eligible military retirees and their families and the increased draw of Tricare Prime for military retirees and their families. Currently, active-duty family members on Tricare Prime — the military's health maintenance organization-style program — pay no annual enrollment fees and no cost-shares to see a physician. Retirees pay $555.84 a year to enroll themselves and their families in Tricare Prime and pay fees ranging from $12 to 20 percent of a bill depending on the care received."
http://www.militarytimes.com/story/military/pentagon/2014/12/19/military-health-program-tricare/20654019/
Two more chances to overturn Obamacare
"There is a real possibility that the Supreme Court might actually make up for its earlier error and find key elements of it unconstitutional next June. Of the many challenges to the misnamed Affordable Care Act, two stand out as potent threats to the law's continued legality. The first is King v. Burwell, which the Court has agreed to hear in its upcoming spring session. The case is a challenge to the creation of Obamacare subsidies in the federal exchanges created in the 36 states that declined to create their own exchanges. The law does not provide for such subsidies, says Virginia resident David King, 63, who contends that he should be immune from Obamacare's penalty tax on his decision not to buy insurance. When the IRS expanded subsidies to states like Virginia that had only a federal exchange, it put Mr. King in the position of being vulnerable to the fine again. The IRS and the District Court basically said that this is what Congress would have wanted, even though the law doesn't specify it. "[L]egislative purpose must be effected by the words Congress uses, not the words it might have meant or should have chosen to use," a brief filed by the American Civil Rights Union states. "Courts are not empowered under Article III to divine Congress's overarching objective and then reverse-engineer a version of the law that best achieves it." One might argue that this is exactly what the Supreme Court did in June 2012 when Chief Justice John Roberts somehow found a way to uphold Obamacare as a "tax." It might be more difficult this time around to construct a similar conclusion, given Congress's clear meaning in the pertinent section of the ACA. As for the second serious case, remember the "death panel," for which Sarah Palin continues to be assailed by her detractors? It's real. The Independent Payment Advisory Board (IPAB), consisting of 15 unelected bureaucrats appointed by the president, is empowered to set Medicare payment limits. But the ACA's wording is so loose that the board could effectively control all costs associated with healthcare, according to a Cato Institute study by Diane Cohen and Michael F. Cannon, "Payment Advisory Board, PPACA's Anti-Constitutional and Authoritarian Super-Legislature," released in June 2012. What's more, it could do so with impunity, the authors say, because there is no oversight provision: "When the unelected government officials on this board submit a legislative proposal to Congress, it automatically becomes law: PPACA requires the Secretary of Health and Human Services to implement it." Citing these dangers, Arizona orthopedic surgeon Eric N. Novack and Arizona businessman Nick Coons filed a lawsuit that made its way to the Ninth Circuit Court of Appeals, in Coons and Novack, et al v. Lew and Burwell, et al. When the Ninth declined to overturn a district court's dismissal of the case, the two plaintiffs appealed to the Supreme Court, which has yet to rule on whether it will hear the case."
http://www.washingtontimes.com/news/2014/dec/21/robert-knight-two-more-chances-overturn-obamacare/
Lighting Fuses in Oklahoma
Scott Pruitt and other states' attorneys general are fighting back against Obama's Leviathan.
"Scott Pruitt enjoyed owning a AAA baseball team here, but he is having as much fun as Oklahoma's attorney general, and one of the Obama administration's most tenacious tormentors. The second existential challenge to the Affordable Care Act began here. In the first, decided in June 2012, the Supreme Court saved the ACA by reading it imaginatively. The court held that although Congress could not, in the name of regulating commerce, penalize people for not engaging in commerce (buying insurance), the penalty linked to the individual mandate actually could be considered — although Congress did not so consider it — an exercise of Congress's enumerated power to tax. That same year, Pruitt lit another fuse, this one involving statutory rather than constitutional construction. He filed a suit that in June may contribute to the most seismic domestic development of 2015. The suit asks the court to read the ACA unimaginatively, as meaning what it plainly says: Subsidies, in the form of tax credits, are available only to persons who purchase insurance through exchanges "established by the state." Thirty-seven states have refused or failed to establish their own exchanges. The justices may be disinclined to use the ACA's legislative history, or the candor of MIT's loquacious professor Jonathan Gruber, to inform their deliberations. If, however, the justices do, they will see that Gruber, an ACA architect, says it was written to "squeeze the states" into establishing exchanges: "If you're a state and you don't set up an exchange, that means your citizens don't get their tax credits." If the court holds that the ACA means what it plainly and purposively says, then billions of dollars have been disbursed through federal exchanges contrary to the law. The ACA will be crippled until Barack Obama negotiates help from a Republican-controlled Congress. The Founders' bargain, Pruitt says, was that the states would surrender some sovereignty in exchange for representation in the federal government. But the growth of federal power has tended to reduce states to administrative extensions of the federal government, leaving them with "pre-emption without representation." So Pruitt has established within his office a "federalism unit" aimed at revitalizing federalism as a system of "vertical checks and balances." Oklahoma is among 24 states in a suit initiated by Texas attorney general (and governor-elect) Greg Abbott charging that Obama's unilateral changes in immigration policies are unconstitutional. The complaint is that Obama has injured these states by usurping the legislative power of Congress, in which the states' interests are represented, and by creating, through executive fiat, policies that will impose substantial costs on the states. Another target in Pruitt's sights is the Environmental Protection Agency, which claims to have discovered in the Clean Air Act of 1970 a hitherto unnoticed authority perhaps sufficient to eliminate existing coal-fired power plants. Joined by 16 other state attorneys general, Pruitt argues that the federal government has the power to institute a national energy policy, which implicates the entire economy. But it cannot do so, pre-empting various of the states' powers, simply by locating authority in the creative reading of a 44-year old statute. And then there is the matter of puddles. Pruitt and other attorneys general are resisting the EPA's and the Army Corps of Engineers' contention that the 42-year old Clean Water Act has a hitherto unsuspected capaciousness. The act, which allows regulation of "navigable waters," was passed under Congress' power to regulate interstate commerce, so "navigable waters" have been understood to be those suitable for transporting people and products between the states."
http://www.nationalreview.com/article/395121/lighting-fuses-oklahoma-george-will
6 Reasons Why Vermont's Single-Payer Health Plan Was Doomed From The Start
http://www.forbes.com/sites/theapothecary/2014/12/21/6-reasons-why-vermonts-single-payer-health-plan-was-doomed-from-the-start/
IMMIGRATION:
'Toughest Sheriff' Gets First Draw in Obama Immigration Fight
"The Arizona lawman who styles himself as "America's toughest sheriff" proved quick on the draw in his latest clash with the Obama administration by hurrying to court to challenge the president's immigration overhaul ahead of more than two dozen states. Maricopa County Sheriff Joe Arpaio is asking a federal judge in Washington today to suspend two of President Barack Obama's immigration directives until a ruling is made on whether he overstepped his authority. Arpaio, first elected in 1993 from Phoenix and its suburbs, sued the same day Obama said he would give a reprieve from the threat of deportation to as many as 5 million undocumented immigrants, triggering a showdown with Republicans who take control of the Senate in January. Texas Republican Attorney General Greg Abbott, who won the Nov. 4 governor's race, sued with other state attorneys general in federal court in Brownsville, Texas, on Dec. 3 to block Obama's plan. Those states are also seeking to temporarily block the most sweeping immigration changes in decades while a judge decides whether the president exceeded his constitutional powers. A hearing on that case is set for Jan. 9. Arpaio is getting the first shot. The 82-year-old sheriff has been a lightning rod for immigration reform advocates because of his aggressive tactics toward people suspected of being undocumented immigrants. His office has been overseen by a monitor since October 2013, after Arpaio was found by a federal judge in Arizona to have violated the civil rights of Latinos. In April, U.S. District Judge G. Murray Snow ordered the sheriff to provide his deputies with a summary of the court order forbidding the department from using race or Latino ancestry as a reason to stop a vehicle or detaining Latino drivers and passengers only on the suspicion they are undocumented immigrants. The U.S. Justice Department accuses Arpaio and the county in a separate lawsuit of systematically discriminating against Latinos. Arpaio has attracted attention for other actions, including requiring prisoners to wear pink underwear and investigating the authenticity of Obama's birth certificate. In the immigration case in Washington, Arpaio teamed up with lawyer Larry Klayman, the founder of the advocacy groups Judicial Watch and Freedom Watch. Last December, Klayman, a frequent litigator on issues of executive branch authority and other topics, won a court ruling that the National Security Agency's telephone data surveillance program is probably illegal. A decision on the government's appeal of that case is pending."
http://www.bloomberg.com/news/2014-12-22/-toughest-sheriff-gets-first-draw-in-obama-immigration-fight.html
Maryland Sees Increase In Unauthorized Immigrants
"Love it or hate it, immigration relief for illegal immigrants is here. Saturday, there was a big push to educate those who will benefit about what to expect. Marcus Washington has more.
The halls of Patterson High School in Baltimore were packed, all connected to President Barack Obama taking executive action in November to shield deportation of millions of immigrants in America illegally. "But it is now up to us as a community that we get the information out. I don't want people to be susceptible to immigration fraud or scams," said Mayor Stephanie Rawlings-Blake. Maryland is one of seven states that has seen an increase of unauthorized immigrants since 2009. Studies show that number grew by 25,000 people, pushing that population to 250,000 in Maryland by 2012. "A vibrant city that's welcoming to new Americans and now we will be able to take advantage; people will be able to come out of hiding and help us to have a better, safer and stronger city," Rawlings-Blake said. Immigration relief will protect parents of U.S.-born citizens or children who are legal permanent residents, along with those brought to the U.S. illegally as children. Rawlings-Blake says the orientation is about helping families reach their full potential and help take advantage of all the changes of the laws. "What we're doing is educating our families about the extraordinary decision of President Obama to relieve more than 5 million people all around the nation," said Casa de Maryland president Gustavo Torroes.
Thousands of people will benefit from the president's executive decision in Baltimore City and county. "Today, educating them about what it means exactly, how you can benefit and what documents you need to be prepared," he said."
http://baltimore.cbslocal.com/2014/12/21/maryland-sees-increase-in-unauthorized-immigrants/
Poll: Nebraskans appear ready for immigration reform
"Nebraskans appear ready for immigration reform. They just don't want President Barack Obama going it alone. A clear majority of Nebraskans — 63 percent — said they would support allowing illegal immigrants to stay in this country and obtain citizenship if they passed certain tests, including a criminal background check. But a clear majority — 57 percent — opposed Obama's recent executive order that protects some immigrants from deportation, according to a poll commissioned by The World-Herald. The automated telephone poll of 800 registered voters from across Nebraska was conducted by Victory Phones, a national research and public polling firm. The survey was conducted Dec. 16-17 and had a margin of error of plus or minus 3.5 percentage points. The World-Herald Poll comes a month after the president issued an executive order that will allow as many as 5 million illegal immigrants to live and work in this country legally. They include people who came here illegally but whose children were born in this country and are U.S. citizens. The poll also comes after years of national debate over the issue. Nebraskans appear to be — for the most part — in step with the nation on immigration. Overall, a strong majority of Americans supports a pathway to citizenship for illegal immigrants. For example, such a pathway was backed by 62 percent in a poll the New York Times took this summer. But several polls have shown that a majority of Americans were against Obama's executive order; 56 percent opposed it in a CNN poll conducted in late November. Illegal immigration has bedeviled Washington for years, with Congress unable to pass a comprehensive immigration reform package. The stalemate is largely because of staunch opposition by some to granting either citizenship or legal status to anyone who broke the nation's immigration laws.
In Nebraska, the state's entire congressional delegation is on record opposing a pathway to citizenship, with some saying they will not even consider such action until they are convinced the country's southern border is secured. But The World-Herald Poll suggests that their constituents — Republicans as well as Democrats — are growing more comfortable with the idea of providing a pathway to citizenship."
http://norfolkdailynews.com/news/poll-nebraskans-appear-ready-for-immigration-reform/article_d4ce0c5c-8934-11e4-a4b6-5759248aa226.html
Immigrants build document trails to remain in US
"Electricity bills. Speeding tickets. Dentist records. Money order receipts. The search for documents is on for immigrants who may qualify for a work permit and reprieve from deportation under measures President Barack Obama announced last month. Applicants must prove they were in the country continuously since Jan. 1, 2010 — a tall order for many accustomed to avoiding trails. For critics, conditions are ripe for fraud. The administration has not said which documents it will accept, but advocates are taking guidance from a 2012 reprieve for immigrants who came to the country as young children. The Deferred Action for Childhood Arrivals program, known as DACA, allows vehicle registrations, baptism records, mortgages, postmarked letters — and those are just some suggestions from the agency that vets applications. Los Angeles immigration attorney Carl Shusterman uses social media postings. A Facebook photo at Disneyland might work. "It's not the first thing I would use, but if you're here illegally and getting paid in cash, you may not have as good records as someone paying into Social Security," he said. "How do you prove you were here?" Laura Lichter, a Denver immigration attorney, has used movie rental receipts, veterinarian bills and customer loyalty programs that detail purchase histories. "You use what you got," she said. Homeland Security Secretary Jeh Johnson told members of Congress this month that fraudulent applications could potentially "undermine the whole process" and he promised to review safeguards. Citizenship and Immigration Services, which vets applications and operates under Johnson's watch, says it has grown its anti-fraud unit and increased "the scope and frequency" of vetting. Some advocate a more aggressive approach. Louis D. Crocetti Jr., who headed Citizenship and Immigration Services' anti-fraud unit until he retired in 2011, recommends more random interviews of applicants and periodic home visits for recipients of immigration benefits. He said his audits of various visa programs found double-digit fraud rates, including 33 percent for religious workers in 2005 and 13 percent for high-tech workers in 2008. "Immigration benefits is a production-oriented agency that receives tremendous pressure from the public and the Hill to process applications as quickly as possible," he said. The government plans to begin accepting applications by mid-February for immigrants eligible for an expanded version of DACA and by mid-May for parents of U.S. citizens and legal residents. Citizenship and Immigration Services Director Leon Rodriguez said the agency will hire as many as 1,000 officers to process applications. The agency says hires will get several weeks of training. Attorneys expect children's birth certificates will be required for parents of U.S. citizens. School transcripts, bank statements and vaccination records also will be in demand. Irwin Diaz, a San Diego construction worker who came to the country illegally in 1990, would use paycheck stubs if he applies but says employment records are tricky for anyone who worked under an assumed Social Security number. "Whatever everyone like me is trying to do is see if we're eligible, see if they have any tickets they owed or things like that," said Diaz, 31. "It's people in the shadows." School administrators say DACA prepared them. The Los Angeles Unified School District received 16,000 requests for transcripts and enrollment records after the program was announced in 2012, requiring the creation of a new record processing system and hiring. In Houston, hundreds lined up for records each day for months. "The line would be out the door, down the hall," said Brita Lindsey, the student records manager at Houston Independent School District. More than 700,000 people have applied for DACA since 2012, with 87 percent approved, 5 percent denied and the rest pending. Applicants must go to a government office to give fingerprints, which are scanned against law enforcement databases. They are typically not interviewed. Patrick Taurel, a legal fellow at the American Immigration Council who has advised DACA applicants, said officers often ask for additional documents. "It's a preponderance of evidence standard," he said. "It has to be more likely than not that you meet all the evidence standards."
Advocates warn that rigorously grilling applicants may dampen interest in one of Obama's signature initiatives. An estimated 5 million people are expected to be eligible, but some may worry that admitting they are in the country illegally will expose them to deportation. Permits last three years, and it is unknown how the next president will act. Application fees, which are $465 for DACA, may also be a deterrent. "Who's going to spend $500, plus expose themselves to potential backlash?" Lichter said. "It's just not going to work. It's going to sour people." Prakash Khatri, Citizenship and Immigration Services' ombudsman from 2003 to 2008, said he didn't anticipate "really extensive" questioning. He said there is little incentive to lie because getting caught would erase any prospects of permanent legal status."
http://www.sfgate.com/news/texas/article/Immigrants-build-document-trails-to-remain-in-US-5970528.php
The almost Americans
When President Obama drew a line on immigration, it went straight through their family
http://www.washingtonpost.com/sf/national/2014/12/20/the-almost-americans/
SPENDING/BUDGET/ECONOMY:
Obama: 'Around the world, America is leading'
"President Obama's weekly remarks: Hi, everybody. As 2014 comes to an end, we can enter the New Year with new confidence that America is making significant strides where it counts.
The steps we took nearly six years ago to rescue our economy and rebuild it on a new foundation helped make 2014 the strongest year for job growth since the 1990s. Over the past 57 months, our businesses have created nearly 11 million new jobs. And in a hopeful sign for middle-class families, wages are on the rise again. Our investments in American manufacturing have helped fuel its best stretch of job growth since the '90s. America is now the number one producer of oil and gas, saving drivers about 70 cents a gallon at the pump over last Christmas. The auto industry we rescued is on track for its strongest year since 2005. Thanks to the Affordable Care Act, about 10 million Americans have gained health insurance in the past year alone. And since I took office, we have cut our deficits by about two-thirds. Meanwhile, around the world, America is leading. We're leading the coalition to degrade and ultimately destroy ISIL. We're leading the global fight to combat the Ebola outbreak in West Africa. We're leading global efforts to address climate change, including last month's joint announcement with China. We're turning a new page in our relationship with the Cuban people. And in less than two weeks, after more than 13 years, our combat mission in Afghanistan will be over, and our war there will come to a responsible end. Today, more of our troops are home for the holidays than at any time in over a decade. Still, many of our men and women in uniform will spend this Christmas in harm's way. And as Commander-in-Chief, I want our troops to know: your country is united in our support and gratitude for you and your families. The six years since the financial crisis have demanded hard work and sacrifice on everyone's part. But as a country, we have every right to be proud of what we've got to show for it. More jobs. More insured. A growing economy. Shrinking deficits. Bustling industry. Booming energy. Pick any metric you want — America's resurgence is real. And we now have the chance to reverse the decades-long erosion of middle-class jobs and incomes. We just have to invest in the things that we know will secure even faster growth in higher-paying jobs for more Americans."
http://news.investors.com/Politics-Andrew-Malcolm/122014-731378-obama-sees-2014-as-a-good-year-for-him.htm
Obama Weekly Address: "America's Resurgence Is Real"
"The six years since the financial crisis have demanded hard work and sacrifice on everyone's part. But as a country, we have every right to be proud of what we've got to show for it. More jobs. More insured. A growing economy. Shrinking deficits. Bustling industry. Booming energy. Pick any metric you want – America's resurgence is real. And we now have the chance to reverse the decades-long erosion of middle-class jobs and incomes. We just have to invest in the things that we know will secure even faster growth in higher-paying jobs for more Americans. We have to make sure our economy, our justice system, and our government work not only for a few, but for all of us. And I look forward to working together with the new Congress next year on these priorities.  Sure, we'll disagree on some things. We'll have to compromise on others. I'll act on my own when it's necessary. But I will never stop trying to make life better for people like you.  Because thanks to your efforts, a new foundation is laid. A new future is ready to be written. We have set the stage for a new American moment, and I'm going to spend every minute of my last two years making sure we seize it."
http://www.realclearpolitics.com/video/2014/12/20/obama_weekly_address_americas_resurgence_is_real.html
US economy undergoing 'resurgence', says Obama
http://www.wallstreethedge.com/us-economy-undergoing-resurgence-says-obama/21093/
Obama Says 2014 Was a Great Year. Here Are Three Ways He's Not Telling the Whole Story.
"Here are some of the questionable achievements he cited.
The jobs picture is rosy — or is it? "The steps we took nearly six years ago to rescue our economy and rebuild it on a new foundation helped make 2014 the strongest year for job growth since the 1990s," Obama said. "Over the past 57 months, our businesses have created nearly 11 million new jobs." Jobs have indeed been created at a healthy clip in 2014, but the country's labor force participation rate — the percentage of Americans 16 years old and up who actually have a job or are looking for work — is below 63 percent. Analysts have characterized recent jobs reports as "pure fraud" because so many workers have given up on finding jobs — and new jobs growth hasn't been enough to provide them with work.
Americans can take credit for low gas price — and can we? "America is now the number one producer of oil and gas, saving drivers about 70 cents a gallon at the pump over last Christmas," Obama said. The U.S. nabbed the No. 1 global oil producing spot this year, thanks in large part to the fracking of shale plays — fracking that Democrats frequently block. But while U.S. production helped get the ball rolling on the global decline in oil prices, the fact that gas prices are down has a lot more to do with Saudi Arabia than it does with the U.S. If the Saudis decide to slash their production, oil prices could rise in a hurry — or the Saudis could just wait for low prices to kill off American profitability before moving in and reclaiming their market share. In his weekly address, Obama didn't address the complicated nature of global oil markets and gas prices, nor did he mention his opposition to the Keystone XL pipeline.
The war in Afghanistan is over — or is it? The president also touted the end of "combat missions" in Afghanistan, saying that after 13 years, "our war there will come to a responsible end." Obama did not mention the recent decision to keep more American soldiers in the country than had been initially planned — more than 10,000 U.S. troops will remain in Afghanistan for the beginning of 2015 as NATO struggles to come up with the needed forces to keep the country secure."
http://www.theblaze.com/stories/2014/12/20/obama-says-2014-was-a-great-year-was-it/
14 States Cut Taxes in 2014. Is Yours One of Them?
http://dailysignal.com/2014/12/20/14-states-cut-taxes-2014-one/
Debt Collectors Hound Millions of Retired Americans
http://www.nbcnews.com/business/retirement/debt-collectors-hound-millions-retired-americans-n270931
MISC.:
Obama Approval at 43% in December Zogby Analytics Poll
"Voters grant President Barack Obama an overall positive job rating of 43%, according to a new poll by Zogby Analytics, conducted December 17 and 18. The nationwide online poll of 881 likely voters shows a majority (54%) disapproving of Mr. Obama's job performance and 3% not sure. In many ways the real truth behind this poll can be found among several key sub-groups in the Obama coalition where the President has slipped below 50% approval, including men and woman who only rate the President 40% and 45% positive, 30-49 year olds who are split 49% to 48%, moderates who are split 48%-48%, Catholics who are only at 45%-54%, NASCAR Fans 48%-49%, the Investor Class 48%-52%, Weekly Wal-Mart Shoppers 47%-50%. The LGBT voters are only at 50%-36% approval-disapproval. These are all significant declines for the President because these are all groups that provided high levels of support for him in 2012. At the same time, he has also dropped among 18-29 year olds to just 54% approval, 40% disapproval, Hispanics to 61%-39%, and African Americans 83% to 17%. His positive ratings are a tad lower among Democrats (78% to 21%), and liberals (79%-20%). Mr. Obama is now clearly in "full legacy protection mode". He is certainly not acting like a lame duck. He can at least take cheer in the fact that he continues to outpace the public's view of Congress (19% approve-74% disapprove), the Democrats in Congress (30%-64%), and the Republicans in Congress (28%-66%). The flip side is that only 24% of voters feel the country is headed in the right direction, while 59% say it "is off on the wrong track."
http://www.forbes.com/sites/johnzogby/2014/12/21/obama-approval-at-43-in-december-zogby-analytics-poll/
Gallup Daily: Obama Job Approval
47% – approve, 49% – disapprove: "Gallup tracks daily the percentage of Americans who approve or disapprove of the job Barack Obama is doing as president. Daily results are based on telephone interviews with approximately 1,500 national adults; Margin of error is ±3 percentage points."
http://www.gallup.com/poll/113980/Gallup-Daily-Obama-Job-Approval.aspx
CASTRO TO POCKET 92% OF WORKER SALARIES FROM FOREIGN COMPANIES
"Just one day before President Obama announced sweeping changes that would allow potential American investment in Cuba, the Cuban government apparently had begun preparing itself by announcing new measures that would allow Cubans who work for foreign companies to keep only 8% of their salaries. In an official announcement in state newspaper Granma, government officials announced a system in which employees who work for corporations with foreign capital will be paid two Cuban Pesos for every Convertible Cuban Peso (CUC) the corporation actually pays them. The Convertible Peso (CUP) is almost exclusively for the use of tourists and is of significantly greater value; one CUC is the equivalent of an American dollar and the equivalent of 26.5 CUPs. The other 24 CUPs Cuban workers will not receive amount to 92% of their salaries. Granma explains: "The payment will now be agreed to with businesses possessing foreign capital taking into consideration the salaries issued to workers in jobs of similar complexity in entities in the same area or sector of our geographic area, the salary scale that is applied in the country (as a reference point) and some additional payments for the corresponding law." In other words, even if a foreign company has the means to pay more than a Cuban company, the worker will receive the same salary as if he were working for a Cuban company, and the government will pocket the rest. The Havana Times, an online publication dedicated to issues related to Cuba, notes that Zamira Marín Triana, vice-minister of Labor and Social Security, described the new laws as offering a "significant increase" for workers. In addition to the 92% of salaries being pocketed by the Cuban government, Cuban government employment offices will charge 20% of the salary of each worker they connect to the corporation for the service of finding said corporation employees. Employees will also lose 9.09% of their salaries for "vacation time."
http://www.breitbart.com/national-security/2014/12/19/castro-to-pocket-92-of-worker-salaries-from-foreign-companies/
Castro Thanks the U.S. in a Speech but Reaffirms Communist Rule in Cuba
"President Raúl Castro declared victory for the Cuban Revolution on Saturday in a wide-ranging speech, thanking President Obama for "a new chapter" while also reaffirming that restored relations with the United States did not mean the end of Communist rule in Cuba. In a televised speech before Parliament and a group of favored guests — including Elián González, the center of a tug of war in 2000 between Cuban exiles and Havana, and the three men convicted of spying in the United States who were released as part of the historic agreement announced on Wednesday — Mr. Castro alternated between conciliatory and combative statements directed at the United States. He stoked the flames of Cuban nationalism, declaring near the end of his statement, "We won the war." But he also praised Mr. Obama for starting the biggest change in United States-Cuba policy in more than 50 years. "The Cuban people are grateful," he said, for Mr. Obama's decision "to remove the obstacles to our relations." He added that all issues and disputes between Cuba and the United States would be on the table in coming discussions about re-establishing formal diplomatic ties between the two countries. But he offered no immediate concessions to demands for improvement in Cuba's human rights record. As he has done since he took over for his ailing brother Fidel in 2006, Mr. Castro prioritized economics. He acknowledged that Cuban state workers needed better salaries and said Cuba would accelerate economic changes in the coming year, including an end to its dual-currency system. But he said the changes needed to be gradual to create a system of "prosperous and sustainable communism." Mr. Castro confirmed that he would travel to Panama in April for the Summit of the Americas, which Mr. Obama is also set to attend. A White House official said Saturday that there were no current plans for the two presidents to meet there. Mr. Castro, wearing a traditional white shirt called a guayabera and only occasionally gesturing for emphasis, referred repeatedly to Mr. Obama, praising him personally while also emphasizing that with the process of real diplomacy just beginning, "the only way to advance is with mutual respect." He insisted, as he and Fidel Castro have for years, that the United States not meddle in the sovereign affairs of the Cuban state. Carlos Alzugaray Treto, a Cuban diplomat and educator, said Mr. Castro's strong wording, in a speech that is an annual event and rallying point, seemed to be mostly directed at his Communist Party loyalists. "It's domestic politics," Dr. Alzugaray said. He noted that, just as Mr. Obama must contend with Cuban-American lawmakers who are angry about the deal, Mr. Castro faces opposition from more conservative party members who recall that Cuba's previous stance, established in the 1960s, was to hold off resuming relations until the United States lifted its trade embargo completely. "It's Raúl reassuring certain people," Dr. Alzugaray said, adding that in both Cuba and the United States, the embryonic era of friendliness would need to be protected from those resisting reconciliation of any kind. "Obama more than Raúl has initiated the first step, but other steps are needed."
http://www.nytimes.com/2014/12/21/world/americas/castro-thanks-us-but-affirms-cubas-communist-rule.html?_r=0
Castro Declares Victory Over U.S., Thanks President Obama
"President Raúl Castro declared victory for the Cuban Revolution on Saturday in a wide-ranging speech, thanking President Obama for "a new chapter" while also reaffirming that restored relations with the United States did not mean the end of Communist rule in Cuba. In a televised speech before Parliament and a group of favored guests — including Elián González, the center of a tug of war in 2000 between Cuban exiles and Havana, and the three men convicted of spying in the United States who were released as part of the historic agreement announced on Wednesday — Mr. Castro alternated between conciliatory and combative statements directed at the United States. He stoked the flames of Cuban nationalism, declaring near the end of his statement, "We won the war." But he also praised Mr. Obama for starting the biggest change in United States-Cuba policy in more than 50 years."
http://nation.foxnews.com/2014/12/21/castro-declares-victory-over-us-thanks-president-obama
Castro: Obama's Policy Won't Break Communism In Cuba
http://dailycaller.com/2014/12/20/castro-obamas-policy-wont-break-communism-in-cuba/
Latest developments on the US-Cuba story
"NOT SO FAST – Cuban President Raul Castro told his National Assembly Saturday that detente with U.S. President Barack Obama doesn't mean Cuba will bend to U.S. efforts to change his communist government. "No one should pretend that in order to improve its relations with the United States, Cuba would renounce the ideas it has fought for," Castro said. "OBAMA, TRAITOR" – Several-hundred anti-Castro protesters waved Cuban and American flags and chanted "Obama, traitor" Saturday in Little Havana, expressing their anger that the U.S. president used executive orders to declare an end to a half-century's efforts to isolate Cuba."
http://cnsnews.com/news/article/latest-developments-us-cuba-story
Marco Rubio: Engagement with Cuba won't lead to freedom
"Sen. Marco Rubio, R-Florida, one of the most vocal critics of President Obama's move to normalize relations with Cuba, said Sunday that the president's actions were based on the "false notion that engagement alone automatically leads to freedom." "Look at Vietnam and look at China, countries that we have engaged. They are no more politically free today than they were when that engagement started," Rubio said. "We need to hold this administration accountable for these policy changes, and if in fact, the Cubans do nothing reciprocal to do live up to or to open up political space, constantly challenge and reexamine these policy changes the president's made." Although Rubio held up Vietnam and China as evidence that engagement will not lead to more freedom for the Cuban people, he also said that "comparing China to Cuba is not really a comparable analogy." "China is the second-largest economy in the world, they have the third-largest nuclear arsenal on the planet, they are the most populous nation on the planet. So obviously, from a geopolitical perspective, our approach to China by necessity has to be different from a small impoverished island of 13 million people," Rubio said."
http://www.cbsnews.com/news/marco-rubio-engagement-with-cuba-wont-lead-to-freedom/
The Cuban people keep waiting
"AFTER FIVE years in a Cuban dungeon, American aid contractor Alan Gross was finally freed Wednesday, his release part of a deal to restore full diplomatic relations between the United States and Cuba. But there will be no freedom for the many thousands of Cuban citizens locked in the Castros' prisons — not even after a US embassy is reopened in Havana. The United States has always had diplomatic ties with nasty regimes. In that sense, President Obama's announcement last week that he intends to normalize relations with Cuba merely adds another to the list. But Cuba isn't just another dictatorship. To begin with, it is the only remaining totalitarian state in the Western Hemisphere. The Castro brothers' regime "continues to repress individuals and groups who criticize the government or call for basic human rights," notes a recent Human Rights Watch summary of conditions on the island. "Officials employ a range of tactics to punish dissent and instill fear in the public, including beatings, public acts of shaming, termination of employment, and threats of long-term imprisonment." There is no freedom of speech or religion in Cuba, no due process of law, no right to criticize the government. Nor is there any right to leave, which is why so many Cubans have lost their lives at sea, drowning in desperate attempts to escape. If the president's abrupt shift of policy were part of an American strategy to topple such an odious dictatorship, it might be defensible. Unfortunately, it is hard to see this as anything but one more iteration of the Obama administration's idea of statecraft: Accommodate the world's worst actors and consciously reduce America's clout in shaping international opinion. The Cuban regime is one of the few with which Washington severed ties on a fundamental matter of principle, having first welcomed its accession to power. The United States initially supported the Castro revolution — early in 1958 the Eisenhower administration imposed an arms embargo against Cuban dictator Fulgencio Batista, and it swiftly recognized the new government in 1959. It wasn't until 1961 that President Eisenhower cut diplomatic relations with Havana, and that was only after Castro had seized private property and nationalized (read: stole) billions of dollars' worth of assets belonging to US companies in Cuba. More than half a century later, that massive larceny is still unrepaid… Obama isn't the first president to find ways to ease trade and travel sanctions against Cuba. But the increased business — US agricultural exports to Cuba soared from $4 million in 2001 to more than $450 million in 2010 — has mostly entrenched Cuba's rulers. Easing them further will entrench them even more. That is because the Castro regime, in addition to its other charms, is a criminal syndicate. It controls Cuba's tourism and foreign trade operations much as Al Capone controlled Chicago's liquor rackets. When foreign currency flows to Cuba, it flows to the dictatorship and its military. As Rich Lowry commented in Politico last week, it is as if the Pentagon owned the Radisson, Marriott, and Hilton hotel chains. Despite the president's warm-and-fuzzy rhetoric about the Cuban people's right to "live with dignity and self-determination," nothing about this normalization reflects the least concession on Havana's part. For decades, Obama said, the United States has "proudly. . . supported democracy and human rights in Cuba." But there is no hint that human rights or political freedoms will improve for ordinary Cubans. An end to Communist Party control? Contested elections? An unmolested free press? Don't hold your breath. Echoing a popular talking point, the president claims that America's longstanding policy toward Cuba hasn't "worked," by which he apparently means that Cuba is still a crude and brutal tyranny. "For more than 35 years, we've had relations with China. . . Nearly two decades ago, we reestablished relations with Vietnam," Obama says — as if that supports, rather than undermines, the notion that normal diplomatic and trade relations with Communist dictatorships will transform them into humane and democratic societies. Normalization hasn't "worked" in Vietnam or China. Why expect a different outcome in Cuba?"
http://www.bostonglobe.com/opinion/2014/12/17/cuba-rulers-get-what-they-want-the-cuban-people-keep-waiting/au8deziqsbM1YQUz9jEfcL/story.html
The Castros Finally Hit the Jackpot
http://www.realclearpolitics.com/articles/2014/12/20/the_castros_finally_hit_the_jackpot_125023.html
Georgia prosecutor Yates tapped for No. 2 post in Justice Department
"The Obama administration plans to nominate a U.S. Attorney from Georgia to become the second-highest-ranking official in the Justice Department, according to government officials.
Sally Quillian Yates, a longtime prosecutor and the U.S. Attorney for the Northern District of Georgia since 2010, is expected to be announced as the pick for deputy attorney general, the official who runs Justice Department operations day-to-day. Yates, who has served as the vice chair of Attorney General Eric Holder's advisory committee, is the first woman to serve as the U.S. Attorney in Atlanta. Yates would replace Deputy Attorney General James M. Cole, who is stepping down in January to take a job in the private sector. The Senate is expected to begin the confirmation hearing for attorney general nominee Loretta Lynch in the second or third week of January. Holder has said he will remain as attorney general until a nominee is confirmed.
If Yates and Lynch are confirmed by the Senate, two female U.S. Attorneys would be at the helm of the Justice Department for the remainder of President Obama's second term. In her 22 years as a prosecutor in Georgia, Yates has experience in a wide variety of cases, specializing in public corruption. She was the lead prosecutor in the Atlanta prosecution of Olympics bomber Eric Rudolph. "She did a phenomenal job putting that difficult, complicated case together," said former FBI Director Louis Freeh, who worked with Yates on the Rudolph investigation and has known her for 20 years. "She's remarkably talented and has a solution to every problem," Freeh said. "Her biggest fans are the FBI street agents, the DEA agents, the postal inspectors and the Secret Service. Everybody sings her praises. And she has no ego. She would rather be writing a sentencing memo than get up and have a press conference." Gary G. Grindler, who was Holder's former acting deputy attorney general and chief of staff, said Yates "has terrific judgment and the right temperament for the job."
http://triblive.com/usworld/nation/7426758-74/attorney-yates-general#axzz3Mbg9E4TP
Sally Yates said to be Obama's nominee for Justice Department's second in command
http://www.washingtonpost.com/world/national-security/sally-yates-said-to-be-obamas-nominee-for-justice-departments-second-in-command/2014/12/21/eb7fd908-8939-11e4-8ff4-fb93129c9c8b_story.html?wprss=rss_homepage
400,000 MESSAGES TO HOUSE GOP: LOSE BOEHNER
Americans unhappy with business as usual, demanding the change they voted for
"Shortly after American voters in the midterms expanded the GOP majority in the U.S. House and gave the party a control over the U.S. Senate, tossing Democrat Sen. Harry Reid from his leadership post, there was little fanfare as House GOP members renewed their leadership team, including Speaker John Boehner. But heading into the first weekend after a "Don't be Yellow: Dump Boehner Now Campaign" was launched, more than 400,000 messages are being lined up to deliver to House GOP members when the y convene in the new year. The voters are telling House members to reject Boehner and elect new leadership. The 400,000 letters are being facilitated through the "Don't be Yellow: Dump Boehner Now Campaign" effort launched by WND CEO Joseph Farah. In a commentary in the Washington Times, tea party activist Judson Phillips, without mentioning the campaign to remove Boehner, suggested Rep. Marsha Blackburn, R-Tenn., as a replacement for Boehner. "On Jan. 3, a new Congress begins and one of the first orders of business in the House of Representatives is to pick a new speaker. The conventional wisdom is Mr. Boehner will be re-elected speaker. That may well happen and if it does it will be a disaster for the Republican Party," he wrote. "The conservative base of the party is pretty much in open revolt and without the base, the losses of 2006 and 2008 will seem mild compared to what is coming in 2016." Phillips wrote Boehner "cannot lead" and "will not fight." "The Republicans will have 247 members in the next Congress. If 30 of these members vote against Mr. Boehner, he will not have the majority he needs to be elected speaker. At that point, anything is possible, including Mr. Boehner stepping aside. Every conservative should spend the time between now and Jan. 3 calling their Republican representatives and telling them to vote for Marsha Blackburn instead of John Boehner."
http://www.wnd.com/2014/12/400000-messages-to-house-gop-lose-boehner/#x62209EXuQHdzidW.01
GOP: 'If only we had a president willing to seize' the coal opportunity
"Rep. Mike Kelly gives the Republican Party's Weekly Remarks: Good morning, I'm Mike Kelly, and I have the tremendous privilege of representing Pennsylvania's Third Congressional District.
Today I'm offering President Obama a lump of coal for Christmas. Not because he's been bad this year — though I'll get to that. No, I'm offering the president a lump of coal because this product right here holds the potential for a 21st-century economic revival. You see, coal is our most abundant and valuable resource. It lights our homes, keeps our electric bills low, and puts food on the table for countless families. More than 40,000 jobs in my state alone are tied to coal. But this isn't just about coal country — no, it's about our whole country. Because no other nation in the world has been blessed with such abundant, affordable, and accessible resources. And with all that God has given us, we shouldn't be just trying to keep up with the pack. My goodness, we should be leading the world. Now if only we had a president willing to seize this opportunity. He tells us he's for 'all of the above' but then he leaves out everything that's below. The president said he would bankrupt the coal industry and he's spent his presidency trying to do just that. Federal regulations have already forced two coal-fired power plants in my district to close over the past two years. Hundreds more are set to shut down around the country. He's put up so many roadblocks to American energy that all our production is coming from state and private lands. Now even when the president's own party stopped him from imposing his cap-and-trade tax, he said it was 'just one way of skinning the cat' and then he directed the EPA to do his bidding for him. Instead of forcing our workers to live with less, the president should let us use our God-given resources and talents to help Americans get back to work and make our nation the energy superpower it can be — and quite frankly, that it needs to be. So whether it's stopping these regulations, expediting infrastructure, or expanding production, there's so much we can do to encourage the development of all forms of American energy. These aren't just Republican solutions — these are common-sense American ideas that have support in both parties. You're going to see them again in the new Congress, starting with a vote to approve the Keystone XL pipeline."
http://news.investors.com/Politics-Andrew-Malcolm/122014-731377-republican-remarks-obama-fights-a-war-on-coal.htm?ven=rss&utm_source=feedburner&utm_medium=feed&utm_campaign=Feed%3A+PoliticRss+%28Politic+RSS%29
In 2016, Republicans will be fighting to hold Senate majority
"Senate majority in hand, ascendant Republicans are set to challenge President Obama and the Democrats on Capitol Hill come January. But a much tougher election map two years from now could force the GOP right back into the minority. In November 2016, Republicans will defend 24 seats, Democrats 10. Seven of the GOP seats are in states that President Barack Obama won with 50 percent or more of the vote in 2012. It's a stark reversal from this past November, when Democrats were the ones contending with a brutal map, including candidates running in seven states Obama had lost. Democrats were crushed on Election Day, losing nine seats and their Senate majority. It will be a tough climb for Democrats to make up those losses, and there's no guarantee they will. But coming off November's trouncing, Democrats sound eager about their chances in states such as Wisconsin, Pennsylvania and Illinois, while Republicans are preparing more to defend past victories than try to score new ones. "There's no doubt about it, it's going to be a bigger challenge than 2014," said Sen. Ron Johnson of Wisconsin, among the Republicans at the top of the Democrats' pickoff list. "But I think we have a really good opportunity here in the next couple years. We will reach out to the other side. I think Americans, Wisconsonites, will find out that we're not the party of `no.' " Sen. Brian Schatz of Hawaii, one of the Democrats likely to be safely re-elected in 2016, said his party already is eyeing a path to retake control of the Senate. Democrats would have to gain a net of four seats if there's a Democrat in the White House — because the vice president can cast tie-breaking votes in the Senate — or five if the GOP wins the presidency. "Picking up four or five seats is no small task, but we are certainly in a position to do so," Schatz said. "The electorate is going to be different and I think Democratic elected officials and candidates and most importantly voters are going to be excited for a presidential race, and we're excited to play offense." Democrats faced strong headwinds on numerous fronts in November: Obama's low approval ratings, a scandal involving Department of Veterans Affairs' hospitals, the Ebola outbreak, the rise of Islamic State extremists. Compounding everything was the painfully slow economic recovery. It's too soon to say what new issues may arise in the next two years or how strong the economy will be. But presidential elections can favor Democratic congressional candidates by increasing turnout of young and minority voters, and Democrats will not have to spend time distancing themselves from an unpopular incumbent."
http://www.foxnews.com/politics/2014/12/21/in-2016-republicans-will-fighting-to-hold-senate-majority/
Ticket to the White House set to cost at least $1bn
"It is set to be one of the toughest US presidential races and certainly its most expensive. With 687 days to go to election day, the 2016 campaign is already rich with storylines as candidates hone their messages and handshakes for the gruelling primary schedule ahead…  Campaign finance experts say anyone considering a run will have to raise at least $100m just to be seen as a credible candidate. To win, the cost is expected to top $1bn — nearly $1.5m for every day between now until November 8, 2016. That is an awful lot of handshakes."
http://www.ft.com/intl/cms/s/0/204202fc-892a-11e4-ad5b-00144feabdc0.html#axzz3MbtaN8yI
Tea Party Is a Movement Now, Not Just a Mood
"…Recent polls regarding national tea party support show the panel's assessment is correct. An NBC News/Wall Street Journal poll in November found one-fifth of American adults consider themselves supporters of the tea party. As panel moderator David Azerrad of the Heritage Foundation noted, that's quite an improvement from the original tea party, which numbered between 30 and 130 members. But the panelists didn't just rely on poll numbers to support their conclusion. They also highlighted some of the tea party's major accomplishments since its inception in 2009. Particularly noteworthy, according to the panelists, is the influence of 2010 tea party candidates such as Sens. Mike Lee of Utah, Ted Cruz of Texas, Marco Rubio of Florida and Rand Paul of Kentucky. The media prefers to focus on failed tea party candidates such as Sharron Angle in Nevada and Christine O'Donnell in Delaware, but it has been Lee, Cruz, Rubio and Paul who have injected new life into the GOP and are producing its most innovative policy solutions. Needham pointed specifically to Lee's Higher Education Reform and Opportunity, or HERO, Act, Senator Cruz's proposed energy legislation and Senator Paul's focus on overcriminalization as prime examples of tea party ideas in action. Another sign of tea party success has been its ability to set the terms of political debates. In particular, Ceaser credited the tea party with "bringing the national debt onto the front burner," and reminding Americans that "if you spend today, someone will have to pay [for] it tomorrow." Tea partiers such as Cruz frequently have caused a ruckus on Capitol Hill fighting spending bills and opposing debt-ceiling increases. The result has often been legislative gridlock. Many on the left and in the mainstream media regard this as a failure of the tea party, but Hayes observed that "that was, in some ways, the entire point of the tea party." The tea party-fueled debt debate has had an even greater impact at the state level. In what Ceaser called the tea party's "greatest actual achievement," state governments have taken bold steps to rein in public-sector unions and control pensions. And it's happening in both Republican and Democratic states, Ceaser noted, as both parties are realizing the problems of excessive debt. That the tea party has made popular a topic as unexciting as government debt indicates how truly influential it is. The panel also credited the tea party with bringing the Constitution back into public discourse. Ceaser praised the tea party for restoring the idea of the Constitution as "a guide for the thinking of a political party and program," which he noted was the role it played in the 19th century. In that era, legislators often engaged in debates about what the Constitution allowed and what it meant. Unfortunately, our current Democratic and Republican parties largely have ignored the Constitution and, prior to the tea party, rarely debated its meaning. The result was a mistaken perception of the Constitution as nothing more than "a matter of individual rights protected by courts" that political parties and movements simply should not bother with. The tea party's return to the Constitution has revitalized public interest in its meaning and forced politicians to engage once more in constitutional debates. Despite frequent mischaracterizations in the mainstream media, targeting by the IRS, and verbal attacks from President Obama, the tea party remains highly influential in American politics. The left and the media don't want to admit it, but the tea party is not a passing mood; it's a movement. And, as Steve Hayes concluded, "It's not going anywhere anytime soon."
http://dailysignal.com/2014/12/19/tea-party-movement-now-not-just-mood/
Next Up in America: The Liberal Retreat
The Obama administration may represent "Peak Left" in American politics. As a result, what we are getting from the left these days is a mix of bewilderment and anger as it realizes that this is as good as it gets.
"Could a set of political ideas be more discredited?" liberals ask. The foreign policy failures of the Bush years, they believe, should have killed conservative ideology about America's role in the world, and the financial crisis, they are certain, should have driven a stake through the heart of conservative economic doctrine. Yet: Here we are, six years into the Age of Obama, and the Tea Party is alive and Occupy is dead. The Republicans swept the midterm elections both nationally and at the state level—and Hillary Clinton appears more interested in conciliating Wall Street than in fighting it, and more interested in building bridges to conservative foreign policy thinkers than in continuing the Obama foreign policy. (And with even Jimmy Carter lambasting Obama's Middle East policy as too weak, and the President committing to new troop deployments in Iraq and Afghanistan, it's not clear that even President Obama wants to stay the course.)"
http://www.the-american-interest.com/2014/12/19/next-up-in-america-the-liberal-retreat/
Will Pelosi, Democrats Become "Party of No' in 2015?
http://www.realclearpolitics.com/articles/2014/12/22/will_pelosi_democrats_become_party_of_no_in_2015_125021.html
Korea threatens strikes on US amid hacking claims
"President Barack Obama is "recklessly" spreading rumors of a Pyongyang-orchestrated cyberattack of Sony Pictures, North Korea says, as it warns of strikes against the White House, Pentagon and "the whole U.S. mainland, that cesspool of terrorism." Such rhetoric is routine from North Korea's massive propaganda machine during times of high tension with Washington. But a long statement from the powerful National Defense Commission late Sunday also underscores Pyongyang's sensitivity at a movie whose plot focuses on the assassination of its leader Kim Jong Un, who is the beneficiary of a decades-long cult of personality built around his family dynasty. The U.S. blames North Korea for the cyberattack that escalated to threats of terror attacks against U.S. movie theaters and caused Sony to cancel "The Interview's" release. Obama, who promised to respond "proportionately" to the attack, told CNN's "State of the Union" in an interview broadcast Sunday that Washington is reviewing whether to put North Korea back on its list of state sponsors of terrorism The National Defense Commission, led by Kim, warned that its 1.2 million-member army is ready to use all types of warfare against the U.S. "Our toughest counteraction will be boldly taken against the White House, the Pentagon and the whole U.S. mainland, the cesspool of terrorism, by far surpassing the 'symmetric counteraction' declared by Obama," said the commission's Policy Department in a statement carried by the official Korean Central News Agency. North Korea has said it knows how to prove it had nothing to do with the hacking and proposed a joint investigation with the U.S."
http://cnsnews.com/news/article/n-korea-threatens-strikes-us-amid-hacking-claims
US mulls putting NKorea on terrorism sponsor list
"President Barack Obama says the United States is reviewing whether to put North Korea back on its list of state sponsors of terrorism as Washington decides how to respond to what he calls an "act of cybervandalism," not one of war, against a movie company. North Korea has reacted angrily to Obama's comments blaming it for the hacking of Sony, warning of strikes against the White House, Pentagon and "the whole U.S. mainland, that cesspool of terrorism." Such rhetoric is routine from North Korea's propaganda machine during times of high tension with Washington. But the long statement from the powerful National Defense Commission late Sunday also underscored Pyongyang's sensitivity about a movie, which has a plot focused on the assassination of its leader Kim Jong Un. Sony Pictures Entertainment, which said it canceled the theatrical release of "The Interview" after distributors refused to show it, pledged to find a way to get the film out. "How it's going to be distributed, I don't think anybody knows quite yet," a Sony lawyer said. The comedy involves a plot to assassinate North Korea's leader. Obama is promising to respond "proportionately" to an attack that law enforcement blames on North Korea. "We're not going to be intimidated by some cyberhackers," he said. The president said the U.S. would examine the facts to determine whether North Korea should land back on the terrorism sponsors list. "We're going to review those through a process that's already in place," Obama told CNN's "State of the Union" in an interview broadcast Sunday. "I'll wait to review what the findings are."
http://townhall.com/news/politics-elections/2014/12/21/us-mulls-putting-nkorea-on-terrorism-sponsor-list-n1934230
Rogers: Intelligence Community Was Ready to Respond to North Korea Hack Attack, Didn't Get Decision from Obama
"Representative Mike Rogers, chairman of the House Intelligence Committee, said the intelligence community is ready to respond to the attack on Sony Pictures Entertainment by hackers that had the support of North Korea. "Our intelligence services, the folks who would be responsible for at least the first wave of trying to make sure they don't have the capability to do this again, were ready, they have the capability, they were ready to go," Rogers said on Fox News Sunday. "The problem here was not the fact that we didn't have the capability to do something nearly in immediate time, we just didn't get a decision from the president of the United States."  Rogers continued to explain that the U.S. has the ability to make certain that North Korea does not carry out a similar attack any time soon, but would not detail how this would be done. Rogers said the way in which President Obama spoke out publicly about the attack diminished the United States' ability to respond, but also declined to explain why the president's actions hampered an American response."
http://www.nationalreview.com/corner/395169/rogers-intelligence-community-was-ready-respond-north-korea-hack-attack-didnt-get
Mike Rogers: Obama's Response To North Korea Was 'Saying Aloha And Getting On An Airplane To Hawaii' [VIDEO]
"Republican Chairman of the House Intelligence Committee Mike Rogers said on "Fox News Sunday" that America needed a stronger response to North Korea's cyber-attack on Sony than President Barack Obama gave in a lighthearted speech Friday afternoon. "We kept warning, those of us that have been paying attention to this, this is coming to the United States, probably sooner than later. What you saw was a nation-state who engaged in trying to really destroy an American company and then took it to the broader level of using threats of violence in order to get their political will. This was a nation-state attack on the United States, and saying aloha and getting on an airplane going to Hawaii is not the answer that really the world needs, let alone America."
http://dailycaller.com/2014/12/21/mike-rogers-obamas-response-to-north-korea-was-saying-aloha-and-getting-on-an-airplane-to-hawaii-video/
U.S. Asks China to Help Rein In Korean Hackers
"The Obama administration has sought China's help in recent days in blocking North Korea's ability to launch cyberattacks, the first steps toward the "proportional response" President Obama vowed to make the North pay for the assault on Sony Pictures — and as part of a campaign to issue a broader warning against future hacking, according to senior administration officials. "What we are looking for is a blocking action, something that would cripple their efforts to carry out attacks," one official said. So far, the Chinese have not responded. Their cooperation would be critical, since virtually all of North Korea's telecommunications run through Chinese-operated networks. It is unclear that China would choose to help, given tensions over computer security between Washington and Beijing since the Justice Department in May indicted five hackers working for the Chinese military on charges of stealing sensitive information from American companies. The secret approach to China comes as American officials, convening a half-dozen meetings in the White House Situation Room last week, including one of the top national security team on Thursday night, have been developing options to give to the president during his vacation in Hawaii. They include new economic sanctions, mirroring those recently placed on Russian oligarchs and officials close to President Vladimir V. Putin, which would cut off their access to cash — the one perk that allows the elite surrounding Kim Jong-un, the North Korean leader, to live lifestyles their starving countrymen can barely imagine."
http://www.nytimes.com/2014/12/21/world/asia/us-asks-china-to-help-rein-in-korean-hackers.html?partner=rss&emc=rss
George Will on Sony: "This Was Self-Censorship," And I Wish Obama Would Have Addressed That
"GEORGE WILL, FOX NEWS SUNDAY: Well, the president is right. You cannot have a free society if a dictator can impose censorship on us. That's true but not exactly pertinent, because North Korea did not and does not have the power, unless the country is full of sleeper cells of North Koreans ready to act against every Cineplex in the country. This was self-censorship, and it happens in America all the time, and I wish the president would come to the party and talk about it. There are two great citadels of American liberalism unchallenged in America, Hollywood and college campuses. College campuses constantly restrict speech in the name of a new entitlement, not to have your intellectual serenity disturbed, your emotional equilibrium upset, or your feelings hurt. It happens all the time. So, when this occurred, Sony had no vocabulary, no philosophic basis for pushing back. That said, you have to sympathize with them because they're operating in an era and a place where we need new protocols. It's not formally negotiated some understanding. Was this or was this not an act of war? The president understandably is reluctant to say this, understandably for a number of reasons, one of which is called Stuxnet. That is the United States probably was involved in using a computer virus to physically damage Iran's nuclear weapons program. Good but dangerous."
http://www.realclearpolitics.com/video/2014/12/21/george_will_sony_self-censorship_and_i_wish_obama_would_have_addressed_that.html
OBAMA: I WOULD HAVE TALKED TO THEATERS FOR SONY
"Sunday on CNN's "State of the Union with Candy Crowley," President Barack Obama said if Sony had called him he would have called up the theater chains and found out "what the story was." Obama said, "Well look, I was pretty sympathetic to the fact that they've got business considerations they have to, they've got to make. And you know, had they talked to me directly about this decision, I might have called the movie theater chains and distributors and asked them what the story was. But, what I was laying out was a principle that I think this country has to abide by. We believe in free speech. We believe in the right of artistic expression and satire and things that powers that we might not like, if we set a precedent in which it a dictator in another country can disrupt through cyber, you know, accompanies distribution chain or its products and as a consequence we start censoring ourselves, that's a problem. And it's a problem not just for the entertainment industry. It's a problem for the news industry. CNN has done critical stories about North Korea. What happens if in fact there's a breach in CNN's, you know, cyberspace? Are we going to suddenly say, well, we better not report on North Korea. So, the key here is not to suggest that Sony was a bad actor, it's making a broader point that all of us have to adapt to the possibility of cyber attacks, we have to do a lot more to guard against them. My administration's taken a lot of strides in that direction, but we need congress to pass cyber security law. We've got to work with the private sector and private sector has to work together to harden their sights, but in the meantime, when there's a breach, we have to go after it and we can't change how we operate."
http://www.breitbart.com/video/2014/12/21/obama-i-would-have-talked-to-theaters-for-sony/
Obama Calls Sony Hack 'Cybervandalism' Not Act of War
http://blogs.wsj.com/washwire/2014/12/21/obama-calls-sony-hack-cyber-vandalism-not-act-of-war/?mod=WSJBlog
Sony Gets a New Threat– "Anonymous" Says Hackers Aren't Korean, Release Film Or More Hacks Coming
http://www.showbiz411.com/2014/12/21/sony-gets-a-new-threat-anonymous-says-hackers-arent-korean-release-film-or-more-hacks-coming
Vladimir Putin invites Kim Jong-un to Moscow
http://www.theguardian.com/world/2014/dec/19/vladimir-putin-invites-north-korea-kim-jong-un-moscow
Obama Releases Four Gitmo Detainees Into Afghanistan
"The United States has returned four Afghans from Guantanamo Bay back to their home country. U.S. officials say the transfer from the detention center is a sign of their confidence in new Afghan President Ashraf Ghani… The Pentagon said Saturday that four Afghans from the Guantanamo Bay detention center have been returned to their home country in what U.S. officials are citing as a sign of their confidence in new Afghan President Ashraf Ghani. Obama administration officials said they worked quickly to fulfil the request from Ghani, in office just three months, to return the four — long cleared for release — as a kind of reconciliation and mark of improved U.S.-Afghan relations. There is no requirement that the Afghan government further detain the men, identified as Mohammed Zahir, Shawali Khan, Abdul Ghani and Khi Ali Gul. Afghanistan's High Peace Council, a government-appointed group, confirmed the transfer, but did not identify the men, saying that the four "will be reunited soon with their families." The council also requested the repatriation of the eight Afghans who are among the 132 detainees remaining at Guantanamo. The U.S. Embassy in Kabul, the Afghan capital, said in a statement that it had "full confidence in the Afghan government's ability to mitigate any threats these individuals may pose and to ensure that they are given humane treatment." The transfer "demonstrates Afghan sovereignty and U.S. trust in the strength of Afghan government institutions," according to the statement. The move is the latest in a series of transfers during the past two months. President Barack Obama has been pushing to reduce the number of detainees as he tries to make progress toward his goal of closing the globally condemned detention center for suspected terrorists. Administration officials, speaking on a condition of anonymity because they are not authorized to discuss the matter publicly, say more transfers are expected in the coming weeks. Guantanamo now holds the lowest number of detainees since shortly after it opened nearly 13 years ago in the wake of the Sept. 11 terrorist attacks. Those remaining include 64 approved for transfer."
http://cnsnews.com/news/article/obama-releases-four-gitmo-detainees-afghanistan
Pentagon returns four Guantanamo detainees to Afghanistan
http://www.foxnews.com/politics/2014/12/20/obama-administration-sends-4-afghans-back-home-from-guantanamo/
Islamic State Is Reportedly Executing Its Own Foreign Volunteers Who Just Want to Go Home
http://www.theblaze.com/stories/2014/12/21/islamic-state-is-reportedly-executing-its-own-foreign-volunteers-who-just-want-to-go-home/
NYPD Commissioner: 2 New York City police officers "assassinated"
"An armed man walked up to two New York Police Department officers sitting inside a patrol car and opened fire Saturday afternoon, striking them both before running into a nearby subway station and committing suicide, NYPD Commissioner Bill Bratton said. The shooting took place in Brooklyn's Bedford-Stuyvesant neighborhood. Both officers were shot in the head and rushed to a hospital, where they later died. At a news conference Saturday night, Bratton identified the officers as Wenjin Liu, a seven-year veteran of the NYPD, and Raphael Ramos, who joined the force two years ago. "They were, quite simply, assassinated — targeted for their uniform," Bratton said. "They were ambushed and murdered." "Officer Ramos and Officer Liu never had the opportunity to draw their weapons," Bratton said. "They may never have had the chance to see their murderer." The gunman, identified as 28-year-old Ismaaiyl Brinsley, shot himself inside the subway station, Bratton said. A semi-automatic handgun was recovered at the scene. His motives aren't yet clear. "Our city is in mourning," Mayor Bill de Blasio said. "Our hearts are heavy. We lost two good men who devoted their lives to protecting all of us." Bratton and de Blasio met with the officers' families Saturday evening. Both men leave behind wives — Wu was just married two months ago — and Ramos also had a 13-year old son who "couldn't comprehend what had happened to his father," the mayor said. Bratton said Brinsley had shot and seriously wounded his ex-girlfriend Saturday morning in Baltimore and made posts from her Instagram account that were "very anti-police." Authorities didn't get into the specifics of the contents of the posts, but a police source told CBS News that Brinsley posted a photo of a handgun on Instagram a few hours before the shooting. CBS News could not independently verify that the message came from the suspect.n"I'm Putting Wings On Pigs Today," the post said. "They Take 1 Of Ours. Let's Take 2 Of Theirs. #ShootThePolice #RIPErivGardner (sic) #RIPMikeBrown This May Be My Final Post. I'm Putting Pigs In A Blanket"
http://www.cbsnews.com/news/new-york-city-police-officers-killed-in-patrol-car-shooting/
NEW YORK POLICE OFFICERS SHOT DEAD IN SQUAD CAR 'ASSASSINATION'
http://www.breitbart.com/big-government/2014/12/20/report-nypd-cops-shot-in-ambush-attack/
2 NYPD officers shot, killed in ambush on cop car
http://www.foxnews.com/us/2014/12/20/2-nypd-cops-shot-in-car-critically-injured/
Watch What Cops Do as New York City Mayor Bill de Blasio Walks Into Press Conference on Slain NYPD Officers
"Police officers turned their backs on New York City Mayor Bill de Blasio as he walked into a police press conference Saturday on the two NYPD officers fatally shot while sitting in their patrol car in Brooklyn, WPIX-TV reported. Relations between the mayor's office and the police department have been quite tense. Police in New York are being criticized for their tactics following the chokehold death of Eric Garner, who was stopped by police on suspicion of selling loose, untaxed cigarettes. Amateur video captured an officer wrapping his arm around Garner's neck and wrestling him to the ground. Garner was heard gasping, "I can't breathe" before he loses consciousness and later dies. Demonstrators around the country have staged die-ins and other protests since a grand jury decided Dec. 3 not to indict the officer in Garner's death, a decision that closely followed a Missouri grand jury's refusal to indict a white officer in the fatal shooting of Michael Brown, an unarmed black 18-year-old. In a press conference about the grand jury non-indictment, de Blasio said he had warned his 17-year-old, mixed-race son, Dante, to be careful around police officers, the New York Post reported. The president of the police officers union, Patrick Lynch, and de Blasio have been battling publicly over treatment of officers following the grand jury's decision regarding the Garner death. Just days ago, Lynch suggested police officers sign a petition that demanded the mayor not attend their funerals should they die on the job."
http://www.theblaze.com/stories/2014/12/20/watch-what-cops-do-as-new-york-city-mayor-bill-de-blasio-walks-into-press-conference-on-slain-nypd-officers/
VIDEO: NYPD officers turn away from Mayor de Blasio as he enters police presser for murdered cops
"Police officers turned their backs on Mayor Bill de Blasio as he walked into the police press conference about the two NYPD officers shot and killed execution-style in Brooklyn. De Blasio weaved through the officers on his way to the presser with Police Commissioner Bill Bratton at Woodhull Hospital Saturday evening. Officers Rafael Ramos and Wenjian Liu were taken to Woodhull after 28-year-old Ismaaiyl Brinsley, shot and killed them execution style outside of the Tompkins Houses in Bedford-Stuyvesant before 3 p.m."
http://pix11.com/2014/12/20/video-nypd-officers-turn-away-from-mayor-de-blasio-as-he-enters-police-presser/
SHAME: De Blasio Attacks NYPD Officers That Turned Their Backs on Him
"Democratic New York City mayor Bill de Blasio launched a disgusting attack on the New York Police Department officers that symbolically turned their backs on him before a press conference to address the shooting deaths of officers Rafael Ramos and Wenjian Liu. Ramos and Liu were gunned down in cold blood, execution-style, by Ismaaiyl Brinsley, 28, as retribution for the recent deaths of Michael Brown and Eric Garner. de Blasio infamously encouraged protests against his own police department in the aftermath of the grand jury's decision not to indict the officers in the Garner case. "Mayor de Blasio, the blood of these two officers is clearly on your hands," said Sergeants Benevolent Association police union president Edward Mullins. "That blood on their hands starts on the steps of City Hall in the office of the mayor," said Pat Lynch, president of the Patrolmen's Benevolent Association. Police union members turned their backs on de Blasio when he entered a press conference after the shooting."
http://dailycaller.com/2014/12/21/shame-de-blasio-attacks-nypd-officers-that-turned-their-backs-on-him/
A Widening Rift Between de Blasio and the Police Is Savagely Ripped Open
http://www.nytimes.com/2014/12/22/nyregion/a-widening-rift-between-de-blasio-and-the-police-is-savagely-ripped-open.html?smid=fb-share&_r=1
In New York, tensions between police and Mayor Bill de Blasio boil over after killings
http://www.washingtonpost.com/politics/in-new-york-tensions-between-police-and-mayor-bill-de-blasio-boil-over-after-killings/2014/12/21/7bc5a746-892a-11e4-8ff4-fb93129c9c8b_story.html
OBAMA PAUSES HAWAII VACATION TO GIVE CONDOLENCES TO NYC POLICE COMMISSIONER
"While vacationing in Hawaii, President Obama phoned New York City Police Commissioner William Bratton this morning to express condolences for the killing of two New York City Police officers, according to White House Deputy Press Secretary Eric Schultz. "In their conversation, the President reiterated his call for the American people to reject violence and words that harm, and turn to words that heal – prayer, patient dialogue, and sympathy for the friends and family of the fallen," Schultz said in a statement. Schultz added that Obama would continue to monitor the situation and work with community leaders to "echo the same message" across the country."
http://www.breitbart.com/big-government/2014/12/21/obama-pauses-hawaii-vacation-to-give-condolences-to-nyc-police-commissioner/
Obama offers help to NYPD after 2 officers killed
http://townhall.com/news/politics-elections/2014/12/21/obama-offers-help-to-nypd-after-2-officers-killed-n1934360
De Blasio's arrogance puts cops in cross-hairs
http://nypost.com/2014/12/22/de-blasios-arrogance-puts-cops-in-cross-hairs/
Fmr. NYPD Commish: Sharpton, De Blasio 'Have Blood On Their Hands' [VIDEO]
"Hours after the murder of two New York Police Department officers Saturday, former NYPD commissioner Bernie Kerik told Fox News' Judge Jeanine Pirro that Al Sharpton and Mayor Bill de Blasio "have blood on their hands." Kerik cited their support of "so-called peaceful protests" in which anti-cop sentiments were raised. "It's — with the exception of September 11th– this takes me back to 1988. We had two officers killed on October 18th. This reminds me of the days back in the '60s and '70s when we faced executions of New York City cops," Kerik said. "In this circumstance I believe, I personally feel, that Mayor de Blasio, Sharpton and others like them, they actually have blood on their hands," Kerik said. "They encouraged this behavior. They encouraged protests. These so-called peaceful protests that, where people are standing out there saying 'kill the cops.'" "Well, I hope they're happy, because they got what they wanted," Kerik added. Kerik and former NYPD officer and detective Bo Dietl called for de Blasio's ousting from Gracie Mansion, adding that current NYPD commissioner Bill Bratton should be the person to lead New York City."
http://dailycaller.com/2014/12/20/fmr-nypd-commish-sharpton-de-blasio-have-blood-on-their-hands-video/
Mark Levin: Did Holder's 'reckless broadsides' against police lead to NYC cop killing?
http://m.washingtonexaminer.com/mark-levin-did-holders-reckless-broadsides-against-police-lead-to-nyc-cop-killing/article/2557705
Guiliani: Obama, Holder Should Be 'Ashamed' For Creating 'Severe Anti-Police Hatred' [VIDEO]
http://dailycaller.com/2014/12/21/guiliani-obama-holder-should-be-ashamed-for-creating-severe-anti-police-hatred-video/
Giuliani condemns anti-police 'propaganda' he says Obama started
http://www.politico.com/story/2014/12/rudy-giuliani-reaction-police-killings-obama-113729.html
NAACP chief: Don't blame Democrats for NYPD shootings
""I don't believe it's fair to link the criminal insanity of a lone gunman to the peaceful protest and aspirations of many people across the country, including the attorney general, the mayor, and the president is simply not fair," Cornell William Brooks, the president of the NAACP, told CBS's "Face the Nation." Officers Wenjian Liu and Rafael Ramos were shot and killed Saturday afternoon while sitting in their patrol car by a man who posted messages to his social media accounts described by New York City Police Commissioner William Bratton as "very anti-police."
http://thehill.com/blogs/blog-briefing-room/news/227808-naacp-chief-dont-blame-ny-mayor-attorney-general-for-nypd
NAACP Leader: "It's Not Fair" to Blame Top Democrats for Execution Murders of Two NYPD Officers (Video)
http://www.thegatewaypundit.com/2014/12/naacp-leader-says-its-not-fair-to-blame-democrats-for-execution-murders-of-two-nypd-officers-video/
Man aimed empty gun in cop's face, pulled trigger: officials
http://nypost.com/2014/12/21/man-aimed-gun-in-cops-face-pulled-trigger-officials/
NYPD: MAN ATTEMPTED TO SHOOT COP BUT GUN WAS EMPTY
"Only hours after two New York policemen were ambushed and executed in Brooklyn by a man claiming he wanted revenge for the death of Eric Garner, a man in the Bronx allegedly attempted to murder a third New York policeman. He only failed because his gun didn't work when he pulled the trigger, police say. On Saturday night at 9 p.m., Raymond Leonardo, 18, was allegedly shooting out windows with a .357 caliber revolver when police arrived. According to law enforcement, he refused to drop the gun and aimed point blank at one policeman. But when he pulled the trigger, it didn't fire, officials claim. Leonardo fled with the gun in his pocket, then was captured after running a few blocks. One police source offered a simple cause for the gun's inability to function: "It looks like he used up all of his bullets." On Saturday afternoon, Ismaaiyl Brinsley, 28, after writing on Instagram, "I'm putting wings on pigs today. They take 1 of ours, let's take 2 of theirs," executed Officers Rafael Ramos and Wenjian Liu by approaching their police car and shooting them both in the head. Before Saturday afternoon's shooting, the last NYPD officer to be shot to death was 22-year veteran Peter Figoski, who died in December 2011 when a suspect in a Brooklyn apartment break-in shot him in the face."
http://www.breitbart.com/big-government/2014/12/21/nypd-man-attempted-to-shoot-cop-but-gun-was-empty/
NYPD OFFICER ATTACKED IN PRECINCT HOUSE, SUFFERS BROKEN ARM
"The New York Police Department reported late Sunday afternoon that a person off the street entered the 28th Precinct station house in Manhattan and began attacking the officers. One officer is reported to have suffered a broken arm in the assault. The news was first reported via Twitter just before 5PM Eastern."
http://www.breitbart.com/big-government/2014/12/21/nypd-officer-attacked-in-precinct-house-suffers-broken-arm/
Vandals Deface Freeway Sign Honoring 4 Oakland Police Officers Killed In The Line Of Duty
http://sanfrancisco.cbslocal.com/2014/12/19/vandals-deface-freeway-sign-honoring-4-oakland-police-officers-killed-in-the-line-of-duty-interstate-580-mark-dunakin-julius-romans-daniel-sakai-john-hege-vandalism/
SHOCK VIDEO>>> #Ferguson Protesters Chant "Pigs in a Blanket" After Two NYC Police Officers Executed
http://www.thegatewaypundit.com/2014/12/shock-video-ferguson-protesters-chant-pigs-in-a-blanket-after-two-nyc-police-officers-executed/
Thousands of #BlackLivesMatter protesters swarm Mall of America
http://fusion.net/story/35300/thousands-of-blacklivesmatter-protesters-swarm-mall-of-america/
SECOND GRADERS HOLD 'STUDENT-SPONSORED' FERGUSON PROTEST
"When cars drove by New Bedford, Massachusetts' Alma Del Mar Charter School around lunch on December 12, they saw an unusual sight: seven and 8-year-old students standing by the roadway holding signs in support of deceased strong-arm robbery suspect Michael Brown. School founder and executive director Will Gardner claimed the students came up with idea themselves. According to The Boston Globe, Gardner said the students came up with the protest idea "after a lesson on citizenship and the First Amendment." Students from Shabrina Guerrier's class asked school head Emily Stainer if they could hold the protest. Stainer said she went over some things with the students — "obviously, their safety was our first concern" — and then allowed the protest to go forward. According to NBC's WHDH, a parent who is also a police officer, Officer George Borden, drove by the school and saw the students lined up in protest. Borden said: "Having the children off school property without any parental permission slip is inexcusable." He said he's spoken to other parents and they were outraged when shown photos of the event. Borden said that when his daughter got into the car after the school she looked at him and asked, "Daddy, do you shoot people?"
http://www.breitbart.com/big-government/2014/12/21/second-graders-hold-student-sponsored-ferguson-protest/
Sharyl Attkisson: CDC Is Tracking 1,400 Possible Ebola Cases in US Today (Video)
http://www.thegatewaypundit.com/2014/12/sharyl-attkisson-cdc-is-tracking-1400-possible-ebola-cases-in-us-today-video/
ATTKISSON: CDC HIDING NUMBERS OF POSSIBLE EBOLA CASES IN US
http://www.breitbart.com/video/2014/12/21/attkisson-cdc-hiding-numbers-of-possible-ebola-cases-in-us/