Nearly ten years of tea party activism!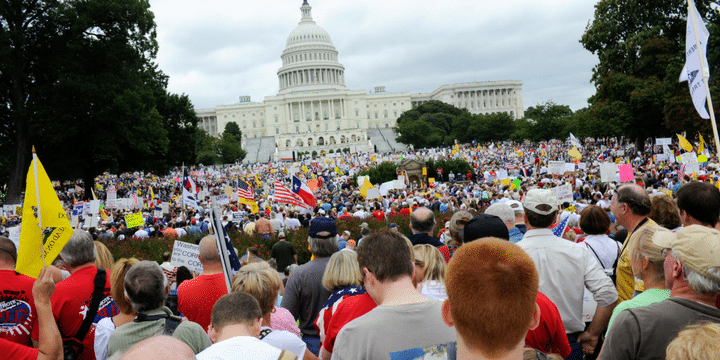 On February 27, 2009, the first national tea party protest started with thousands of activists in 40 different cities demanding personal freedom, economic freedom and a debt-free future.
The tea party movement rose after former presidents George W. Bush and Barack Obama backed federal bailouts for corporations who gambled and lost during the crash of 2008. The bipartisan plans to bail out certain companies at the height of the financial crisis energized civically-minded and patriotic Americans. These Americans united and demanded that Washington, DC stop using taxpayer dollars to fund endless bailouts.
One American, in particular, was journalist Rick Santelli who became famous for his rant on CNBC, pointing out all of the problems that many frustrated Americans were facing.
"We're thinking of having a Chicago Tea Party in July," Santelli said on CNBC. "All you capitalists that want to show up to Lake Michigan, I'm gonna start organizing."
And thus began a new 'tea party' movement which was named after the Boston Tea Party, the pivotal event that sparked the American Revolution in 1773.
It wasn't just mortgage bailouts that people were angry about. It was also the Obama administration callously ignoring laws that restrained their attempts to move us far to the left, and the endless tax increases, wasteful spending and dubious power grabs. The bailouts and the big-government policies of the Obama Administration inspired the formation of Tea Party Patriots, a movement dedicated to fighting to preserve our personal and economic freedom and to provide a debt-free future for our children and grandchildren.
After nearly ten years since its founding, Tea Party Patriots has sworn to fight for our Constitution and every American's right to pursue their own American Dream. Our organization now has over 3 million supporters participating in over 800 local tea party groups in every state and in nearly every congressional district. We thank each and every one of you for making us the movement we are today! With a new administration under President Donald Trump and with the help of Tea Party Patriots supporters all around the country, we WILL bring back the American Dream. We will make America great again!