Make your vote matter in November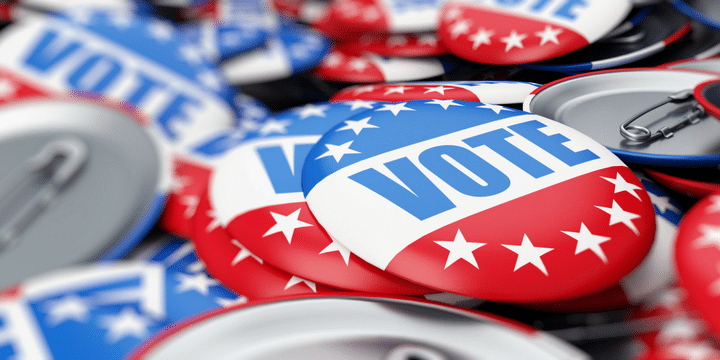 Midterms are around the corner and it's very important that patriots get out to vote in November. This week's primaries in Ohio, Kansas, Michigan, and Washington show that Republicans' ability to keep control of Congress may face challenges.
Fox News has the details about the results:
Ohio Republican state Sen. Troy Balderson claimed victory over Democrat Danny O'Connor in a special election in Ohio's 12th Congressional District near Columbus Tuesday, but the race remained too close to call and will be decided after provisional and absentee ballots are counted. Balderson was helped in no small measure by a weekend campaign rally featuring President Trump.

…

Michigan Republicans chose Trump-endorsed GOP Attorney General Bill Schuette as their candidate for governor over Lt. Gov. Brian Calley, who had the backing of term-limited Gov. Rick Snyder.

If there's a downside for the GOP in Michigan it is that the primary vote hints at a slight intensity advantage for the Democrats. Both parties had competitive gubernatorial contests, with about 130,000 more Democrats voting in their primary.

…

The Republican primary for governor in Kansas remained too close to call Wednesday morning.

President Trump's endorsed candidate for governor, Secretary of State Kris Kobach, held a statewide lead of just 191 votes over GOP Gov. Jeff Colyer. Colyer took office earlier this year when Republican Gov. Sam Brownback resigned to take a post at the U.S. State Department. 

…

In Missouri, veteran Democrat Lacy Clay easily beat back a challenge from a Bernie Sanders-style progressive to win renomination in the 1st Congressional District.

But this contest between left and far-left was of little help to two-term Democratic U.S. Sen. Claire McCaskill.

Up until now McCaskill's had all the breaks, but her streak may be coming to an end. Her opponent in the fall will be Republican State Attorney General Josh Hawley, who won 59 percent of the vote Tuesday against four primary opponents in a race in which almost 664,000 votes were cast.

…

In the race for the U.S. Senate, Democratic incumbent Maria Cantwell came out on top with over 50 percent of the vote in a crowded 28-candidate field. She will face Republican Susan Hutchinson in November. 
While we are happy about the outcome of Tea Party Patriots Citizens Fund endorsed candidate Josh Hawley, some close call races and nearly 40 toss-up House seats raise some alarms about the fate of a Republican-controlled Congress. That's why we need your help in November! Tell your friends and family to go out and vote for conservatives who will fight for your freedoms and tea party values. We've all seen how dangerous a Congress under Democrat control can be. Your vote will matter on November 8; it's time to show that the leftist agenda will not be accepted in the America our Founding Fathers intended for us.