Deranged Democrats on Climate Change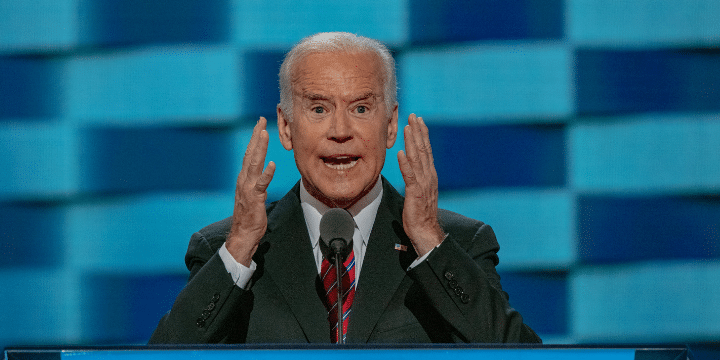 CNN broadcasted a seven-hour long town hall where the American people heard where the ten qualified 2020 candidates stand on climate change. If you didn't think the candidates were deranged, prepare yourself.
Here's where the candidates stand on climate change:
Kamala Harris
Along with Rep. Alexandria Ocasio-Cortez, Harris introduced 'The Climate Equity Act' which seeks to ensure that low-income communities are not "left behind" if environmental regulations or legislation are passed. Her plan also proposes the creation of an Office of Climate and Environmental Justice Accountability to make the government more "accountable" to them. Merely an extension of the Green New Deal, her plan seeks to expand government bureaucracy and disproportionately tax middle-class America and "the rich." She vowed during the town hall "to do whatever it takes" to pass the Green New Deal, even take executive action to get rid of the Senate filibuster.
Bernie Sanders
Sanders went all in, even talking up his $16.3 trillion version of the Green New Deal. The bill would demand "decarbonization" by 2050, which means billions of jobs lost and economic turmoil. But are we really surprised with Sanders?
Joe Biden
Former Vice President Joe Biden released his Plan for a Clean Energy Revolution and Environmental Justice back in June, which became the subject to attacks by other candidates in the second debate. His plan would add $1.7 trillion in spending to reach net-zero carbon emissions by 2050. He insisted his plans were "aggressive enough" to keep up with his competition. Need we say more?
Elizabeth Warren
Sen. Elizabeth Warren blasted President Trump on climate change and blasted Washington for doing nothing to "stop fossil fuel companies" that employ thousands of workers. Her plan would not only reverse President Trump's successful tax cuts law, but would use that money to transition the country to clean and renewable electricity, zero-emission vehicles, and green products for commercial and residential buildings over a 10-year-period. If the tax cuts have benefited your family or your business, her plan would dismantle that benefit and cost the taxpayers $3 trillion, including an additional $1 trillion over 10 years.
Cory Booker
Booker was the last one to go up on stage, making it a struggle to highlight his radical plans. In April, Sen. Cory Booker released an "environmental justice plan," which focuses on the impact of climate change and pollution on the poor and communities of color. Earlier this month, he released the Climate Stewardship Act, which is inspired by FDR's New Deal. The bill calls for "voluntary farm and ranch conservation practices, massive reforestation, and wetlands restoration," including planting 4 billion trees across the country by 2030. Again, someone has to pay for it.
Amy Klobuchar
Klobuchar co-sponsored a Green New Deal and signed the No Fossil Fuel Money Pledge. She has not unveiled a plan of her own.
Julián Castro
Castro hasn't unveiled a specific plan ahead of the town hall; however, his housing plan includes a $200 billion green infrastructure fund with the goal to reach net-zero emissions by 2050.
Beto O'Rourke
O'Rourke's plan will demand the taxpayer to cough up $5 trillion over 10 years to cut carbon emissions in half by 2030 and reach net-zero emissions by 2050.
Pete Buttigieg
Buttigieg's plan is of one that is similar to AmeriCorps, but would tackle climate change through national services.
Andrew Yang
Last, but not least, Yang's plan proposes $4.87 trillion in climate-related spending over 20 years. He also wants to transition away from fossil fuels toward renewables, with the creation of—"space mirrors"? At least we can have a good laugh on this one.
So, there you have it! A rundown of the 2020 candidates' absurd and expensive plans. Let this be a simple reminder of what's at stake in 2020. We could have a president who has made campaign promises to bring back jobs and economic stability, or we could have a president that would spend our taxpayer dollars on a sensationalized crisis, leading to billions out of jobs and to economic ruin.