Citizens Fund Endorses Ted Cruz for Senate in Texas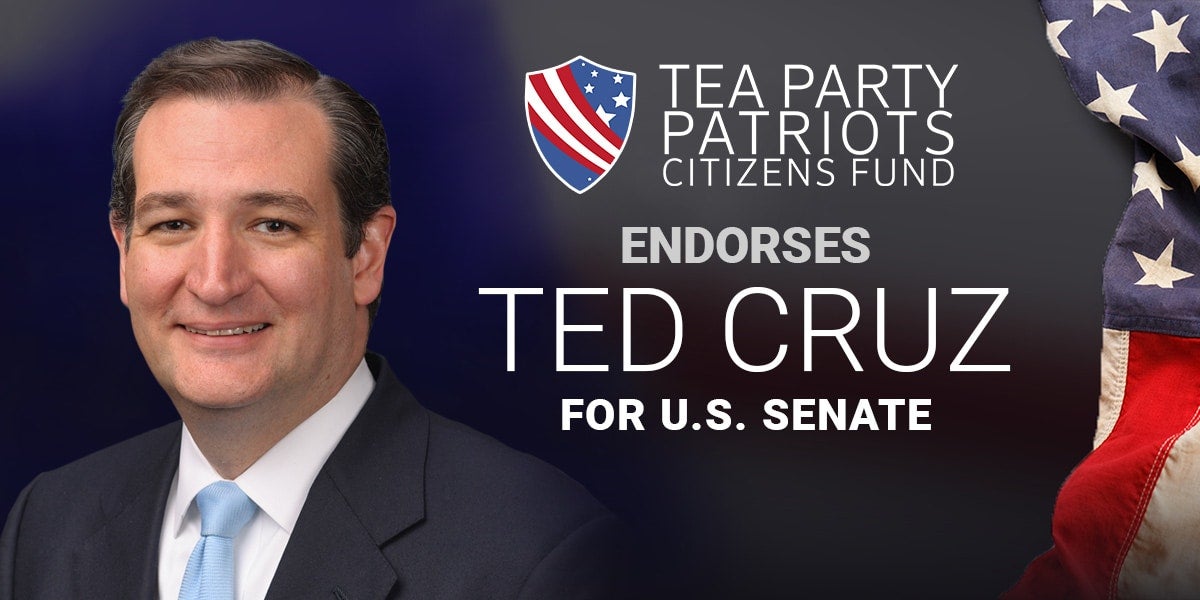 ATLANTA, Ga. – Tea Party Patriots Citizens Fund (TPPCF) Chairman Jenny Beth Martin today released the following statement, announcing that the Super PAC associated with the nation's largest Tea Party group has endorsed Ted Cruz for U.S. Senate.
"Even before he won a contested primary in his first run for the U.S. Senate in 2012 – by defeating the Establishment GOP's chosen candidate – Ted Cruz was fighting for personal freedom, economic freedom, and a debt-free future. Since taking his seat in 2013, he has continued to stand strong in defense of those principles, even when that required him to stand up to the party bosses.
"Senator Cruz fought to prevent the implementation of ObamaCare, the odious law that has restricted healthcare choices, raised costs, broken down the doctor-patient relationship, and reduced the quality of healthcare in the United States. He opposes Congress' illegal special exemption from that law. He supports lower taxes to generate economic growth and create more and better-paying jobs, and he wants to reduce government spending and debt. He supports a Balanced Budget Amendment. He opposes Common Core, and supports school choice. On immigration, he opposes amnesty for those who have broken our laws, and has fought for stronger border security and interior enforcement.
"At least as importantly, he has demonstrated courage and proven leadership. He knows the values and principles he defends are the values and principles that made this country the envy of the world, and has proven his determination to fight for them.
"Consequently, on behalf of Tea Party Patriots Citizens Fund, I am pleased to endorse Ted Cruz for the United States Senate, and I urge all voters in Texas to make a plan to be a voter for him in the March primary election and in the November general election."
Tea Party Patriots Citizens Fund is committed to equipping grassroots activists at the state and local level with the tools and resources needed to hold elected officials and government accountable and elect new and qualified candidates.