Citizens Fund Endorses Lou Barletta in PA Senate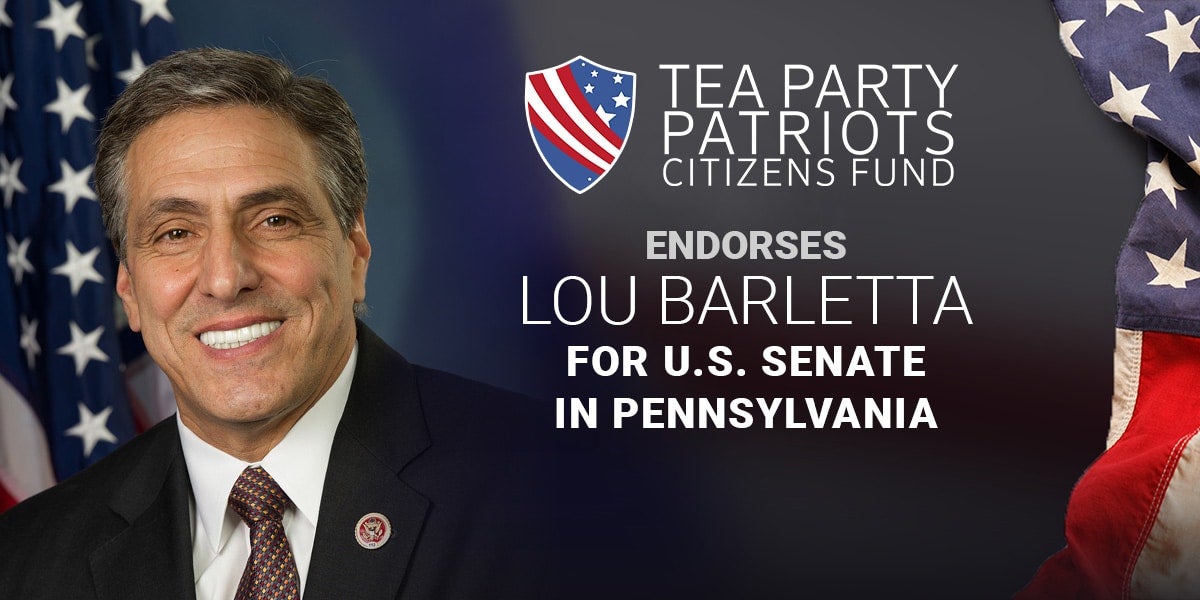 ATLANTA, Ga. – Tea Party Patriots Citizens Fund (TPPCF) Chairman Jenny Beth Martin today released the following statement, announcing that the Super PAC associated with the nation's largest Tea Party group has endorsed Lou Barletta for Senate in Pennsylvania:
"Conservatives in Pennsylvania have a clear choice in the contest for the U.S. Senate – Lou Barletta.
"Lou won President Trump's endorsement because the president knows Lou will fight to enact the Trump legislative agenda – stronger border security and an end to illegal immigration, strong support for the Second Amendment, lower taxes and less regulation. Lou was one of the first Members of Congress to publicly endorse Donald Trump for president, and he co-chaired Trump's Pennsylvania campaign. The President knows he can count on Lou to help him drain the swamp.
"Unlike his opponent, Lou is one of the leaders in the fight to end illegal immigration. He has introduced legislation to defund sanctuary cities, make overstaying a visa a criminal offense, and add a two percent fee on wire transfers sent south of the border to provide funds for construction of a border wall.
"Unlike his opponent, he will vote to confirm the people President Trump nominates to the Supreme Court and other federal courts. The willingness to confirm President Trump's conservative judicial nominees is one of the most important issues to our supporters when considering whether or not to support a candidate for the Senate.
"Consequently, Tea Party Patriots Citizens Fund endorses Lou Barletta for the U.S. Senate seat in Pennsylvania, and we urge all voters in Pennsylvania to make a plan to vote for him in the November general election."
Tea Party Patriots Citizens Fund is committed to equipping grassroots activists at the state and local level with the tools and resources needed to hold elected officials and government accountable and elect new and qualified candidates.  For more information, visit http://www.teapartypatriots.org. 
-30-