Citizens Fund Endorses Foster Friess in WY Governor's Race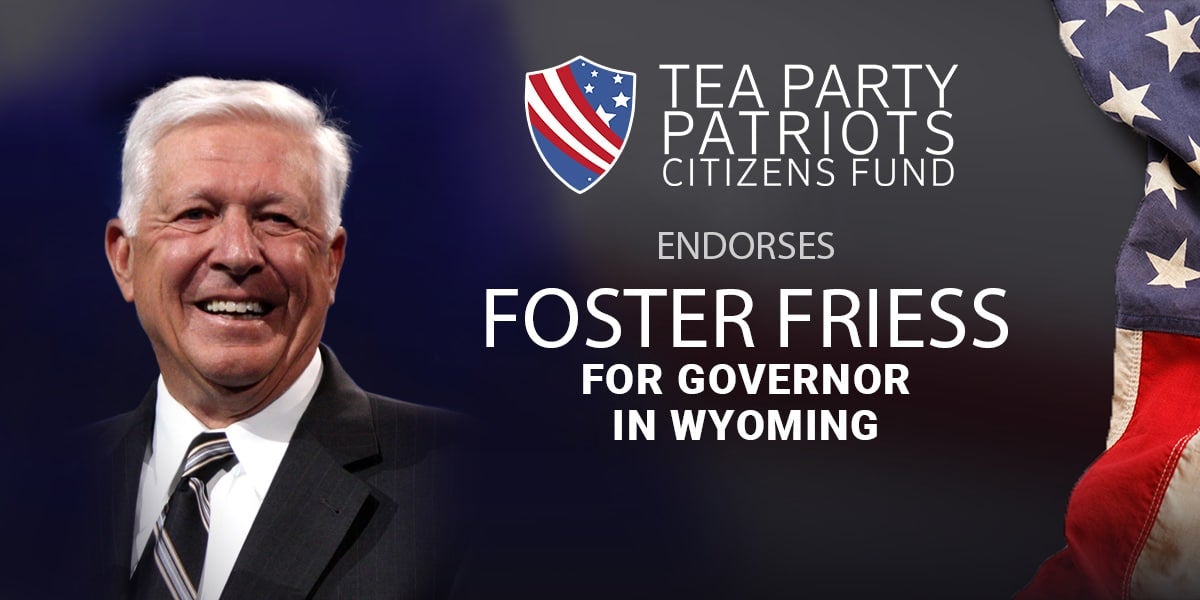 ATLANTA, Ga. – Tea Party Patriots Citizens Fund (TPPCF) Chairman Jenny Beth Martin today released the following statement, announcing that the Super PAC associated with the nation's largest Tea Party group has endorsed conservative businessman and philanthropist Foster Friess in the contest for the GOP nomination for Governor in Wyoming:
"Conservatives in Wyoming have a clear choice for Governor – Foster Friess.
"Foster's business success and philanthropy are legendary. He is a man who lives his principles, and inspires others to reach higher.
"When Tea Party Patriots was first launched, Foster was instrumental in helping us establish a firm financial foundation. His generosity – based on our shared goals of personal freedom, economic freedom, and a debt-free future – allowed us to grow and flourish, and we will always be grateful for his vision and his initial support.
"Foster knows that the best way to grow Wyoming's economy, to create more and better and higher-paying jobs, is to reduce the size of government spending and maintain low taxes. That will create more opportunity in Wyoming, and help stop the exodus of young Wyomingites leaving the state for better opportunities elsewhere.
"Foster is also a strong supporter of the Second Amendment, and has a 100% rating from the National Rifle Association. He puts his money where his mouth is – following the Parkland, FL school shooting, he issued a $2.5 million challenge grant to help fund Rachel's Challenge, a philanthropy focused on reducing the threat of school violence.
"And this is something I've never said before in an endorsement statement: As anyone who has spent any time at all with Foster can confirm, he is, quite simply, one of the nicest human beings ever. For those of us concerned about restoring civility to our public discourse, electing Foster Friess Governor of Wyoming would be a big step in the right direction.
"Consequently, on behalf of Tea Party Patriots Citizens Fund, I am pleased to endorse Foster Friess for Governor, and I urge all voters in the district to make a plan to be a voter for him in the August 21 GOP primary and in the November general election."
Tea Party Patriots Citizens Fund is committed to equipping grassroots activists at the state and local level with the tools and resources needed to hold elected officials and government accountable and elect new and qualified candidates.  For more information, visit http://www.teapartypatriots.org. 
-30-