Citizens Fund Endorses Andy Coleman in OK-01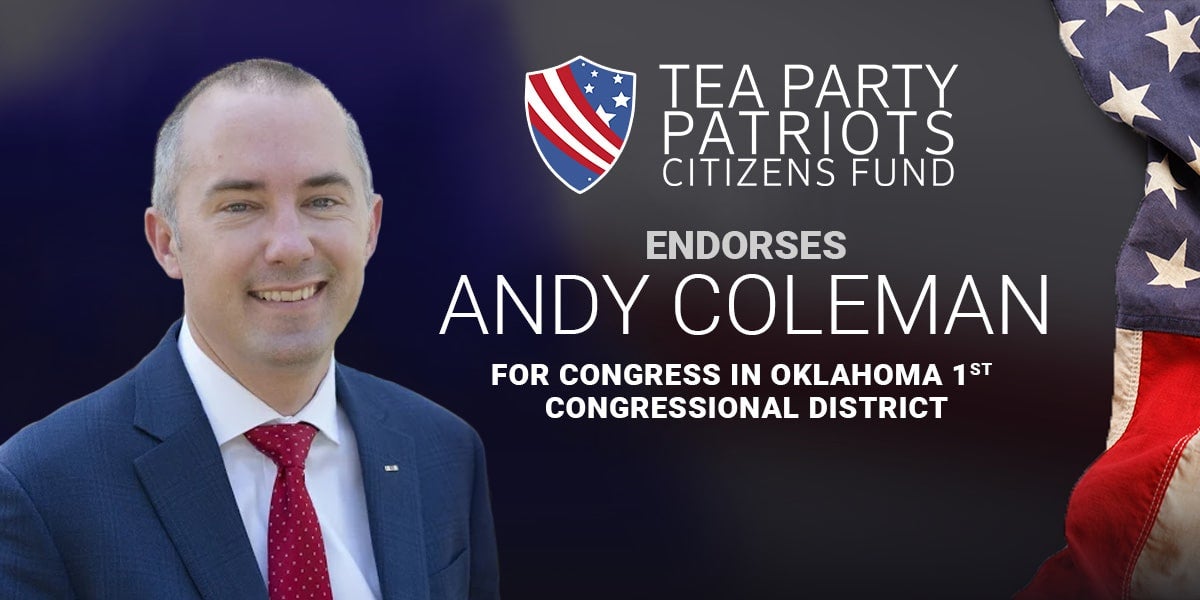 ATLANTA, Ga. – Tea Party Patriots Citizens Fund (TPPCF) Chairman Jenny Beth Martin today released the following statement, announcing that the Super PAC associated with the nation's largest Tea Party group has endorsed Andy Coleman for Congress in Oklahoma's 1st congressional district:
"For conservatives in Oklahoma's 1st congressional district, the choice is clear – Andy Coleman for Congress.
"As a graduate of the Air Force Academy and a veteran of the Iraq war, Andy has already served his nation. Now he offers his service in another important endeavor, as a Member of Congress committed to defending our Constitution and our liberties.
"Andy supports term limits, and says that's a 'core issue' for him – he has promised to fight to impose term limits on Members of Congress, and has promised to term-limit himself. He opposes Common Core. He opposes ObamaCare and ObamaCare's illegal special exemption for Members of Congress and their staffs.
"Andy supports a Balanced Budget Amendment with a spending limitation provision, and also supports the Penny Plan – a budget framework that spends just one penny less of every federal dollar spent the previous year as a means to balancing the budget in five years. As important, he has signed the Americans for Tax Reform Taxpayer Protection Pledge, vowing to oppose net tax increases.
"When it comes to dealing with our current illegal immigration crisis, Andy is a strong believer in the rule of law. He opposes amnesty and wants to secure the border, supports President Trump's desire to build a wall, and wants to end sanctuary cities, the visa lottery, and chain migration.
"It's no wonder Andy has been endorsed by Club for Growth, House Freedom Fund, With Honor Fund, former Reagan Attorney General Ed Meese, and 10 current Members of Congress, including Mark Meadows, Jim Jordan, Steve King, and Ken Buck.
"Consequently, on behalf of Tea Party Patriots Citizens Fund, I am pleased to endorse Andy Coleman for Congress, and I urge all voters in Oklahoma's 1st congressional district to make a plan to be a voter for him in the June 26 GOP primary and in the November general election."
Tea Party Patriots Citizens Fund is committed to equipping grassroots activists at the state and local level with the tools and resources needed to hold elected officials and government accountable and elect new and qualified candidates.  For more information, visit http://www.teapartypatriots.org. 
-30-